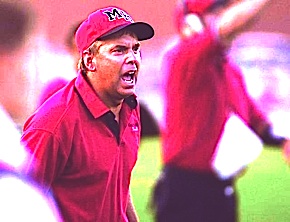 Outside of its heroin-flooded streets and being the Popcorn Capital of the World, Marion, Ohio, isn't known for much. Back in the 1940's, due to the copious amounts of railroads juxtaposed within Marion's city limits, the City of Kings had allegedly drawn the ire of Adolph Hitler to the point it was on some secret "To Be Bombed" list of the Nazis if they were ever bring their war effort to American soil.
Football in this city hasn't been much either. Sure, there's Marion Pleasant, the perennial powerhouse, but I don't consider them to be part of Marion. Those people have their affluent subdivision south of the City of Kings, and that's where their illegal recruiting tactics and Division-XII football titles gather dust. As far as I'm concerned, it's the Marion Harding Presidents (probably the coolest names in all of athletics) who carry the honor of Marion, Ohio, onto the gridiron. 
Marion Harding's football team is 427-471-34 in its lifetime. Something called MaxPreps.com ranks it as the 400th best program in the state of Ohio. That's probably generous. The 2011 Presidents went 3-7, so it doesn't look like Harding's record will gets its head above .500 anytime soon. That probably shouldn't surprise anybody, seeing as Marion's — and its football team's — best days are behind it. 
While Tim Hinton didn't have anything to do with Marion's rise as a Midwestern industrial titan in the middle of the last century, he had everything to do with the best ten years in Marion Harding football history. The Presidents won 78 games under the leadership of Hinton from 1993 to 2003. For perspective, the eight coaches preceding him, going all the way back to the 1964 season, combined for 88 victories. He is, without a shadow of a doubt, the winningest football coach in Marion Harding history.
By a stroke of fortune, I happened to find myself in Marion, Ohio right as Hinton ascended to power. (That stroke? The Rodney King riots! Hooray, America!) I played soccer in Los Angeles and had never been introduced to football. All that changed in 1993, when I went to watch the local high school team play for the first time. The Prexies were NFL players in my eyes. Orlando Rogers, a Harding legend, was probably the first person I ever looked up to due to his ability to run really fast with a ball of leather. After getting the two-sport star's autograph in 1993, I didn't understand why my dad told me, "That guy is trouble." What? He was good at football! What else was there in life? 

Sadly, my dad ended up being a bit of a soothsayer regarding Mr. Rogers. That's the thing about Marion, the cycle of ignorance and poverty has been unbreakable since American's manufacturing prowess waned, as Marion continued its slide into heroin den it has become. Marionaires don't support the financing of the school, which by extension, means they don't support the future of the town. That makes it a tough place to build a program.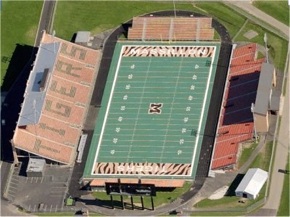 If Tim Hinton were able to cobble together .500 squads, the people of Marion would have been satisfied. Tim Hinton, however, is not one to accept .500 results. Over the course of Tim's 10-year reign, the Amanda-Clearcreek native won 66% of the games he coached. Harding won four Ohio Heartland Conference titles, the only conference championships Harding won during the league's 16 year history. Tim was influential in sending his players to places like Ohio State, Cincinnati, Michigan State, Columbia and Maryland. He also spear-headed the renovation of the school's fitness facilities.
Lest you think he was only a wizard during the regular season, Hinton led the Presidents to glory in the post-season as well. While he was never able to capture the ultimate prize — Harding has never won an OHSAA football title — he did commandeer the greatest victory in Marion football history.
In 2000, two years after a Mike Doss-led and eventual state champion Canton McKinley outlasted the Prexies 14-7 in Mansfield, the Presidents were back in the play-offs... something which had begun to be expected by Presidents fans under Hinton.
(Quick aside: The best football in the history of Marion County was the 1998 Marion Harding High School Team. I'll take that to my grave too.)
After a disappointing regular season loss to eventual Ohio Heartland Champions, the Mansfield Senior Tygers, the Presidents were to face the fellow 8-2 Massillon Tigers in the first round of the playoffs. To make matters worse, the game would be played on Massillon's home turf. 
Massillon was the legendary football factory, where baby boys were given toy footballs when they were birthed at the local hospital. It was said Massillon's high school stadium was worth more than Marion's non-narcotic GDP. Justin Zwick, Massillion's All-State Quarterback and four star recruit, was going to throw for 600 yards. Harding was simply the podunk push-over that stood in the way of Massillon's inevitable march to their 170th state football championship. (At least, that's how Massillon football fans told it.)
Tim Hinton and Harding were simply happy to have the honor of playing in such a cathedral of football. I was in 8th grade at the time and I was at the game. I remember thinking at half-time, "Holy hell, Harding is still in this game!" For four quarters, Tim Hinton's team laid it all on the line against a team that was clearly better than them. They fought, they clawed and just when they were on the cusp of a legendary upset... Justin Zwick ripped the glory away with a 50 yard, game-winning touchdown run with seconds remaining in the fourth quarter.
Or so I — like everybody else in that stadium — thought.
The run ended up being negated on (upon further review) a clear-as-day holding call. The magnitude of the upset didn't hit me until Harding safety Adam Huddle batted Justin Zwick's Hail Mary pass into the President's five yard-line. It took Massillon a bit longer, because the first bottles didn't start being thrown from the stands until about thirty seconds after that. It was a victory that sent shock-waves through the tournament. 
Marion Harding won a state title on that day, as far as I'm concerned. The revenge-laced victory that occurred against Mansfield Senior a week later in Dublin was just icing on the cake. Sure, Harding succumbed to Massillon Perry two weeks after upsetting their big brother; but the damage had already been done. Tim Hinton had taken Marion Harding football to its peak.
Hinton's Presidents would go on to win the OHC in 2001, and Justin Zwick and Massillon would repay them in kind for the previous year's loss to the tune of a 31-0 beatdown. In 2003, Dublin Coffman's quarterback, Jack Rafferty, gutted Harding for 298 yards rushing and four touchdowns in a 31-22 victory over the Presidents. After that year, Tim Hinton moved on to take an assistant coaching job with the University of Cincinnati. In something non-coincidental, Marion Harding football quickly fell off a cliff after Hinton's departure.
Tim Hinton went from Cincinnati to Notre Dame, back to Ohio State. While Urban's choices for assistants have been young, Hinton is easily the oldest member of the coaching staff. That too, is uncoincidental. Hinton has always been a friend to Meyer, and Meyer has offered him coaching jobs wherever he's gone. Hinton is an energetic guy and it doesn't take much around him to realize why Urban Meyer might want the guy around his team. After Meyer's 2008 staff coaching staff got pilfered, Urban has mentioned he had a hard time trusting his new assistants. 
I am certainly biased in this belief, but I don't think Meyer will have that problem with Tim Hinton, because Hinton is a proven commodity.