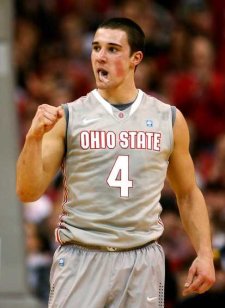 Ohio State welcomes the Michigan Wolverines to Value City Arena this afternoon in a showdown for the right to remain atop the conference standings. 
The good guys have dominated the series of late winning 14 of the last 16 (mmm...types so good) including five in a row overall and seven straight in the friendly confines of the Schott. 
Tied at 6-2 in league play, the Buckeyes have won three straight and five of six while Michigan has won just four of their last seven. All three losses came on the road at Indiana, Iowa and Arkansas with the Hawkeyes unleashing a 16 point spanking sandwiched between a pair of two point losses. 
The Buckeyes have 10 regular conference season games left and today starts a gauntlet in which they'll face six ranked teams over that stretch including trips to Wisconsin, Michigan and Sparty after playing against currently ranked opposition only twice (IU both times) in the 12 games since the defeat at Phog Allen Fieldhouse. Basically, the season is about to get real, folks. 
| # | Name | YR | HT/WT | PTS | REB | ASST | P | # | Name | YR | HT/WT | PTS | REB | ASST |
| --- | --- | --- | --- | --- | --- | --- | --- | --- | --- | --- | --- | --- | --- | --- |
| 4 | A. Craft | SO | 6-0/190 | 8.1 | 3.1 | 5.0 | G | 3 | T. Burke | FR | 5-11/180 | 14.1 | 3.7 | 5.0 |
| 32 | L. Smith Jr. | SO | 6-4/205 | 5.9 | 4.4 | 2.1 | G | 1 | S. Douglass | SR | 6-3/200 | 7.6 | 2.7 | 2.0 |
| 44 | W. Buford | SR | 6-6/220 | 15.2 | 4.7 | 3.3 | F | 10 | T. Hardaway Jr. | SO | 6-6/200 | 15.2 | 3.6 | 2.4 |
| 1 | D. Thomas | SO | 6-7/225 | 14.7 | 4.3 | 1.0 | F | 0 | Z. Novak | SR | 6-4/210 | 9.5 | 4.8 | 2.0 |
| 0 | J. Sullinger | SO | 6-9/265 | 17.3 | 9.3 | 1.0 | C | 52 | J. Morgan | SO | 6-8/250 | 7.6 | 5.6 | 0.3 |
Opponent
In conference play, John Beilein's squad is ranked just 8th in Scoring Offense at 64.1 points per game. The lack of offense can be attributed to ordinary-to-bad shooting as the Wolverines are hitting only 43% of their shots (7th) including a dismal 30.6% from distance (10th) however they do jack up a lot of threes, making 6.9 per game, good for 3rd in conference action. Led by freshman Trey Burke, they rank 2nd in Turnover Margin (+2.88). 
Defensively, they sport the 3rd best Scoring Defense (60.6) but some of that is tempo / number of possessions related as they are sporting just the 7th best FG% Defense allowing opponents to hit 44.6% from the field and a league worst 40.5% from beyond the arc. Small across the front line, they are a below average rebounding team ranking dead last with a 1.8 rebound margin. 
The clear strength of this team is the backcourt tandem of Burke and Tim Hardaway Jr. Burke was given the starting PG gig upon his arrival in Ann Arbor and the Columbus product hasn't disappointed going for double figures in 18 of 21 games including a season high 27 against Minnesota on New Year's Day and 20 on just 11 shots three games ago against Sparty. 
His individual matchup with Craft could go along way in deciding the outcome of today's tilt. In conference play, he's scoring 16.0 per game (6th) and he's 3rd in assists at 4.8 per night. He's not on Craft's level as a defender but he's far from a liability. 
Hardaway Jr. ranks right behind Burke in scoring at 15.8 in league play and is coming off a game high 19 in the win over the Boilers. Burke hit only 3/10 from the field scoring six points, halting a streak of 14 consecutive games in double figures. 
Michigan lost at Arkansas 66-64 two games ago, overcoming a 20 point first half deficit fueled by the Razorbacks draining their first 11 shots. Burke missed a three point try at the buzzer, his 13th missed shot of the game (6/19) but scored 13 points in support of Zack Novak's game high 17, Hardaway Jr's 13, and center Jordan Morgan's season high 16 points. Speaking of which...
I don't really like Jordan Morgan. I just wanted to go ahead and get that out of the way. I can almost guarantee he'll act all hard at some point and you'll roll your eyes. I do appreciate that he plays with a chip on his shoulder, like we saw in the B1G tourney last year when he jawed with Buford and Sully as they were busy eliminating the Wolverines but sometimes it's just too much. He'll need his mojo as he tries to stop Sully in the post. 
Zack Novak and Stu Douglass round out the starting five. Novak is tied with Hardaway Jr. for the team lead in 3FG Made (33), hitting 41%, while taking 39 less triple tries and is the team's best FT shooter at 83% (Horford's out with injury, shooting 86%). Novak went for 17 in the loss at Arkansas but took just four shots in 36 minutes Tuesday at Purdue. Douglass picked up Novak's slack scoring 12, one of just five games in which the senior hit double figures. 
Beilein has a razor thin bench with only 6'9" sophomore Evan Smotrycz logging significant minutes. Smotrycz is the team's most accurate marksman hitting 44% from distance and one of five Wolverines with 28-33 triples to their credit (all the starters minus Morgan). Due to his size, it's a good bet he'll eclipse his typical 23 minutes per game unless Douglass and Novak have hot hands.  
Buckeye Breakdown
The Buckeyes come into today's game ranked at the top of the conference stats in Scoring Offense (76.9), 2nd in Scoring Defense (57.0), 2nd in FG% at 49.6, 1st in FG% Defense at 37.9, 1st in Steals at 7.5, 1st in Turnover Margin at +3.25 and 1st in Defensive Rebounds (26.6). 
In fact, they rank below 4th in only three main categories, 5th in 3FG% Defense (31.9%), 7th in 3FG Made (5.6) and 9th in FT% at a scary 67.5%. 
Winners of 37 straight at home, the Buckeyes handled Michigan three times last year though the games were decided by margins of four, nine and seven points. 
Sullinger and Buford boast strong career numbers against the maize an blue with Sully averaging 15.0 points and 11.7 rips in three games last season while Buford is averaging 15.9 points and 6.5 rebounds in eight games. 
Sullinger straight blew up in last year's game in the Schott recording 19 points on 7/10 shooting with 15 boards. In the B1G tourney, he put up a 14 point, 13 board dub-dub. He's really found his stride after some early season injury woes this year going for 20+ in three of his last five outings on 60% shooting (40/67). 
The player most likely to determine just how deep a run this team can make in March, Buford, has shown some signs of busting out of both mental and shooting slumps. In the last two games, albeit against janky competition, he's shooting 9/20 from the field including 6/11 from distance while grabbing a combined 11 boards with six steals and just one turnover in 59 minutes. 
The third member of the big three, Deshaun Thomas is coming off a nine point effort (4/11 FG) in the win over Penn State, just the 3rd time in 21 tries he's failed to score at least 10 points. He could be primed to have a big game since he'll have either a distinct quicks and size advantage against Novak or a quicks advantage against Smotcryz. 
While the big three will obviously be huge in determing the outcome, the battle of Craft vs. Burke could very well be the matchup that decides things. Craft is coming off a 4/4 shooting night (11 pts) against the Nits but his real contribution was in locking down PG Tim Frazier. Craft wouldn't let Frazier get comfortable holding him to 2/9 shooting when the game actually mattered, ie. the 1st half. If Craft can have a remotely similar impact on Burke, it's hard to believe Michigan can win. 
This brings us to the final starter, Lenzelle Smith Jr. The sophomore shooting guard has been anything but a shooter in the last two games taking just six shots, making one, in 37 minutes. He contributes in other areas, notably on the glass, and will be called on to be a factor defensively today. As noted, Michigan doesn't make a high percentage of threes but still take their fair share. Based on what we've seen and  what Dylan from UMHoops mentioned yesterday, Michigan will run a lot of high pick and rolls meaning Smith (and others) will have to do a better job than we've seen in rotating to cover open three point shooters. 
Sam Thompson's length could also be utilized to help cover the wings as the unquestioned first guard off the bench, the recipient of Jordan Sibert giving the gig away. Thompson continues to show flashes and had a great stretch against PSU with a dunk, two blocks and two dimes in roughly three minutes. It would be nice if he had a jumper for opponents to respect but hopefully that will come over time. 
Searching for their 38th straight win at home, the Buckeyes should look to pressure the perimeter forcing bad shots are the ball away from Burke and Hardaway Jr. If they can keep those two in check and Buford shows up, I don't see how Ohio State can lose this game. 
I'll take the Buckeyes by six. 70-64ish. 
ETC.
My man Bill Raftery joins Kevin Harlan on the CBS national broadcast. 
Ohio State leads the all-time series 90-71 and they are 51-26 in Columbus. 
When ranked, OSU is 32-4 against Michigan.
When both teams are ranked in the Top 25, OSU leads 4-2. Kinda crazy that's only happened six times. 
The Buckeyes are ranked #1 nationally in Scoring Margin with a hefty +22.