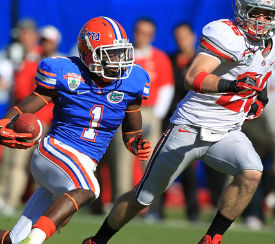 Looking at the line of 16 carries for 71 yards and 3 catches for 31 yards, you wouldn't think the player who recorded them was too impactful, but if you watched any part of the Gator Bowl on Monday, you knew who Chris Rainey was.
Recruited by Urban Meyer as a running back from Lakeland High School, Rainey (5-9/175) has developed into a hybrid running back/wide receiver who, like on Monday, has had a large part in Florida's success throughout the last four years by defeating opponents both by ground and by air.
The fifth year senior has rushed for 2,464 yards and 13 touchdowns on 396 carries (6.22 avg) and has caught 69 passes (56 in the last two seasons) for 795 yards (11.52 ypc) and 6 touchdowns during his career in Gainesville. He also has 2 punts returned for scores to go along with a career 204 punt return (6.6 avg) and 454 kick return (25.22 avg) yards.
Those numbers may not seem so impressive on the surface, but when you consider the fact that injuries took away some opportunity during his first and fourth years and that Rainey split carries with multiple backs, they show just how versatile the Gators' little weapon has been in keeping teams off balance. That trend continued Monday as Rainey seemed unstoppable at times against the Buckeyes and often delivered a crushing blow when the Silver Bullets needed a stop the most.
While he did play for the Florida Gators and Will Muschamp this season, Rainey learned how to become the hybrid star that he is today under the tutelage of Meyer, as well as Stan Drayton, who was UF's running backs coach during Rainey's first and fourth year's in Gainesville and who focused on his backs catching the ball both out of the backfield and the slot.
Playing for those same two coaches who helped mold Rainey, Jordan Hall (5-9/195) has a unique opportunity in 2012 to provide Ohio State with a weapon that is has been lacking since Ted Ginn left Columbus following the 2007 National Championship Game: a play maker who can make defenders miss in space. Hall was expected to be virtually a wide receiver heading into 2011, but due to suspension to Boom Herron and a case of the fumbles by Rod Smith, was forced to line up more in the I-formation than in the spread formation. 
That changed as the season went on, as it became more apparent where Hall was a threat for Ohio State. That change will continue to evolve under Meyer, who puts an emphasis on getting his play makers in position to make plays, and you can expect Hall to be featured more in a Rainey-like role than he has been in the past. Today we look at Jordan Hall and the likelihood of him adding a missing element to Ohio state's 2012 offense as the Urban Meyer era officially begins this week.
Take aside Urban Meyer's offense and you can still see the trajectory for where Jordan Hall's career was headed if you follow the 2011 season.
In the first four games he played in before Boom Herron's return, Hall recorded 67 rushes for 265 yards and 1 TD on the ground, good for 16.75 rushes and 66.25 yards per contest. In that same time frame, he caught just 1 pass for 4 yards and 0 TDs, good for 0.25 receptions and 1 yard per game.
In the next five games he played in prior to the Gator Bowl, Hall notched 28 rushes for 116 yards and 1 TD, good for 5.6 rushes and 23.5 yards per game. In those five games, he then caught 8 passes for 98 yards and 2 TDs, up to 1.6 receptions and 19.6 yards per game during the time span. 
Finally, in the Gator Bowl, Hall notched just 4 carries for 24 yards, but did more damage in the air, catching 3 balls for 12 yards, including one that went for a score.
The numbers on Hall aren't ridiculously eye-popping, but you can see the concerted effort by the Ohio State staff to try and get the ball in his hands other than by running the Dave play, especially when you take into consideration 12 of those 28 rushes came in the Illinois game, Boom's first game back.
Hall was clearly made more of a factor in the passing game, coming up with a few big receptions down the stretch and in crunch time during the second half of the season and in the bowl game. While Walrus ball couldn't exactly figure out how to perfect this craft, it was clear that even the most vanilla of offensive staffs was able to recognize Hall as a play maker not just a running back.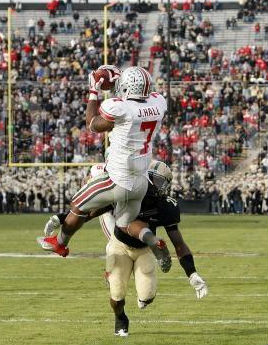 Bringing Meyer's offense back into the picture, it is a foregone conclusion that Hall will be used much like Rainey was for Florida. You can expect Hall to be moved around the field, as that hybrid running back/receiver and the ball will find him one way or another.
The Ohio State version of the spread will be slightly altered from the Florida version of the spread, but the principles will remain the same. The question Urban Meyer will ponder when looking at Jordan Hall is how to put him in a position to get a schematic advantage to utilize his speed and agility to give the Buckeyes' the opportunity to hit a home run on every play. While that is likely a topic for off-season discussion among the coaching staff, one can start to speculate now based on Meyer's past offensive formations.
First, as a running back, expect Hall's speed to be utilized in space and to the outside of the field. One of the many frustrations I shared with a majority of the fan base this year was that Carlos Hyde was used too often outside the hash marks, while Jordan Hall was bottled up inside on Dave or other plays between the tackles. Expect that to change under Meyer, as Hall will be featured in the zone-read and option plays to the outside out of the shot gun, as well as the sweep and counter when Braxton Miller is under center.
Second, as a receiver, expect Hall to line up in a multitude of positions. I anticipate he will line up out wide, in the slot, and out of the backfield to keep opposing defenses off balance and create match-ups in which he has an advantage (i.e. against slower safeties and linebackers). By running slants, screens, wheel routes, and fly patterns, Meyer and Tom Herman will be able to utilize Hall's speed in space and get the ball in the hands of one of their best play makers so that he is in a position to succeed every time he touches the football.
I think big things are in plan for Jordan Hall as the Jim Bollman era comes to a close and the Urban Meyer/Tom Herman era begins on the offensive side of the ball for Ohio State. There are many players who will benefit from this change in both scheme and philosophy, but maybe none more than Hall who has shown glimpses of what he can do when used properly and put in a position to succeed.