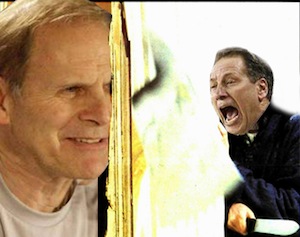 Welcome to another edition of the Big Ten Hoops Recap. Four weeks into league play, every team has at least two B1G wins and two B1G losses. If this brings to mind the Donner Party, it's because similar to this conference, "they had to resort to cannibalism in order to stay alive."
Due to that particular quote, and the fact that I've spent the past few days isolated and snowbound, The Shining inspired the theme for this recap. The Big Ten can be horrifying. It can make you go off the deep end. It can leave you wondering, "what the Scatman Crothers is going on?"1
But it's hard to argue with its quality2.
This week, a total of five games were decided by four points or less, one of which was an intense matchup between rivals Michigan and Michigan State. Three teams went winless and three finished with perfect records, including Ohio State, now back atop the conference standings where they belong.
However, only Wisconsin posted two wins, and as such, they have earned team of the week honors. After dropping three straight, the Badgers have now won their past four contests.
WISCONSIN (2-0) // Beat Northwestern 77-57, Beat Illinois 67-63
Ahead by just two early in the second half, Wisconsin ended up with a decisive victory over Northwestern. In the Kohl Center, Jordan Taylor sparked a 17-2 run, proving that for both people and places, "some shine and some don't." Taylor made three 3s in less than two minutes and finished the game with 15 points. Ryan Evans, despite not hitting one of 12 three-pointers for the Badgers, was the leading scorer with 17 points. 
Tied at the half in Champaign, Wisconsin pulled it out against Illinois. Taylor wasn't very sharp in the first half, but like Jack Torrance in the novel, he came through in the end. The senior had a game-high 19 points and once again started a Badger rally. After his basket, Mike Bruesewitz and Ben Brust added to the 7-0 run that turned the tide of the game in Wisky's favor. 
MINNESOTA (1-0) // Beat Northwestern 75-52
Protecting home court, Minnesota easily handled Northwestern. All five starters for the Golden Gophers recorded double figures, with Joe Coleman (16 points, 5 rebounds, 3 assists, 3 steals) and Rodney Williams (11 points, 3 boards, 3 blocks, 4 steals) in particular stuffing the stat sheet. The Minnesota defense held Drew Crawford, who was averaging 17.6 ppg, to five points and told him, "I and others have come to believe that your heart is not in this, that you don't have the belly for it."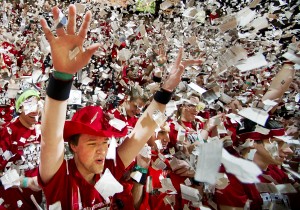 NEBRASKA (1-1) // Beat Indiana 70-69, Lost to Ohio State 79-45
On Wednesday night, Nebraska upset Indiana when Jorge Brian Diaz sank two free throws with 11 seconds remaining. The Cornhuskers trailed by 13 at one point in the second half and then were down three with 39 seconds on the clock. Thanks to Bo Spencer's 23 points and clutch shooting from Dylan Talley and Diaz, who both accounted for 10 points, Nebraska fans were able to throw the confetti in celebration3 while Gus Johnson telepathically asked their coach, "how'd you like some ice cream, Doc?"
It was a different story days later when they were crushed by Ohio State. During the game, Spencer, who turned the ball over five times, uttered to Toney McCray, who turned the ball over 7 times, "Toney, I'm scared."
MICHIGAN (1-1) // Beat Michigan State 60-59, Lost to Arkansas 66-64
Winning for the third consecutive time in their rivalry, Michigan nipped Michigan State. The Wolverines held an 11-point lead in the second half, but Michigan State stormed back, setting up a thrilling end to the game. Freshman Trey Burke was the star, notching 20 points and dishing out a pass to Stu Douglass that wound up being the game-winning bucket with 36 seconds left. Michigan, who made 51% of their shots, stayed perfect at home, leaving the team to pronounce, "I wish we could stay here forever... and ever... and ever."
Unfortunately for them, they followed that victory with a trip outside of the conference, where Michigan fell to Arkansas. Down by as many as 20 in the first half and 16 in the second half, the Wolverines rallied to get within two points. After the Razorbacks missed a couple free throw attempts, Michigan had the chance to win the game with 7 seconds left. However, Burke's three-point shot rattled out and the Wolverines have yet to earn a true road victory outside the state of Michigan. 
Zack Novak led the Maize and Blue with 17 points, including five 3s. He was also booed every time he touched the ball after he was called for a flagrant foul, which knocked freshman B.J. Young to the floor. As the punchable senior no doubt types over and over, "All work and no play makes Zack a dull boy."
MICHIGAN STATE (1-1) // Lost to Michigan 60-59, Beat Purdue 83-58
After a 16-2 run in the second half, Michigan State took the lead against Michigan until Douglass' layup with 36 seconds remaining. Then, Jordan Morgan blocked Keith Appling's shot, which was rebounded by Brandon Wood, who got the ball to Draymond Green. His attempt hit the rim, sealing the win for the Wolverines. Green, usually reliable for a double-double, only managed 7 points to go with his 11 boards. Off the bench, Derrick Nix was the top scorer for the Spartans with 13 points. Tom Izzo, spotting former UM coach Lloyd Carr in the crowd, informed him, "Things could be better, Lloyd. Things could be a whole lot better."
Michigan State responded in their next game with REDRUM on their mind and pounded Purdue. The Spartans distributed the ball well, with four players hitting double figures, most notably Branden Dawson with 14 and Nix with 12. MSU was 60% from the floor and 7/13 from downtown.
PURDUE (1-1) // Beat Iowa 75-68, Lost to Michigan State 83-58
West Lafayette, the Midwest's very own Overlook Hotel, claimed another victim in Iowa. Robbie Hummel is the caretaker and has always been the caretaker4, and he paved the way with a dub-dub (17 points, 11 rebounds). Five Boilermakers posted 10 or more points, including Lewis Jackson, who chipped in 14. 
The game in East Lansing was a bigger nightmare than encountering the ghosts of the Grady twins or a rotting old woman in a bathtub. Not only did the Boilermakers have plane trouble that forced them to take a bus around 5 in the morning, but they also had to endure comments from the Izzone student section, like the classless "I hope you tear your ACL again" taunt directed at Hummel. Overall, Purdue converted just 29% of their field goal attempts and Hummel, who had two points, went 0/11 from the floor. Afterwards, he confirmed that it was the first time in his career that he did not score a FG because, as he reminded everyone, "I ought to know. I've always been here." 
INDIANA (1-1) // Lost to Nebraska 70-69, Beat Penn State 73-54
Even though they made 51% of their shots, Indiana committed 15 turnovers and gave up 70 points to the B1G's worst offensive team. Up by one with 24 seconds left, 89% free throw shooter Jordan Hulls missed his attempt, and Nebraska took the lead on their next possession. The Hoosiers had the opportunity to win it at the end, but Hulls mishandled the ball and then threw up a shot at the buzzer, which did not fall. There was no escape in a snowcat for Indiana, who in Tom Crean's tenure, still hasn't beaten a team other than Penn State on the road.
At home, Indiana topped Penn State and ended their three-game losing skid in the process. Trailing by two at the half, the Hoosiers came out on fire in the second half, and just as he had against Nebraska, Cody Zeller put up 18 points. It was a chippy match which saw both teams go to the charity stripe 23 times. When Penn State's Matt Glover knocked Christian Watford down on a three-point attempt with 7 seconds to go, a mini-brawl broke out. Most likely, Crean instructed Will Sheehey, "I feel you will have to deal with this matter in the harshest way possible", and Sheehey responded, "There's nothing I look forward to with greater pleasure." As such, the sophomore was ejected after drawing his second technical of the game. 
PENN STATE (1-1) // Beat Illinois 54-52, Lost to Indiana 73-54
Penn State stunned Illinois when Tim Frazier's floater fell with 8 seconds left in the game. Jermaine Marshall then blocked Sam Maniscalco's attempt to tie the game, snapping Penn State's three-game losing streak. Although Frazier was the hero and finished with a respectable 12 points and 9 assists, Cammeron Woodyard led the way for the Nittany Lions with 17 points. 
Big Ten Standings

| TEAM | CONF | OVERALL |
| --- | --- | --- |
| Ohio State | 5-2 | 17-3 |
| Michigan State | 5-2 | 16-4 |
| Michigan | 5-2 | 15-5 |
| Wisconsin | 5-3 | 16-5 |
| Illinois | 4-3 | 15-5 |
| Purdue | 4-3 | 14-6 |
| Indiana | 4-4 | 16-4 |
| Minnesota | 3-4 | 15-5 |
| Iowa | 3-4 | 11-9 |
| Northwestern | 2-5 | 12-7 |
| Nebraska | 2-6 | 10-9 |
| Penn State | 2-6 | 10-11 |
Wearing black ribbons to mourn the passing of Joe Paterno, Penn State led at the half but faltered after that. Frazier paced all scorers yet again with 21 points while the Nittany Lions shot only 34% from the floor. Even though they dished out a couple of hard fouls in the second half, there were no "Stay away from me! Don't hurt me!" pleas, and not one member of the PSU team chased a Hoosier player with a mallet or an ax, so it could have been worse.
IOWA (0-1) // Lost to Purdue 75-68
Despite leading by five at the half, Iowa was unable to hold off Purdue. Zach McCabe claimed a game-high 20 points and Roy Devyn Marble added 18 of his own. Nevertheless, the Hawkeyes had trouble scoring in the second half, though Fran McCaffery managed to not get called for a technical. 
Perhaps he saved the tantrum for the locker room, where he screamed at his team, "Has it ever occurred to you what would happen to my future, if I were to fail to live up to my responsibilities? Has it ever occurred to you? HAS IT?"
ILLINOIS (0-2) // Lost to Penn State 54-52, Lost to Wisconsin 67-63
As we all knew would happen after they pulled off the upset against Ohio State, Illinois was then defeated by one of the worst teams in the conference. Entering State College, the Illini boasted, "Little pigs, little pigs, let me come in. Not by the hair of your chiny-chin-chin? Well then I'll huff and I'll puff, and I'll blow your house in." Instead, Myers Leonard fouled out of the game, giving Frazier the opportunity to drive to the hoop for the go-ahead basket. Brandon Paul, still possessed by the spirits of an evil hotel, topped all scorers with 20 points, including 4/9 from behind the arc.
In the loss to Wisconsin, Paul began to fight off the possession. He was only 3/11 shooting, eking out 10 points. Leonard posted a double-double (16 points, 11 rebounds) while Joseph Bertrand's strong first half helped the Illini tie the score at halftime. He finished with 15 points, 5 assists, and 5 boards. 
NORTHWESTERN (0-2) // Lost to Wisconsin 77-57, Lost to Minnesota 75-52
After shocking Michigan State last Saturday, Northwestern was routed in both games this week. Against Wisconsin, John Shurna was his usual self (19 points), while Drew Crawford failed to heed book version Dick Hallorann's advice (2 rebounds, 17 points)5. 
At The Barn, Shurna wasn't efficient, going 8/21 from the field, but the Big Ten's leading scorer still reached 21 points. Crawford (2/10 for five points) struggled even more as the Wildcats shot just 32.7% from the field and were reminded that in Minnesota, "the winters can be fantastically cruel."
1 "Scatman Crothers" is pretty much the greatest name ever. 
2 Unless we're talking about the miniseries, which followed the novel more closely than Kubrick's film but was not as well-received as either.
3 At least it was warranted that time.
4 Better not forget to check that boiler, Boilermaker. 
5 It's Room 217 in the novel and Room 237 in the movie.