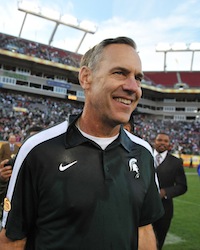 This season of college football sucked. It was dumb and I hated it.
I suppose I could put that more eloquently, such as "'twas a wretched term in this beloved amateur pastime of ours; ergo, I welcome its demise for it has bestowed upon my person the most unpleasant of dispositions."
But quite frankly, it doesn't warrant anything more than this: College Football 2011 Edition, you were the worst.
Perhaps more incompetence emanated from the Big Ten than anywhere else. Currently, the conference's bowl record stands at 3-6, with one game remaining, a matchup between Michigan and Virginia Tech in the Sugar Bowl1. If that didn't completely epitomize this entire year, those three wins are courtesy of Michigan State, Illinois, and Purdue. It's only fitting that the 2011 season would feature the derpiest teams carrying the banner for the B1G.
"Turnovers" and "well, that was stupid" were the running themes for the league during the postseason. So, as we send 2011 out in Rosalind Shays fashion, each school needs to pledge its own New Year's resolutions and hope that 2012 brings better fortune2. 
OUTBACK BOWL: MICHIGAN STATE 33, GEORGIA 30, 3OT
It took three overtimes and a whole lot of Spartying, but Michigan State topped Georgia in a thriller. Trailing 16-0 at halftime, it looked like another embarrassing effort from the Spartans, who hadn't won a bowl game since 2001. Instead, Michigan State marched 85 yards down the field and scored the game-tying TD with 14 seconds remaining in regulation. Despite a near-Spartying of the snap, the holder was able to set it right as the contest headed to overtime.
In the first OT period, Kirk Cousins was intercepted for the third time on the afternoon. Georgia coach Mark Richt chose to play it close to the sweatervest and tried for a game-winning 42-yard kick on third down. Blair Warner Waldorf Walsh missed the kick wide, only for him to connect on a 47-yarder in double OT. Michigan State responded with a field goal of their own, as well as another in triple OT. After William Gholston sacked Aaron Murray on third down, another 47-yard kick was attempted by Walsh, but this time, Anthony Rashad White was there to block it. Sparty hadn't Sparty'd; they Sparty'd!
Cousins, in the final game of his privileged career, ended up with 300 yards passing, 1 TD, and 3 interceptions. The Spartan defense forced four turnovers of their own, including a Darqueze Dennard pick-6, while holding the Bulldogs to a mere 51 yards rushing. Gholtson recorded 5 TFLs, 2 sacks, and a fumble recovery. 
The Only Colors, still in celebration mode, had this to say: "First bowl win since 2001. Back-to-back 11-win seasons. A full recap will have to wait for sanity to return. For now, WOOOOOOOOOOOOOOOOOOOOOOOOOOOOOOOOOOOOOOOOOOOOOOOOOOOOO!" 
New Year's resolution for Michigan State: As much excitement as they provide, it would probably be best for the sake of their coach if they kept the cardiac moments to a minimum this coming year. Also, they should aim to participate in a better bowl like they deserved.
ROSE BOWL: Oregon 45, Wisconsin 38
In a battle of two teams who can't seem to win a marquee nonconference matchup, Oregon beat Wisconsin to exorcise their demons. It was the first Rose Bowl title for the Ducks in 95 years, and shocking no one, the two teams combined for the most points in Rose Bowl history.
The back-and-forth game ended with over 1100 total yards and huge statistical outings from the likes of Oregon's LaMichael James (25 carries for 159 yards, 1 TD) and Wisconsin's Montee Ball, whose 39th TD of the year tied Barry Sanders' single-season record. Yet, of Ball's 164 yards, 122 were in the first half and none came in the fourth quarter. Most astonishing of all, Oregon freshman De'Anthony Thomas ran the ball twice for 155 yards. One was a 91-yard TD, and the other was a 64-yard TD.
Although Jared Abbrederis accounted for 119 receiving yards for Wisconsin, his fumble in the fourth quarter may have been the biggest moment of the game. Down by a score, Wisconsin had moved to Oregon's 27 when the freshman lost the ball with over four minutes remaining. The Badgers' next possession was with 23 seconds left. Then, thanks to horrible Bret Bielema time management, they spiked the ball at the Oregon 25, failing to get it off before the clock expired. It was the Badgers' third loss of the season, all of the nut-punch variety3. 
Looking ahead to next season, Bucky's 5th Quarter notes: "While Ohio State's bowl ban gives the Badgers a window to make a return trip to the Rose Bowl in 2013, those question marks need to be answered - most notably, once again, at quarterback. But this time, it doesn't seem like another Russell Wilson is waiting in the wings."
New Year's resolution for Wisconsin: Their coach has to realize that there is one Les Miles, and only he can spin clock ineptitude into gold. Also, if possible, make Bielema less disgusting.
CAPITAL ONE BOWL: SOUTH CAROLINA 30, NEBRASKA 13 
After scoring all 13 of their points in the first quarter, Nebraska came away with a loss to South Carolina. Right before the half, Gamecock  QB Connor Shaw threw up a 51-yard Hail Mary pass that landed in the arms of Alshon Jeffery, giving South Carolina a 16-13 lead. Jeffrey was the game's leading receiver with 4 catches for 148 yards, even though he was ejected for fighting, because well, SEC4. 
Nebraska stalled in the red zone, scoring just once in three tries. Along with a -2 turnover margin, mistakes, penalties and inefficiency doomed the Cornhuskers, who surrendered six sacks and eked out 253 yards of offense.
Husker Mike wraps up the season for Nebraska as such: "The ending of the game left a bad taste in everybody's mouth, and it's something that needs to be addressed by everybody associated in the program once the plane returns the team to Lincoln.  Nine-win seasons used to be the standard at Nebraska, now it seems to be a sign of mediocrity.  Nebraska fans have high expectations of their football program, and while the Huskers have improved under Bo Pelini, they have fallen short of those expectations the last two years."
New Year's resolution for Nebraska: They should pretend like every game they play is the second half vs. Ohio State. 
TICKETCITY BOWL: HOUSTON 30, PENN STATE 14
Showing as much enthusiasm as you'd expect, Penn State ended their turbulent season by falling to Houston. QB Case Keenum led a prolific offense as he picked apart the Nittany Lion defense. Finishing with 532 yards on 45/69 passing and 3 TDs, Keenum set a bowl record when he threw for 227 yards in the first quarter.
Rob Bolden, filling in for a concussed Matt McGloin, failed to reach the 27% completion threshold (7/26) and was intercepted three times, though somehow, probably through dumb luck, was good for one TD pass.
New Year's resolution for Penn State: Hire a coach and try to pick up the shattered pieces of the program. They ought to figure out the QB position, too, one that doesn't involve getting knocked out by a teammate.
kraft fight hunger bowl: illinois 20, ucla 14
As Exhibit A for people who complain that there are too many bowls, Illinois defeated UCLA. To anyone who could stomach it, the Kraft Hunger Bowl5 featured a matchup between a 6-6 team and a 6-7 team. Their deposed coaches were no longer around. The halftime score was 7-3.
After the half, Terry Hawthorne picked off Bruin QB Kevin Price and ran it back for Illinois' first TD, giving them a lead they wouldn't relinquish. Nathan Scheelhaase, who ran for 110 yards with RB Jason Ford out due to academics, found AJ Jenkins for the second TD, a 60-yard score.. 
UCLA tried to mount a comeback late in the game. Prince hit Nelson Rosario for a 38-yard TD with 29 seconds remaining. Jenkins then recovered the onside kick, which appropriately enough, the Bruins botched anyway with an illegal formation. 
Whitney Mercilus notched his 16th sack of the season, tying Simeon Rice's Illini record. And now, with bowl wins two years in a row, Illinois has made school history. 
A Lion Eye summarizes: "That's how I'll remember 2011.  Zook lost the team (and then lost his job), the offense got in a funk and couldn't get out of it, and the defense never played a bad game.  We could have won every single game we played because the defense kept us in every single one."
New Year's resolution for Illinois: They need to maintain their defensive intensity while gaining offensive consistency. Getting rid of the Zook stink is imperative as well.
Meineke Car Care Bowl: Texas A&M 33, Northwestern 22
Northwestern lost to Texas A&M, finally providing us with an answer to that age-old question, "in a clash between two teams prone to second half collapses, which one would give?" Turns out, Northwestern's incredibly shoddy secondary has powers mightier than an A&M choke job.
Up 30-7 at the end of the third quarter, the Aggies allowed the Wildcats to crawl back in the game after Swiss Army knife Kain Colter both passed and ran for TDs. Then, with over five minutes remaining, A&M held onto the ball until they hit a field goal with 30 seconds left. 
At 73. 6%, Dan Persa now owns the NCAA record for career completion percentage. He was 25/37 in the game for just 213 yards. Texas A&M, with their first bowl victory since 2001, came away with eight sacks. Meanwhile, Northwestern continues to ride a nine-game bowl losing streaking dating back to 1949.
Lake The Posts, addresses the déjà vu feeling: "In the end, the final result was all that mattered. Northwestern came up on the short end again. This team was always what it showed on the field today. Talented when in rhythm, frustrating when not. And ultimately flawed by players being in the wrong position and a failure to execute in key moments."
New Year's resolution for Northwestern: A postseason win for the first time in the color TV era seems like a solid goal. They might want to replace the corpses in the secondary with living, breathing human beings. 
Insight Bowl: Oklahoma 31, Iowa 14
On Friday night, preseason #1 Oklahoma became Insight Bowl champions in a win over Iowa. Due to a violation of the Iowa Student-Athlete Code of Conduct, top offensive threat, RB Marcus Coker, missed the game. Few expected the Hawkeyes to put up much of a fight against the Sooners, and they didn't...until the fourth quarter when it was too late. QB James Vandenberg threw two TD passes that cut OU's lead from 21-0 to 21-14. But with over two minutes remaining, Michael Hunnicutt nailed a 35-yard field goal, and Blake Bell tacked on a late rushing TD. 
To add to the fourth-quarter excitement, particularly for the Chicken Littles of the world, a SkyCam fell out of the sky and grazed Marvin McNutt.
Minus Coker, the Hawkeyes only scraped together 76 yards on the ground. Though WR Keenan Davis was plagued with the dropsies, he led the team with five receptions for 76 yards, including a key fourth down conversion on their second TD drive.  Vandenberg was downright awful in the first half and managed to put in a decent performance later in the game.
Still, BHGP wonders, "How much has Vandenberg truly improved in the span of fifteen games as a starter? There's been some improvement, but definitely not as much as we could -- and perhaps should -- have hoped for, which is worrying. The hope is that he gets better in 2012 to give Iowa a chance of improving upon a 7-5 record, but... if it hasn't happened yet, is there reason to believe it will happen by next fall?"
New Year's resolution for Iowa: It would be in their best interest to make amends with the Angry Iowa Running Back Hating God, who is now trying to take out wide receivers, too. Kirk Ferentz didn't receive the Big Ten Coach of the Year honor, either, so that will need corrected.
Little Caesars Bowl: Purdue 37, Western Michigan 32
Leading off the B1G bowl season, Purdue edged Western Michigan. Like Little Caesars, which I don't think counts as actual pizza, I'm not sure this game qualified as football. There were 10 fumbles, 7 fumbles lost, 4 interceptions, 2 onside kicks, 1 99-yard kick return TD, 1 2-point conversion, and zero ACL tears.
Akeem Shavers started in place of Ralph Bolden, who missed the game with—all together now—an ACL injury. He responded with a career day, rushing for 148 yards on 22 carries.
For the Broncos, Jordan White, in his Tyler Moeller year of eligibility, caught 13 passes for 265 yards and a score, including this highlight.
Hammer & Rails recaps, "Most importantly, we did not embarrass ourselves. Since this is the Big Ten's only bowl game against the MAC, a conference we usually use for early season fodder, a loss in it is perceived as an embarrassment to the league. This game showed we have the tools to get better. With our own division depleted next year, the time to get better is now."
New Year's resolution for Purdue: It's time to begin a streak of ACL tear-free games. And even though the Boilermakers finally secured a bowl win, they should hold off on rewarding Danny Hope with another contract extension. 
1 Still unmerited.
2 Though, not literally. We wouldn't want important players to have to sit out half a season or more so that their teams could produce a losing record for the first time in over 20 years. Hate you, 2011 season. 
3 Appropriate, really, because you know Bielema dishes out plenty of nut punches on a daily basis. 
4 To be fair, due to that fight, Nebraska's Alfonso Dennard was also Bobby Cox'd.
5 I'm assuming Brady Hoke was the mascot.