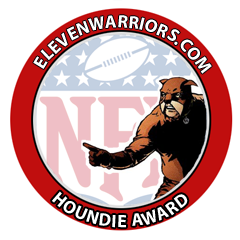 At one point in time, this award was known as the Buckeye NFLer of the Week. Thanks to a typo and the ensuing LOLsession from the commentariat, it was renamed as the Houndie. Same intent, but now with a better name.
The playoff picture is pretty much set for both conferences, except for the final couple of spots, as we enter the last two weeks of the season.
Atlanta and Detroit can clinch spots this week with wins, but if they lose and Chicago, Arizona and Seattle all win, then things get very interesting in the final week. For that matter, you can also throw in the top 3 teams in the NFC East, which was suppossed to be one of the strongest divisions to start the season, but each team has failed to live up to expectations.
The Jets and Bengals have a leg up in the AFC for the final 2 spots at 8-6, but 3 teams sit 7-7, including the Chargers who have won 3 straight.
As the season has progressed, the number of Buckeyes in the league has decreased due to injury and 5 are now on IR, including Antoine Winfield, Michael Jenkins, Bryant Browning, Chimdi Chekwa and Brian Roboskie. Added to the inactive lost this week was Ryan Pickett and Brandon Saine for the Packers.
Speaking of the Packers, they finally went down at Kansas City, 19-14. A.J. Hawk had 8 total tackles, including 6 solo stops, but got beat to the outside for 15 yards by Jason Battie, when the Pack was trying to stop the Chiefs with under 2 minutes left. As mentioned, Pickett didn't play for the Pack and it showed, as they gave up 139 yards on the ground. Coach McCarthy mentioned this fact Monday. "Ryan Pickett is having his best season as a Packer." Pickett should be back for the playoffs and Brandon Saine should be as well, after sitting out with a concussion.
The Browns had their best offensive rythm of the season, as Seneca Wallace started under center for the concussed Colt McCoy, but they allowed the Cardinals to score 10 points in the 4th and eventually win in OT, 20-17. Beanie helped the Cardinals come back, with a 1-yard plunge in the 4th to bring the score to 17-14 with 8:22 left. Wells finished the day with 15 carries for 51 yards, while also catching a pass for 10.
Wells is now 6 yards away from his first 1,000 yard season and his 10 TD's is tied for 5th in the league, which is one more than he had in his first 2 years combined. The Cards have now won 4 straight and travel to Cincy this week to try and keep thier slim playoff hopes alive.
The Thursday game this week was a dog turd, as Atlanta beat Jacksonville, 41-14. Ashton Youboty continued to get plenty of PT for the Jags, registering 8 total tackles, including one for a loss and a PD. Hopefully this extended audition can land him a contract next season, as he enters seventh year.
In Buffalo, the Bills lost their 7th straight, 30-23 to the Dolphins. Miami rode a career high 205 yards rushing for Reggie Bush and Brian Hartline had 3 catches for 69 yards. Hartline now has 29 catches on the season and 25 of those have gone for first downs. Austin Spitler continued to see action on special teams, but didn't record any tackles.
As expected, Dane Sanzenbacher saw extended PT this week and finished the day with 2 catches for 26 yards, in the Bears 38-14 home loss to the Seahawks. Dane tied for the team lead with 6 targets, as my Bears lost Johnny Knox for the season early on, to go along with Sam Hurd channeling his inner Pablo Escobar earlier this week. The Bears are a mess right now, but are still mathmatically eligble for the playoffs, so watch for Dane to see even more time the next 2 weeks.  
On a quick note, Jim Tressel won his first game with the Colts, as they beatthe  mysterious Titans, 27-13. Anthony Gonzalez saw his first target of the season and is still looking for his first catch, while Jermale Hines is now back with the Colts.
Up in Minnesota, it looks more and more like Rick Spielman will be looking for work this offseason, as the Saints took down the Vikings, 42-20. Malcolm Jenkins and Will Smith each had quiet games, with Jenkins tallying 2 tackles and Smith a TFL. The Saints have now won 6 straight and host Atlanta this Monday, as they try to snag the #2 seed away from San Fran.
The Niners dominated the Steelers on Monday night, 20-3, in a game where Big Ben should have been benched in the second half due to his bum ankle. Cam Heyward saw some time for the Steelers and was credited with a PD, while Larry Grant was again huge for the 49ers, going for 5 tackles, including a TFL and 4 PD's. Donte Whitner had 3 tackles and Ted Ginn caught 1, ran 1 and returned 1 punt for a combined 32 yards. 
As BigRedBuckeye pointed out last week, Ginn is 7th in All-Purpose yards with 1,558 this season and his kick return avg. of 28.1 is second in the league, while his 12.3 PR avg. is 4th.   
The Giants let another chance slip away, as the Redskins came into New York and went home with a 23-10 win. Darrion Scott is still on the active roster for the 'Skins and was credtited with a hit on Eli Manning. Jake Ballard had a very quiet game with 1 catch for 15 yards and was only targeted 2 times, as Manning threw 3 picks on the day.
Down in Houston, the Panthers got another road win by taking down the injury riddled Texans, 28-13. Chris Gamble and the Panthers secondary held T.J. Yates to 212 yards passing, as Gamble chipped in with 3 tackles. Luckily for the Texans, Baltimore and Pittsburgh lost, to keep them in the hunt for the #2 seed.
Bizzaro Baltimore showed up in San Diego Sunday night, losing 34-14. Na'il Diggs, with 3 tackles, helped the Chargers D force 2 picks and 7 sacks on Joe Flacco. As mentioned the Chargers have won 3 straight and sit a game behind Denver, but travel to Detroit and Oakland over the final 2 weeks.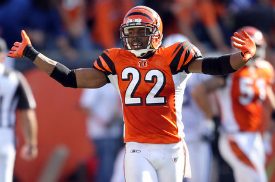 The Chargers are now tied with Oakland, who let Detroit score 14 points in the final 5 minutes to lose 28-27 at home. Rob Sims and the Lions O-line only gave up 2 sacks in 54 pass plays, allowing Matt Stafford to throw for 395 yards and lead a 98-yard drive to win the game.
With the mess that is the NFC East, the Eagles won their second straight and stayed in the division hunt with a 45-19 beatdown of the Jets. Brian Rolle had 4 tackles, while Kurt Coleman added 3 and was credited to starting Santonio Holmes day off poorly with a FF on Holmes's first catch.
That fumble was picked up by Juqua Parker, who took it back 47 yards for a 7-0 lead. Then on the next possession, the Eagles muffed a punt and gave it to the Jets at the 14, but Holmes let one slip threw his hands, instead ending up with Asante Samuel. The Eagles would promptly drive down the field to take a 14-0 lead. Holmes finished the day with 4 catches for 40 yards and a TD.
This week's winner though comes from the Bengals, who desperately needed a win this past weekend and Nate Clements stepped up to make sure that happened. Clements was second on the team with 7 tackles, all solo, including his first QB sack for -8 and another TFL, while also knocking down a pass in the Bengals 20-13 win. Clements has been a huge pickup for the Bengals this season, as they continue to be a surprise team in the league.
Mike Nugent scored Cincy's first 6 points, hitting from 21 and 41, while also connecting on both his XP's in the second half. James Laurainitis made 6 tackles for the Rams, including one for a loss and now sits 7th in the league.
This is Clements first Houndie since week 7 of last season and the Bengals will need a similar performance this week as they host Arizona and then Baltimore to end the season.