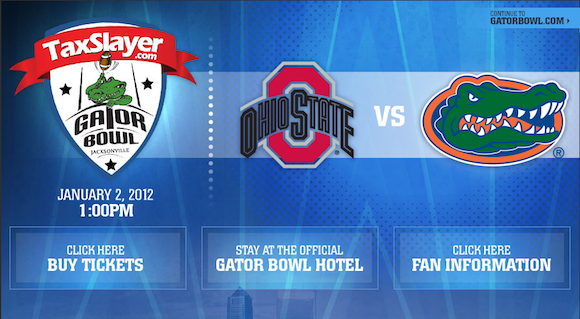 As first leaked a few minutes before 6:00 p.m. on the Gator Bowl's official website, the Urban Meyer bowl we've all been dreaming of is now a reality. One last opportunity for Luke Fickell to get his career record as a head coach above .500, one last time for us all to bath in mercury as we watch Walrusball wriggle down the field, and of course, with last year's results being vacated, another opportunity to get the SEC monkey off Ohio State's collective back. Having Florida be the representative from that conference makes the potential schadenfreude all the sweeter. With Charlie Weis and Will Muschamp on the opposing sidelines and Bauserbomb devotee John Brantley under center, expect an early over/under somewhere in the neighborhood of 13-16.
For those seeking to attend, the game takes place Monday, January 2nd at 1:00 p.m. in Jacksonville, Florida. You may be well served to book your hotels and flights with this but a familiar hour and a half sojourn for much of the Florida fan base.
UPDATE: Tickets go on sale Monday at 10 am EST, starting at $60.