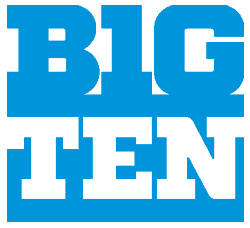 Maybe we're bad college football fans. Or blinded by ideology. Or simply just mean, hateful people. In any case, Big Ten football fans don't really seem to "get" this whole idea of conference pride. Really, the mere thought of Ohio State fans chanting BIG TEN BIG TEN BIG TEN after a victory over a mid tier opponent in the WhoGivesACrap Car Care Bowl fills me with sadness and dread; mine is a covetous fandom, and I don't wish to share my victories with anyone. If Ohio State ends up beating Florida in the Gator Bowl, it's not going to be because some Illinois fans in Champaign lent us their karmic good vibes, it'll be because our pure distilled hate for every living being that wells up in us in the interim between the Michigan game and the bowl game has psychically transferred into Braxton Miller's legs and given him super powers. Duh.
Still, it's not like I want the other Big Ten teams to lose. It's good for the image of the conference in general that it has a good record against the assorted rabble that is the college football universe, and aside from Michigan, I'll probably be even find it within me to root for my midwest brethren during their games. But a winning or losing record isn't going to radically change how I view the conference as a whole.
If you're saying to yourself, "Wow, that is a very zen way to approach it," you would be correct. I am extremely well-composed individual, provided Michigan fulfills its destiny and loses their bowl game in a humiliating fashion. So, without further ado, here are the record setting 10 bowl games that the ol bee one gee will be participating in this year, along with a bunch of pithy comments from a fan of a team that is really only playing for pride and to avoid their first losing season since 1988 (not bitter!).
Little Caesars' Pizza bowl, Dec. 27th: Purdue vs. Western Michigan
Western Michigan is probably the MACest team in the country right now; they managed to lose a game to Toledo by the score of 63-66, which is kind of funny in that they put up 35 more points on the Rocket defense than Ohio State did, which came two weeks after losing a 14-10 game to Eastern Michigan. Less funny is their 107th ranked rushing defense, and that should be the way Purdue wins this game (also by just being generally better than the Broncos). I would be lying if I said that I wasn't pulling for the Boilermakers here mostly because I'm pretty sure that my brain can't take an OSU loss to a team that would then go on to lose to a team with a player named Tyler VanTubbergen on the roster. Of course, win or loss, both teams get to spend the week in sunny Detroit Michigan, with many pregame festivities planned at... uh. Bill's house. And... that old parking garage. You know, the one with the violent commune of post-apocalyptic survivalists. Some guys have all the luck.
INsight Bowl, Dec. 30th: Iowa vs. #14 Oklahoma
So many questions need to be answered here, such as: how did this happen? Can you prosecute an entire football team for manslaughter? Is Kirk Ferentz going to skip the game entirely and instead spend three hours rolling around in a gigantic pile of money? Will Bob Stoops join him?
Look: yes, Oklahoma was vastly overrated at the beginning of the season, yes, they looked completely lifeless against Oklahoma State and yes, their best win this year has come over an 8-4 Florida State team. Doesn't matter. Landry Jones is going to absolutely destroy Iowa and its 66th ranked pass defense. For comparison's sake, Texas Tech, the 65th rated pass defense, gave up 412 yards and 5 passing TDs to Jones. Tech won that game, but unless James Vandenberg decides to channel his inner Ricky Stanzi and win this one for America, I don't see it happening.
Meineke Car Care Bowl, Dec. 31st: Northwestern Vs. Texas A&M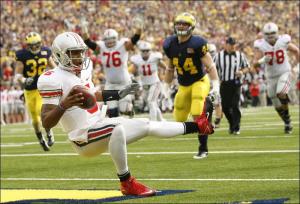 I guess southerners have some kind of weird beef with guys named Sherman, which is unfortunate for Texas A&M in that they no longer have a coach. It's not entirely unexpected: the Aggies played six ranked teams this year and lost to all but one of them, beating Baylor back in October. Similarly, Northwestern has played five ranked teams this year and only managed to beat... wait, Nebraska? Huh. Well, anyway, Northwestern rebounded nicely after losing five in a row earlier in the season, which included improved play by Dan "Really Angry I Can't Make A Lame Early 1900s Writer Reference Here" Persa. Right now A&M are probably playing better on offense than the Wildcats, but keep in mind this game is in Houston which means that the collective malaise of being there might force both teams into some kind of existential quandary where they sit in a circle around the 50 yard line and discuss the impact of urban sprawl for three hours. Well, Northwestern might do that while A&M salutes their dog or whatever they do in their spare time.
Kraft Fight Hunger Bowl, Dec. 31st: Illinois Vs. UCLA
I'm moderately confident that both teams are going to get lost on the way to the game; Zook and Neuheisel both took the Garmins with them when they got fired so if this thing doesn't start until 10pm or something don't be surprised. The Illini have lost six straight, UCLA 3 of their last 4. The game is going to be so bad that it might actually contribute to the spread of hunger in America rather than fight it. In fact, this is literally the only non-negative factoid the Big Ten was able to put in their press release for this game:
The last time a Big Ten team played in a bowl game in the state of California that was not the Rose Bowl Game was when Michigan State completed in the Silicon Valley Classic in 2001.
MORE LIKE THE FIGHT BOREDOM BOWL, AM I RIGHT GUYS?
TicketCity Bowl, Jan. 2nd: #23 Penn State vs. #19 Houston
This one might be tough for the Big Ten as Houston gets to play a virtual home game since the TicketCity Bowl takes place in Dallas. But when you think about it, Penn State also gets to play a virtual home game because the sport of football is comprised of both offensive and defensive aspects, and the Nittany Lions are much more familiar with the entire concept of "defense" than the Cougars. Case Keenum threw for approximately a bajillion yards against the likes of Rice, Tulane, UAB, and Marshall, but chances are that PSU will offer up slightly stronger resistance, given that they have the nation's 5th rated passing D (162.2 yards per game). It'll also be interesting to see what Moxie McGloin and Silas Redd do against a defense that gave up 49 points to Southern Miss (although it should be noted that the Golden Eagles oh hey that's their mascot, cool. What was I talking about? Oh, right. Houston has a terrible defense).
Gator Bowl, Jan. 2nd: Ohio State Vs. Florida
Luke Fickell, and, presumably, Jims Heacock and Bollman will be at it for one last rodeo. It's been a weird season, filled with ups and mostly downs, but a win over Florida would be a pretty big morale boost for OSU fans and also serve to make Florida fans even angrier than they already are, which is always nice. Ramzy detailed the kindergarten slap fight that is the matchup between Bollman and Weis, but if nothing else it should be fun watching Braxton Miller do his usual Steve Slaton/Dubstep/Tyrod Taylor performance art. Florida actually has a pretty decent defense, allowing just under 300 yards per game, so a low scoring contest suits them even better than it does Ohio State, if you can believe that. The real key for OSU is to make sure that they break the pattern that has doomed them in the second half of the season: falling behind 10 points or more in the first quarter and then being forced to play catchup for the rest of the game.
Should Braxton continue to improve his passing, should Boom Herron look more like the guy who averaged 138 yards per game in his first three games back rather than the guy who averaged 59 yards per game in his next three, and should the defense find a way to get healthy enough to field at least most of their starters, this is definitely a winnable game for the Buckeyes.
OUtback bowl, Jan. 2nd: #17 Michigan State vs. #16 Georgia
Both the Spartans and the Bulldogs are coming off of losses in their conference championship games, but that isn't going to stop this game from being fun as hell to watch. Many OSU fans  might still be laboring under the impression that Sparty is still Sparty and they don't really have a shot against an SEC opponent, but it should be pointed out that despite the SECs supposed top-to-bottom superiority over all that it observes, Georgia only played two ranked SEC teams during conference play; a South Carolina team that beat them in September, and an incredibly mediocre Auburn team that they admittedly stomped. My point is, Georgia has an inconsistent offense, is coming off a game where they looked completely whipped in the second half, and will be playing against an incredibly physical and angry MSU team hell bent on running the ball down their opponent's throat. Dantonio has done wonders with this team, and the BBC (Bell, Baker, Cousins) should have enough broadcasting power to drown out any SEC propaganda.
Capital One Bowl, Jan. 2nd: #20 Nebraska Vs. #9 South Carolina
The final leg of the 1pm January 2nd football tripod should be a good one. It's pretty funny to me that Steve Spurrier was finally able to settle his restless QB syndrome by having one of them eventually just getting too hurt to play for three random series during the game. Connor Shaw is now officially The Guy, and his rushing ability adds an important dimension to a Gamecock offense that needed it after the loss of Marcus Lattimore. It's pretty much feast or famine with Shaw, but recent 200 yard plus passing/~100 yard rushing games against The Citadel (who cares) and Clemson (oh, okay) have shown that he's got some real ability. The biggest challenge for the Huskers will be defending against this guy. Maybe before the game Spurrier and Pelini can compare notes on how to belittle developing talent or something, I don't know.
Rose Bowl, Jan. 2nd: #10 Wisconsin Vs. #5 Oregon
FAST VERSUS SLOW. FAT VERSUS THIN. LAME AND BORING VERSUS COOL AND SEXY. RUST BELT VERSUS A PART OF THE COUNTRY THAT DOESN'T MAKE YOU WANT TO DIE.
I'm starting to really enjoy the Rose Bowl, even more than I used to, because of all the backhanded compliments that the people running it and commenting on it end up giving the Big Ten representative. It's cool guys. Just come out and say it: you think that Big Ten football and the part of the country in which it is played is an unrelenting hellhole inhabited by fat, slow, and horrible people who love watching fat and slow football players play horrible football. And when Oregon inevitably beats the absolute crap out of the Badgers (I really don't trust any team that lost to Ohio State this year, even if they do have HEISMAN NOMINEE Montee Ball and ASSUMED HEISMAN WINNER Russell Wilson), the rest of the country will breathe a sigh of relief as all of their assumptions will have supposedly been confirmed. Cool!
Allstate Sugar Bowl, Jan. 3rd: #13 Michigan vs. #11 Virginia Tech
Both of these teams basically lucked into BCS bowls, seeing as how VT got demolished in the ACC championship and Michigan is literally the devil (and also didn't even win its division), so at the end of a long bowl season I will take exquisite pleasure in watching both of these teams flail around for three hours or so. The rushing attack for either team will be the difference maker in this game; if David Wilson gets going early and often, it's Tech's game to lose. If Denard controls the pace of the game like he's capable of, Michigan has a shot. For my part, I'll be watching the sidelines intently for Brady Hoke buffoonery involving a banana peel or threatening to send his wife to the moon, since if Michigan wins that's the only enjoyment I'll get out of this game.
And that's it! As per usual, January 2nd is where it's at for Big Ten football games. Woe be to he who is at work during the 1pm hour.