I must admit, the blues are kicking in. Even after a 6-6 season for the Buckeyes, I find myself disappointed in the taste of what is to come that tomorrow will provide. There is just one game left in the college football regular season.
While there are bowl games, a rematch against Florida, and exciting Urban Meyer news every other day to look forward to, I can't undo the perma-pout that is starting to make it's way onto my face. How did it all go by so fast?
Nobody likes to see a woman cry, it's just uncomfortable and incredibly unfair, so before the tears start to flow... let's get started. Oh, and Happy Friday!
URBAN'S STAFF STARTS TO TAKE SHAPE. In case you missed the news yesterday, Urban Meyer proved, yet again, that the smug grin on the face of Wolverine Nation isn't the only thing he's able to snatch up. As Urban goes to work on filling out his coaching staff, and recruiting players like a mofo, it was reported yesterday by CBSSports.com that Tom Herman will be the first coach from outside the existing Ohio State coaching staff to join the program. 
Herman heads to Columbus from Iowa State, where he served as the offensive coordinator/QB coach for three years. Prior to that, he was the offensive coordinator at Rice for two years. While Herman isn't a widely known name among casual college football fans nationally, he does appear to be a great get for Urban Meyer and Ohio State.
For one, getting an offensive coordinator at a Big12 school to accept a demotion to quarterbacks coach shows the power Ohio State still holds, and the immediate impact that Urban Meyer is having. Secondly, at the ripe, old age of 36, Herman is referred to by Bruce Feldman as "arguably the 'smartest' coach in college football," and that can't be a bad thing. Lastly, he comes to Ohio State with considerably more substantial experience than the last QB coach hire, so I don't even think Meyer cares if Herman can brew a great cup of coffee, that's clearly not what he'll be doing. 
Given the fact that Urban hasn't been too shy to admit his obvious enthusiasm for Braxton Miller, it's safe to say that this decision isn't one he took lightly. It'll be great to see what Herman can do at a place like OSU with talent like Braxton's.
SULLY, SULLY, SULLY, SULLY (PROBABLY) ROCKIN' EVERYWHERE. According to Thad Matta, Jared Sullinger told him that he woke up dancing yesterday morning. I'm still trying to figure out how this is newsworthy, as I've always kind of assumed that's how Sully always wakes up any day of the week. Just me? Back to the point... 
Matta obviously sensed some optimism out of Sullinger's comments, and most sources have him listed as probable for tomorrow's game against the 13th ranked Kansas Jayhawks. Basically, the decision will be Sullinger's to make on game day "It's kind of on him, just sort of how he feels," Matta said. 
How did Kansas coach, Bill Self respond to the vagueness of it all? "If I were a betting man," Self said, "I'd say Thad's not a very good poker player, because I think that he'll probably play." Self also confirmed that their only game plan for now, is to prepare for the Buckeyes' best. It seems unlikely at this point, but if Sullinger does sit this one out, his roommate Evan Ravenel, who took over for him last Saturday against Texas-Pan American, will take his place once more. Ravenel had 11 points and seven rebounds in that game.
And, to leave you with just a tad bit more optimism, Craft's $0.02 on Sullinger coming off an injury (based on their days on an AAU team together) were as follows, "He would go throughout the weekend and maybe not feel the greatest and then come out and have 40 points and 20 rebounds. It's hard to get a read on a guy like Jared."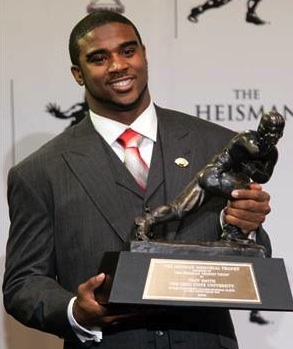 TROPHIES GALORE. The first slow week of the wonderful world of college football brings an opportunity to hand out hardware to the kids that have worked their asses off and earned a trophy that is all their own... as long as they don't want to sell it while they're still a student-athlete, because the NCAA can tell them what they can and can not do with their own property that they have supposedly earned. (Wow, I am full of digressions this week!)
Quarterback Andrew Luck of Stanford has been the big winner of the college football awards circuit thus far, grabbing the Johnny Unitas Golden Arm (top senior quarterback), Walter Camp Award and the Maxwell Award (both for college football's top player of the year). Though Luck appeared to be the preseason favorite for the Heisman Trophy as well this year, Quarterback Robert Griffin III of Baylor, according to many sources, is the current favorite to take home that beautiful stiffarm trophy this weekend. Griffin has already won the Davey O'Brien Award, given to the nation's top quarterback.
As far as the other Heisman finalists go, Tyrann Mathieu of LSU won the Chuck Bednarik Award, Trent Richardson of Alabama won the Doak Walker award and Montee Ball of Wisconsin came up empty handed. 
In an ironic twist on the week that it was reported he seemingly doesn't care about people at all, Nick Saban and the Alabama Crimson Tide accepted the Disney Spirit Award, for their efforts in aiding the victims of a tornado that swept through Alabama back in April.
NITTANY LIONS IN THE DOGHOUSE. The Big Ten Council of Presidents and Chancellors met this week to discuss Penn State and their current sex-abuse scandal. After their meetings, they released this statement yesterday. The statement basically says that regardless of what the NCAA decides on the matter, the Big Ten still reserves the right to "impose sanctions, corrective or other disciplinary measures" on Penn State, if it so chooses. 
It's still too soon to say just how far the conference would be willing to go in this case to punish the Big Ten, but according to Brian Bennett, there are rumors that some of the schools within the conference have lobbied to kick Penn State out of the conference, due to their disgust with the whole situation. Bennett also points out that while typically the conference has wanted their lawyers involved with such matters in order to help defend it's member institution, it seems in this case that Penn State cannot expect an ally in the B1G.
One of the main things the conference is interested in is whether or not there was a concentration of power in an individual (Paterno) or program that "threatened or eroded institutional control of intercollegiate athletics at Penn State."
 MUSICAL CHAIRS: COACHES EDITION. Short of a school facing an NCAA ruling hiring a 2 time national championship coach, this was quite the interesting week in coaching. What have you missed?
Well, for one, in one of the more bizarre non-hires I've ever witnessed, Arizona State offered June Jones their head coaching position... then Ashton Kutcher ran out and told Jones he was getting punked, because.... the boosters didn't like him. When asked about it on Thursday, Jones said, "I wish Arizona State well, and we're going to do well... I'm very happy at SMU."
In another move that left the college football world scratching their heads this week, Charlie Weis has accepted the head coaching position at Kansas. As much as many of us might be wondering what led them to believe this was such a great steal for them, Kansas administrators seem to be pretty pleased with themselves. Kansas AD Sheahon Zenger told ESPN's Joe Schad the hiring "puts Kansas on the national map." Oh, the jokes to be made with that one.
​LINKS TO HELP YOU KILL SOME TIME. Another guy who has coached under Urban Meyer... One of the more bizarre days in recent NBA history... Face may not be the only thing Penn State is losing... Honey Badger does care, or LSU does, anyway... Montee Ball's consolation prize... PLEASE scroll down to the poll and laugh out loud.