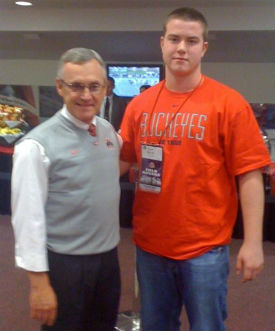 We already introduced you to some talented offensive linemen in the 2013 class, in Alex Gall and Joshua Crim. Those are two very good players, but today we bring you the real goods with a slightly more coveted 2013 tackle prospect in Wheaton (IL) St. Francis's Kyle Bosch.
Bosch, standing at 6-5/280, is rated as a four-star recruit by 247 Sports and is a member of ESPN's Top 150. He plays both offensive and defensive line for his high school, but will likely be playing left tackle at the college level. He already has 12 Division I offers, a list that is soon to grow even larger, as contact is being made by virtually every program around the country.
Bosch was being recruited heavily by Jim Tressel before the coach retired in May and the courting has continued under Luke Fickell's staff by Dick Tressel, who recruits the Illinois area. With Urban Meyer recognizing that the offensive line recruiting has been slightly botched the last couple of years under Jim Bollman, expect the new Ohio State coach to continue to go after Bosch hard. 
We got the chance to sit down with the Illinois product to discuss his thoughts on Meyer as head coach of the Buckeyes, where things stand with his recruitment, what he wants to improve on and much more. Join us after the jump to catch up with Kyle Bosch.
How did your season go? How did your team do and how did you perform individually?
My season went great. We ended up 8-4 and lost in the second round of the playoffs. Individually, I played really well on both offense and defense.
How is recruiting going? What schools have offered and what schools are showing interest?
Recruiting is going great too. I have 12 offers from Iowa, Michigan, Michigan State, Indiana, Purdue, Stanford, West Virginia, Nebraska, Ole Miss, Illinois, Northwestern, and Arizona. Schools that are recruiting me hard right now are Miami (FL), Alabama, California, Notre Dame, Wisconsin, Georgia, Georgia Tech, Oregon, Boston College, Penn State, and Tennesee.
Do you have a favorite or list of top schools at this point?
As of right now, Iowa, Stanford, and Michigan are sticking out.
I know OSU has been in touch in the past. What do you like about Ohio State?
I like the overall atmoshere of Ohio State. The coaches are great. I've gotten to talk to both Dick and Jim Tressel in the past, as well as their offensive line coach [Jim Bollman]. They are very knowledgable guys. I am very excited about Coach Meyer and all the coaches he is drawing to.
What is your opinion of the Buckeyes hiring Urban Meyer as head coach?
My personal opinion is that Ohio State is going to be dominant in the coming years. If he brings Coach Stoops from Arizona and with Coach Pantoni from Florida, you can already tell that even big time programs are realizing the potential that Coach Meyer is going to have with this team.
Has OSU called or contacted you since they hired Urban?
They have not called me, but I facebooked Coach Pantoni to send him game film. He told me he was leaving Florida to go to Ohio State and he said he would definitely be recruiting me there once he gets settled in there and gives my film to the offensive line coach.
When do you expect to make your college decision?
With all the mayhem going on in the college football world, between Penn State and OSU hiring Coach Meyer with many people leaving to join him, I am honestly not sure when I will make my decision.
What are you looking for in the college of your choice?
I am looking for a team and a coaching staff that I can see myself playing for all 4-5 years I am in college. I just want to really enjoy my experience with them.
What visits have you taken this year? Which did you like the best? What visits are you planning to make in the next year?
I have been to Michigan, Iowa, Stanford, Northwestern, and Notre Dame this year. I liked them all evenly. I am planning to visit down south sometime this year or early next year. I want to tour some ACC and SEC schools.
What do you want to improve on before your senior year?
I would like to improve on my foot work, as well as learn how to snap [to become more versatile].
HIGHLIGHTS: