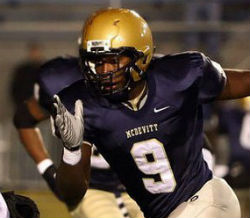 As you've no doubt noticed here the last few weeks, football recruiting is picking up for Ohio State. This week in lieu of Around The Oval, we here at Eleven Warriors are going to zoom out and take a comprehensive look at the state of recruiting not just in Columbus, but around the entire Big Ten.
Recruiting is an inexact science. Some schools may recruit 17 players one year, and maybe 6 of them are defensive tackles, but they lack any explosive offensive threats or a QB that can play. But, if those DTs are ranked highly, then that school's recruiting class is highly regarded, no matter that it's incomplete and leaves holes in their roster.
Today we're going to try and take a composite look at the Big Ten, and how each school is faring from a recruiting standpoint, scurrying to put the finishing touches on their 2012 recruiting classes.
Ohio state's quicker than expected resurrection
Urban Meyer is a recruiting monster. That was something he showed time and time again in his time at Florida, but the work he's put in at Ohio State, in just under a month as the head coach has people all over the nation scratching their heads, trying to discern if anyone got the license plate number of the recruiting truck that hit them.
It's not that Meyer was able to "flip" guys like Se'Von Pittman, or retain (and subsequently get enrolled early) guys like Bri'onte Dunn, who in "normal" years would have been Buckeyes anyway that's catching people's attention. It's the sudden and furious interest from nationally sought players like DE Noah Spence and DT Tommy Schutt that opened people's eyes to the fact that Ohio State's supposed "lull" was not going to be as extensive as they no doubt hoped.
The Buckeyes have gone from the outside looking in on the national recruiting rankings, to now sitting in the top 6 of all three major recruiting networks' rankings. They currently reside in the Big Ten's #2 slot, despite besting the #1 ranked Wolverines in average star ranking. Michigan gets the nod due to the total number of commitments at present, but that could change.
With the possible addition of 4-6 more prospects in this year's class for Ohio State, they will likely continue to climb the charts before signing day gets here, a remarkably astonishing feat considering the slow start and the turmoil surrounding the program for the last 12 months.
We'll now take a look at how the rest of the conference is faring, starting with Brady Hoke's Michigan Wolverines, who were major benefactors of the Ohio State drama, and have made a serious splash nationally with their class of 2012.
THE UPPER CRUST
MICHIGAN When Mentor, OH DE Tom Strobel committed to Michigan in June, it signaled to a lot of Buckeye fans that perhaps this year was going to be a bit of "loss" in the recruiting game. Most considered the Buckeyes a favorite for Strobel before Jim Tressel's resig-firin-zcecation, and his verbal commitment to UM signaled to other recruits that maybe, just maybe, it was an ok year to consider an exodus from Ohio and the borders that Tressel had effectively walled-off for the previous decade. A month later, St. Edwards star offensive tackle Kyle Kalis rescinded his commitment to Luke Fickell and was all aboard the Hoke Float and UM's class had its biggest fish yet.
Hoke's Ohio roots helped him get a foot in the door and he's made pillaging the Buckeye state a priority. It seems to be paying off as his Wolverines sit with the Big Ten's highest ranked recruiting class, firmly entrenched at #3 across all three networks. Michigan currently has nine commitments from Ohio, including their lone five-star commitment in Kalis; and four-star prospects Strobel, Toledo Whitmer (alma mater of current Buckeye Kenny Hayes) DE Chris Wormley, LB Joe Bolden from Cincinnati and S Jarrod Wilson from Akron Buchtel.
With 24 total commitments, Michigan's class is nearly finished, but they are waiting for word from a few key players that include Buckeye targets OT Jordan Diamond and ATH/WR Stefon Diggs from Baltimore.
WISCONSIN The Badgers check in with a class in the mid-thirties nationally, and it seems the Big Ten appears to be heading back towards a "Big Two, Little Ten" at least as far as recruiting goes. After Michigan and Ohio State, the Wisconsin Badgers have the conference's third highest rated commitment group, ranking no higher than 31st on any network (Rivals.com). Their class, though small (Only 12 commitments currently), has the look and feel we've come to expect from Wisconsin over the years; they go national and they go big, with a few home-grown talents sprinkled in. 
For a state that produces limited D1 talent, the Badgers do a nice job of making sure those guys rarely get away, and they did that this year with a commitment from four-star talents RB Vonte Jackson from Kenosha, and LB Vince Biegel from Wisconsin Rapids. 
Their biggest "wins" on the recruiting trail this year are on the offensive line (sooo-prise, sooo-prise!) and at quarterback. Somehow the Badgers were able to convince Concord De La Salle QB Bart Houston, the nation's 4th ranked prospect at signal-caller to pledge for Wisky over a bevy of PAC-12 offers. Barrington, IL offensive guard Dan Voltz, the country's 6th rated guard also committed to Bret Bielema in March, another big recruiting "get" for Bucky.
They were also a winner in the Ohio State scandals, getting a commitment from Cleveland OT Kyle Dodson, the nation's 25th rated tackle, although many people suspect that one may end up in the Buckeyes' favor come signing day.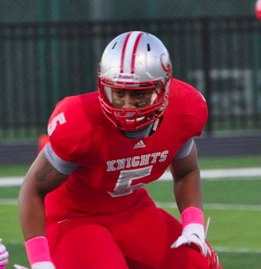 PENN STATE When it comes to the Penn State recruiting class, file it away under: TBD. There are a lot of variables at play for the Nittany Lions, and up to this point, everything that has happened since the firing of Joe Paterno and the revelation of the Jerry Sandusky sex-scandal has been a major hit to what was once a promising class, one that may have ended up in the top ten nationally.
PSU had commitments from five-star DT Tommy Schutt, who recently committed to Ohio State, and was also considered the favorite for Harrisburg DE Noah Spence, he too committed to Urban Meyer and the Buckeyes. However, those losses are but a piece of what could be on the way for the Nits.
Many feel that LB Camren Williams of West Roxbury, Massachusetts, regarded as one of the leaders of the PSU class and one of the nation's highest rated linebackers; and his high school teammate, CB Armani Reeves, the nation's 9th ranked prospect at the position, will end up elsewhere. Williams has visited Ohio State and pledged to make a return trip to Columbus with his mother in January, while Reeves is looking at Michigan and others.
Both players have insisted they remain committed to Penn State, but the longer PSU goes coachless, the more likely that these two highly-regarded prospects move on from the quagmire in Happy Valley. Aside from the Roxybury duo, Penn State's highest remaining commitment is Wyoming Valley West (Plymouth, PA) wide receiver Eugene Lewis, the 9th ranked WR in the country according to Scout.com 
One player that I am high on is Skylar Mornhinweg, the 44th ranked QB prospect in the country from Philadelphia. The son of former NFL coach Marty Mornhinweg; Skylar is a big, physical QB in the Tim Tebow mold, who turned down offers from Stanford and Tennessee among others. 
MIDDLE EARTH
MICHIGAN STATE Mark Dantonio's Spartans took a bit of a hit in the past week when they lost their highest rated commitment, the aforementioned Se'Von Pittman, to Ohio State, but that's not to say that Sparty's not putting together a quality recruiting class. With their 14 verbals, on the heels of consecutive top 30 classes in 2010 and 2011, the Spartans are continuing their program's rebirth.
Led by Jamal Lyles, a LB from Lathrup Village, Michigan, and Aaron Burbridge, a 6'1 WR from Farmington Hills, Michigan State has recruited a "complete" class, with a notable exception on the defensive line. At present, the Spartans do not have a single commitment on the DL, and while that was a position of strength for MSU this past year, it's not a position that you can skip years recruiting. Expect MSU to continue to make a push at that position.
NEBRASKA Nebraska, like Wisconsin, has a small class, but one that is talented and one that has room for growth. Headlined by Cibolo, TX four-star quarterback Tommy Armstrong (doesn't that sound so all-american?) and four-star OL Paul Thurston from Arvada, Colorado, the Huskers currently sit with only nine commitments, two of which are JUCO signees. Akron Hoban DE Greg McMullen is the lone Buckeye-state steal for Bo Pelini and his staff. 
Nebraska is trying to find an identity as it heads into its second season in the B1G, and will need to pick up the pace on the recruiting trail or risk being left behind as the "big dogs" of the conference continue to profit from years of established relationships with high school programs thoughout the midwest. With facilities and fans on par with the nation's best programs, it would be surprising to see Nebraska struggle for too long on the B1G recruiting scene.
IOWA The Hawkeyes know that success in the Big Ten is gained by winning the battles in the trenches, and over the years Kirk Ferentz and his staff have done a wonderful job of finding players to fit their system. Big, agile defensive linemen and road-grading offensive linemen that can go 12 rounds are the norm in Iowa City.
This year is no exception for the Hawks, as Ferentz et co have reeled in two big-fish defensive tackles from Illinois, Jaleel Johnson from Lombard and Faith Ekakitie from Lake Forest, ranked 19th and 20th respectively at the position. Those two hogs are the centerpieces of a class that currently claims 16 commitments. 
Ferentz's team always seems to make a late push recruiting wise, and they are still in the game for some major players, including Jordan Diamond, Colorado OL Joey O'Connor, Erie, PA running back Greg Garmon and Daysean Rippy from McKees Rocks, Pennsylvania.
PURDUE Danny Hope's Boilermakers, the bane of the Buckeyes in their little West Lafayette halfway house, are quietly having a very effective recruiting year. Of course, no one is going to crown them 2014 Big Ten champions based on this group, but it's a solid group that will keep a once proud program on an upward trajectory. 
Austin Appleby, a 6'5 gunslinger from Canton Hoover high school and Bilal Marshall, a dual-threat QB from Dade Christian HS in Miami are the core of this class, which also features two place-kickers, carrying on a tradition of big-legged kickers with Buckeye killing intentions.
Purdue's class is a bit TE heavy, with four current oral commitments from the position. They also have four WR in the fold, signaling yet again that the passing game will remain Purdue's bread and butter. The Boilers currently have 21 commitments, and will continue to pound to pavement to finish this class strong.
BOTTOM OF THE BARREL
INDIANA This past summer, first-year Hoosiers' head coach Kevin Wilson, fortunate to have sophomore QB Dusty Kiel on the roster he adopted, turned that luck into a bit of opportunity. He received a commitment from Gunner Kiel; Dusty's brother, an Indiana native, and the country's highest rated QB prospect. Gunner would be a main cog in Wilson's plan to garner national attention for his crimson and cream clad Hoosiers.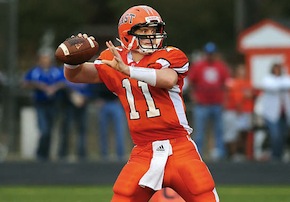 Then, midway through the Hoosiers 2011 season, freshmen wunderkind Tre Roberson got a chance to run IU's offense and brought it back from the dead. Dusty became dispensable, and Gunner decided it was best to re-open his recruitment so that the teams he should have really considered, the "big boys" of the NCAA landscape, could have another crack at him. The Hoosiers lost their biggest recruit in years in a matter of months.
Since then, Wilson and the Hoosiers have not been lazy, but they've failed to capitalize on the momentum that Kiel's verbal could have spawned. A solid class of 21 verbals, with the majority of them receiving three stars from the networks, sets up the Hoosiers nicely as they look to get back to their glory days. 
Not sure when those were, exactly, but I am sure they had glory days. Anthony Thompson, right?
NORTHWESTERN Full disclosure: for as much as I mock the Wildcats and Nerdwestern, I am a huuuuyoooge fan of Pat Fitzgerald and what he's been able to accomplish in Evanston. Unlike some B1G schools that are known for academic glory and then abandon it when it comes to the student-athlete's they recruit (I'm looking at you, "Harvard of the west"), the Wildcats continue to prove that a school that desires to be an academic bastion can in fact be mediocre athletically. 
It's not easy to recruit at Northwestern, but Fitzgerald continues to bring in quality players from all over the country, and does so while making sure that the players he recruits are the creme de la creme academically. This year he has snagged the nation's 9th ranked offensive guard, Adam DePietro from Lancaster, PA and continues to battle Stanford and Notre Dame for Centerville, Ohio's Ifeadi Odenigbo, the 4th ranked outside linebacker in the country. Odenigbo is set to announce his school of choice on January 7th, and while I believe he ends up at Stanford, Fitzgerald's staff has made a great impression on him for months now.
The Wildcats have 18 commitments, and have just missed on a number of big-time prospects lately, including recent Iowa verbal Faith Ekakitie and Michigan commitment Jehu Chesson, a wide receiver from St. Louis. 
ILLINOIS New Illini head coach Tim Beckman has a few things in his favor: Illinois has a great tradition, a talented group of players on his roster and a state rich in high school talent. He unfortunately also has to coach players who have had their fundamental understanding of football sullied by Ron Zook and his Zooktastic thinking for the last few years. So as you can imagine, it all evens out. 
Beckman, who took over the Illini after three years as the head man in Toledo, becomes the first Urban Meyer disciple to take over the reigns in the Big Ten, and that means that this intensely rabid, ever-hungry recruiting beast will feast in Champaign. Beckman may be getting a late start in 2012, but he will not be out-worked by anyone and that should pay off in 2013 and beyond.
Beckman's Illini currently sit with 14 commitments, but risk losing their top committed player (LB Keith Brown, Miami, FL) as he has committed himself to looking around. I think Brown ends up at Louisville, others think Miami, but either way - I don't think he goes blue and orange. Beckman will leave no stone unturned as he uses the network he developed in the Chicago area as Rockets head coach to entice Chicagoland prospects to stay at home.
That quest begins in earnest as he attempts to sway LB/RB David Perkins from South Bend, Indiana to give the Illini a closer look. Perkins, the former Notre Dame commitment, is still trying to find his "fit", as each school he is interested in views him differently. Illinois and Beckman like him in the offensive backfield, which is Perkins preferred position, and for whatever reason, that's where I see him ending up coming February 1st. In Illinois, playing running back.
MINNESOTA Oh, Minnesota, the land o' a thousand lakes. It's not like you don't try, cause you do, it's just that you maybe shouldn't. Why not spend the hundreds of thousands of dollars you have for a recruiting budget on say, new ice-fishing poles for all the guys and gals at the local Shanty Shack? 
With 25 commitments, the Gophers have been very active on the recruiting trail this year, as Coach Kill (still the coolest name in football, IMHO) doing his part to put Gopherball back on the map. Minnesota was able to snag the state's second rated prospect, OT Jonah Pirsig, a 6'9 behemoth at offensive tackle, but lost out on Nick Davidson, another homegrown tackle who bolted just recently for Stanford. If you want to build a program based on the local talent, it's hard to lose potential stars lose Seantrel Henderson in 2010 and Davidson this year.
Over the years the Gopher state has produced some serious talent: James Laurinaitis, Michael Floyd, Joe Mauer, and Bryce McNeal are a few of the players who escaped the great white north for the warmth of the lower 48; if Kill can keep them in state eventually, Minnesota might be worth fretting over.
But, that hasn't happened yet, and this year's class of 25, with the exception of Pirsig, will help keep Minnesota as a MAC level football team in the Big 10, er, 11, er, 12 or 16 or whatever.
THE FINAL COUNTDOWN
With less than two months until signing day, I expect a furious finish to the conference's recruiting year, and when it's all said and done, I suspect Ohio State and Urban Meyer will edge out Michigan for the top spot in the conference and a top 3 finish nationally. 
Here's the composite B1G recruiting rankings as we sit today.
B1G Recruiting Breakdown

| | | | | | |
| --- | --- | --- | --- | --- | --- |
| TEAM | Total Commitments | Scout.com | Rivals.com | 24/7 Network | Average Star Ranking |
| Ohio State | 19 | 3.74 | 3.53 | 3.58 | 3.62 |
| Michigan | 24 | 3.63 | 3.50 | 3.54 | 3.56 |
| Nebraska | 9 | 3.22 | 3.56 | 3.55 | 3.44 |
| Wisconsin | 12 | 3.42 | 3.33 | 3.50 | 3.42 |
| Penn State | 13 | 3.23 | 3.08 | 3.23 | 3.18 |
| Michigan State | 14 | 3.14 | 3.14 | 3.14 | 3.14 |
| Iowa | 16 | 2.69 | 3.00 | 2.94 | 2.88 |
| Purdue | 21 | 2.62 | 2.91 | 2.77 | 2.77 |
| Indiana | 24 | 2.62 | 2.75 | 2.83 | 2.73 |
| Northwestern | 18 | 2.58 | 2.78 | 2.66 | 2.67 |
| Illinois | 14 | 2.50 | 2.68 | 2.78 | 2.65 |
| Minnesota | 25 | 2.16 | 2.68 | 2.64 | 2.49 |
Thanks for reading, see you next Tuesday for Around The Oval when we'll get back to non-revenue sports at Ohio State, including the nationally ranked hockey and wrestling teams.