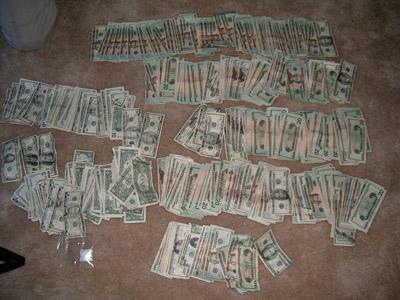 Words can't describe how much I hate the Big Ten this year. Actually, yes they can, because that's the purpose of words: to describe. Wisconsin, I am tired of you destroying inferior competition. I am also tired of your coach, who looks like a guy who visits strip clubs on his lunch break "because they have a killer buffet deal." When is your team's performance on the national stage going to reflect the arrogance of your coach and fans? Illinois, your collapse is stunning even for a Ron Zook-coached team. Think about that for a minute. Minnesota, you covered a spread two weeks in a row. I have no idea what the hell I was doing picking you; that one is on me. Nebraska... I don't know you well enough to hate you yet. Kirk Ferentz, why don't you try fielding your team of Coach of the Year trophies next time, ya? You got blown out by KIRK FREAKING COUSINS. Northwestern, you scheduled RICE in November. (/punchline) Michigan, you're still a bunch of faux-Brooklynites, so don't think you're fancy since you actually handled your business last week. I got a bone to pick with y'all, but I got a hankering I'll just pluck it from the ribcage of one of those creatures you call "women" up there in the barrenness to the north in a little less than a fortnight.
I cannot wait until Gene Smith releases a YouTube video announcing the hiring of Urban Meyer. Do you realize what you have done now? Do you all realize?
Sadly, these are fantasies of the future. Presently, I'm tired of having my guesswork and conjecture derailed by the unpredictability of the mediocrity of the Big Ten. My 4-1 record in national games last week -- of course -- got tarnished by my 1-3 mark in Big Ten games. I don't know what I'm more excited for: the Big Ten putting itself out of its misery in a couple weeks or putting down a bowl season parlay in which I'm betting against every single Big Ten team not named "The Ohio State University Buckeyes".
I apologize for my bitterness. l am engulfed in sports hell right now. The Browns are moribund. Aston Villa's greatest hope is a petroleum company from Qatar. The Lakers are getting locked out by billionaires who are apparently proud of the fact they've lost millions of dollars over the last decade. Ohio State football got screwed out of a national title shot by the archaic rule-book of the NCAA. I guess the Dodgers did retain Matt Kemp and Ohio State basketball has multiple future NBA players on its roster? So, thanks Sports Gods?
LAST WEEK: 5-4
SEASON: 61-41
NATIONAL GAMES
North Carolina at #9 Virginia Tech (-10.5) - Thursday 8:00 EST - ESPN
Virginia Tech is playing on a Thursday for the second week in a row, and UNC's Gio Bernard is all that stands between the Hokies and their 10th win of the season. While I like Gio and think he'll look just fine in Cleveland in 2014, I think Virginia Tech's 13th ranked rush defense should do a number on the young back. Frank Beamer gets his 956th 10-win season in Blacksburg with ease.
Georgia Southern at #3 Alabama (OFF) - 2:00 EST - ESPN (Gameplan)
I'm including this game, because I want to tip my cap to the SEC! 1-AA teams in November! You guys keep swinging for the fences! Georgia Southern is actually a D-1AA powerhouse, so I guess there's that. I really do wish Vegas was dumb enough to put a line of Alabama (-38) out there. I think Georgia Southern could cover that. And no, Antonio Henton is not one of the six quarterbacks on Southern's roster.
Mississippi State at #6 Arkansas (-13) - 3:30 EST - CBS
While the SEC has the best team in the country (LSU) and maybe the second best (Alabama), how pitiful is the SEC outside of that? I am not sold on Arkansas at all, and yet here they are, with a #6 ranking next to their name in the middle of November. If this game were in Starkville, I'd think about picking Missisippi State. Their pass defense is ranked 13th in the country -- which is impressive -- until you look at their competition. The only team they've played with a respectable passing game, Georgia, had their quarterback throw for two touchdowns against them. Bobby Petrino is a scumbag, but the man knows football, it would seem. (Besides, I need Arkansas to win this game so I can bet my rent money on LSU [-8] next week in Baton Rouge.)
Boston College (+24) at #24 Notre Dame - 4:-00 EST - NBC
LOL, so this is what a blow-out win at Maryland can do for a team these days? I am so tired of Notre Dame. I don't remember a time where they were ever actually good and I'm about to be a quarter century old next month. I wasn't even going to comment on this game, until I saw this ridiculous line and became "internet infuriated." (That's when you pretend to be infuriated on the internet, but really you're not mad at all. Search "Community" on Twitter for examples of this.) LET'S GO YOU EAGLES!!!
#5 Oklahoma (-16) at #25 Baylor - 8:00 EST - ABC (Regional)
((It's Bob Stoops, polishing his national title ring, leaning back his chair in his bejeweled office in Norman, Oklahoma. "We're laying a mere 16 points at Baylor?" He says. "A mere 16 points AT BAYLOR?" *rings voluptuous assistant* "Sandy, ready the troops. We're about to lay siege to Waco, Texas, as if we worked for the Bureau of Alcohol, Tobacco and Firearms.")) Look, I like Ser Robert Griffin III. I like him a lot. Unfortunately, I like Bob Stoops' lack of sportsmanship even more. (The one thing I don't like in this matchup? Baylor's pitiful defense.) Oklahoma needs some style points leading into Bedlam next week in Stillwater (where they will get beat by 50).
#18 USC at #4 Oregon (-14.5) - 8:00 EST - ABC (Regional)
After the demolishing of Stanford last week, I could kiss Oregon. Did you see Chip Kelly out there -- hogging everybody's swagger -- going for it on 4th down (LIKE A BOSS). So now, this week, a less talented version of Stanford is coming into Autzen Stadium... and I'm supposed to believe they have a shot at covering? Please. I don't know about Wisconsin's chances in the Rose Bowl, namely because I don't even know who's a Legend and who's a Leader in the Big Ten, but I am praying every night to Warren G. Harding that Oregon gets the right to beat the brakes off Wisconsin by 30+ in the Rose Bowl.  QUACK QUACK.
WARREN G. HARDING'S $10,000 PRESIDENTIAL power PARLAY
The 29th (and greatest) U.S. President, Warren Gamaliel Harding, was a renowned gambler, golfer and lover of life. As such, his words are brought to you here through the medieval art of necromancy. Seeing as President Harding ushered us into economic success unheard of in human history (before being tragically assassinated by his jealous wife--which tanked the economy), his words here might as well come to your doorstep in the form of etched stone tablets. (All views and opinions presented here should be considered only those of Warren G. Harding himself, obvii.)
LAST WEEK: -$10,000 [Georgia (-13), Arkansas (-14), Ohio State (-7)]
THE SEASON'S HONEY POT: +$217,739.66
You know, if memory serves, the last time I dropped the ball, it was an asteroid which ended up killing those big ass lizards from back in the stone age. (RIP LIZARD KING -- YOU WERE A MIGHTY FOE INDEED... AND A TRUE LEADER OF LIZARDS. IN ANOTHER LIFE, WE MAY HAVE BEEN FRIENDS.)

I cannot fathom a more miserable existence than being a hater of Yours Truly. I love every single one of you cockroaches. And don't think I don't hear your whispers, see your Tweets or read the pathetic scrawls in your diaries. You haterz keep coming at me, and yet, I'm out here with 200 grand in my pocket and a smile on my face. Hahahaahahahahahahahaha. And to think, this sack of money money isn't even worth its weight in cocaine to me.

Speaking of cocaine, I wish you all had the capabilities to attend my galactic coronation ceremony last week! Why are your "scientists" so perplexed by rudimentary intergalactic travel? But, I guess I'm speaking on the same species which still uses gasoline to power their cars. (TIME TO STEP UP THE STAR-FUELED WAR CHARIOT-SHUTTLE GAME, OBAMA).

Newayz, all the celestial tribes bowed their knee to me, as I knew they would. The Big Tymers mumbled and grumbled... talking some trash about an intifada... but it's amazing the things naked women can get men to do. (And you know I have an entire globe of those, LOL.)

I won't bore you with the details of the ceremony -- I walked down a rose-covered isle,  took the Abyssal Cocaine Crown of the Eternal Galaxies off its queer looking purple velvet pillow, placed the crown on my head, and then I turned around and walked out to the BeeGee's classic "Stayin' Alive" blaring.) Frankly, I think there were much better ways to spend ten million platinum pieces, but whatever. 

After the ceremony, I retired to my solar with a boulder of cocaine and three trollops. After shifting their wombs about for an hour or two, I sent them packing. I wanted to take a power nap before the coronation party. They hadn't even shut the door, however, before Tupac Shakur bandied into my room wielding two bottles of Hennessy.

"Jiminy Crickets, Pac!" I said. "It's 3:30 in the afternoon!"

"Think about what you just said there," he deadpanned. He then flipped a bottle of Hennessy to me.

"True enough," I said as I untwisted the bottle and chugged it in its entirety, feeling a rush as the Hennessy flowed into my system. I threw the bottle against the wall after it was gone. Tupac did the same.

This was the start of the most legendary rap mixtape ever. In a two hour blitzkrieg, doing nothing but drinking more Hennessy and smoking blunts,  Pac and I laid down 16 tracks.

"I'm going to get these to my people," Three Tupac Shakurs told me when he was done mixing it. "After all my stuff runs out in 2025, we'll drop this mixtape on the streets and put 'em into a frenzy. This is exactly what the rap game is going to need in fourteen years."

That's just Tupac, man. One of the realest dudes out. (BTW, my favorite track on that mixtape? "Stack Bitches, Acquire Currency" featuring Nate Dogg.)

So Tupac and I are prettttttttty sewn up by this point, but Tupac and Notorious B.I.G. were scheduled to headline the concert at the party, so we had moves to make. Thankfully, I still had a few pebbles of cocaine left from the boulder I had purchased off Andy Rooney before the ceremony. That got us right back into the game.

I don't even want to call what we went to a "party." It was bigger than that. Yet, it was also bigger than a "fiesta" or a "festival." It was bigger than all of that. I flew in prostitutes from every solar system with life on it. (Pretty sure I saw Ronald Regan having sex with the Octopus Geisha in front of his wife.) Giant polar bears served us chilled drinks from their homeland. We ate trays of panda meat. At one point, the Whore of Babylon, Kim Kardashian herself, tried to crash the party. But we don't play that TMZ-glitter bullshit in these parts. She got swarmed by an angry mob and lynched from the chandelier on the spot. Then, a drunken Bob Evans stumbled out with a bat; and he started to bludgeon her swinging corpse while screaming "GIVE ME THE CANDY, YOU PIÑATA WHORE!!!!!!" until my security team of fire dragons had to have him incinerated to restore order and calm the horrified crowds.

From there, it was a long train of Patron. Patron chased by Patron. By this time, I was so intoxicated, a woman nearly died of alcohol poisoning after we fornicated in the orgy grotto; her only drink of the night being my seed.

When I retired to my penthouse, I did so alone. I collapsed onto my crocodile skin recliner, overlooking the Milkyway Galaxy, thinking nobody could ruin the night for me.

It was a naive assumption which didn't last long. Stevie Jobbs -- who is only worthy of fetching my coffee and running dispatches to and from my chambers -- barged into my penthouse, out of breath.

"Original Don Dada," he said between breaths... "I have dire news from Earth's crusts."

"This better be good, Stevie, or I will reincarnate you as a small Chinese child and you will toil for 14 of your 17 years on the Earth as a laborer in one of your old sweatshops. Think about this before you continue."

"Original Don Dada," he said instantly in response, "Esmerelda, the Queen of the Marion Hooded Rats Society... she allegedly has been resurrected. She has allied herself with the Witch of the North... Ann Arbor.  From their den in Michigan, they unleashed a tidal wave of heroin onto the streets of Ohio."

The command flowed as soon as I processed the information, "Stevie, I want you to go into the garage and fire up my cloud of AK-47s. Put some Mozart on the system. Leave the temperature at a crisp 68. Fax the OK Café in Marion, Ohio. Tell them to ready my war cabinet."

"Original Don Dada," Stevie muttered, taking off his black beanie and rubbing it between his hands as he looked upon it as if it were prayer beads, "The OK Café... Marion... Ohio... it's... it's not like it was."

"What do you mean?" I asked, incredulous.

"Original Don Dada, it's the heroin... it's unlike any opiate ever seen by the human race. It's some sort of dark sorcery... some sort of blood magic. The necromancers are baffled by it, as are the arcane mages. They say one hit turns a man into a... monster."

"Monsters die just like men do," I spat. It's true too, for I have battled monsters (both in and out of my bed) throughout my reign.

"Original Don Dada, this is true enough. But... Marion was 'ground zero', so to speak. Anybody you knew there is no longer. The entire central plains of Ohio are awash in heroin fields now. The only large scale resistance is coming from Cleveland. Other than that, there a small pockets of resistance sprinkled throughout the fringes of the state; namely in Piqua."

When he said Piqua, I instantly knew where I had to go to settle this matter once and for all. I signed many important documents during my life and Presidency, but none was bigger than the Marion-Piqua Blood Compact of Mutual Understanding, which was quilled into existence in 1899. The Piquonians and the Marionaires have always been amicable. In the fall of 1898, while doing some trapping in Piqua, I sired a bastard child with a woman known as "The White Rose of Piqua." In spring 1899, Robert M. Widney and I slashed open our hands and shook the blood oath into existence. Piquonians are honorary Marionaires and vice versa.

"I ride to Brickqua, Stevie. Now go make sure that AC is crispy. I plan on bringing a cold front to the state of Ohio. Let all the war chiefs who want a seat at the table of conquerors to make their way to Piqua or send a proxy."

"Original Don Dada, what shall I tell them the plan is to be?"

"The sacking of Ann Arbor, Stevie. Now, go and tell the people."

So, this is it my friends. I am currently en route to Earth to settle this score between not only my wife and I, but evil and good. (Sorry, Holice, I admit:  I am chiseling into stone tablets whilst I drive. Catch me if you can! [said in my "Gingerbread Man" voice]).

Unfortunately for the haterz, I just glanced at the scoreboard on my ScoreMobile app: "It's winning time," it said, which means it's time for my $1,000,000 Power Drive. Let us take what BELONGS to us. Let us go on and take what we are DESTINED to take. LET US GO NORTH AND RIP THIS GLORY FROM THE BOSSOMS OF THESE TWO UNMENTIONABLE WHORES.

Investment in this week's $10,000 Presidential Power Parlay will yield an untaxed profit of $750,000, according to my Secretary of Collegiate Football Wagering, W.A. Titsworth. ((YEAH, IT'S LIKE THAT.)) Behold the Dogs of War which we shall let slip on Saturday: Oklahoma State (-26.5), Nebraska (+3.5), Wisconsin (-13.5), Vanderbilt (-1.5), Kansas State (+10), Arkansas (-13), Stanford (-19.5).

When this war is over, my friends... we shall cash out our winnings on Vegas and retire to an Italian villa. Maybe even get a girlfriend or six?

But, I'm afraid I digress. There is a lot of blood spilling to yet be done, and Me willing, we will be drunk off the blood of our enemies within the moon's cycle. Until then, IT'S WINNING TIME ON THEEZ HATERZ.
b1g games
#19 Nebraska (+3.5) at #20 Michigan - 12:00 EST - ESPN
((It's sand, slipping through the Hour Glass of Judgment. Your time wanes, Michigan.)) I was going to pick Michigan to cover this spread between two teams with creaky defenses. Then, I realized I don't know anything about the Big Ten. So, I switched the pick. LET'S GET IT, HUSKERS.
#15 Wisconsin (-15) at Illinois - 12:00 EST - ESPN2
Since Minnesota couldn't cover last week against Wisconsin (falling about 3 points short), I am worried Ron Zook will have his team ready to punch above its weight on Saturday. That, or there will be open speculation on Twitter if Ron Zook will still be the coach of the Fighting Ron Zooks when the teams come for the second half. There will be no in between. While AJ Jenkins could have a big day against the Badgers, Russell Wilson will probably have a bigger game against Illinois. (Man, Wisconsin, you were like... two throws away from being the Kingpins of the Midwest. I guess this is what you get when you have a scumbag for a coach, though.)
Iowa (-3) at Purdue - 12:00 EST - Big Ten Network (Regional)
Let us pause for a moment to remember Ohio State got beaten by a dude named "Robert Marv" last week. And didn't his mashed-in face just look like it was meant to belong to a dude named "Robert Marv"? Good golly, after watching him hop around in celebration as if he had just won the Rose Bowl (there's a joke, Purdue in the Rose Bowl), I almost drove to West Lafayette and punched him in the face myself. Then I remembered I would probably be the first person in the history of the world to go to West Lafayette with the intent to not watch their respective football team. After that, I realized I don't do jail well, so I just went about my day. As for Iowa -- wow -- way to get embarrassed at home, you clowns. I swear, my record would be a 3:1 W:L ratio if it wasn't for games of this nature. I guess I'll take the Hawkeyes, but I will not cheer for them nor will I watch.
Indiana (+28) at #12 Michigan State - 12:00 - Big Ten Network (Regional)
I hate Kirk Cousins. Doesn't he seem like the kid on the sports team who always made sure he was at the front of the line, answering the coaches questions and trying super hard in practice? Who has time for those antics? NOT ME. Now damnit, Indiana... this is a 28 point spread! If it only takes the words of my friend Kyle Rowland to inspire you to nearly upset the Buckeyes in the Horseshoe, then what kind of inspiration can you draw from being four touchdown underdogs against a conference foe in November? You realize, Vegas is saying you guys belong in the MAC, right? Right!?!? PROVE THEM WRONG, KEVIN WILSON. Your team can do this!
Minnesota at Northwestern (-15.5) - 12:00 EST - Big Ten Network (Regional)
ANOTHER BANGER IN THE PREMIERE FOOTBALL CONFERENCE IN AMERICA. Sorry Jerry Kill, but I can no longer ride with you. Not this year anyway. (And that's as far as I'm willing to dive into this game.) It's Persa time!!!