Good morning, everyone! It's your midweek Skull Session! And courtesy of last night's basketball victory over the Gators, I'm feeling chipper today, hence the haphazard use of exclamation points!1
Although I was confident in the BB's team ability to win, I was a little concerned about the black cloud hanging over a few of my favorite things. No, not raindrops on roses, but first there was the FTM charge against Ohio State, then the football team fell victim to the Hellmouth that Purdue sits atop of, followed by the unwelcome news that Community will go on hiatus during NBC's winter schedule.
This is not a death knell for the show yet, and I'm not putting it on the same level as Arrested Development, whose consistent comedic genius goes unrivaled in the TV landscape. However, that was another show that I begged people to watch, and when they finally listened, it was via DVDs, post-cancellation. So, especially if you or anyone you know is a Nielsen viewer, please check out Community (and Parks and Rec afterwards). Six seasons and a movie!
Anyway, thanks to the Buckeye hoopsters for keeping me sane!
THE ART OF CRAFT. Last night's win was a team effort, with Buford leading the way in scoring, Sullinger hitting all his free throws, valuable minutes from Ravenel and Sibert in a classic Matta-style shortened bench situation, and perhaps more importantly, Aaron Craft's scrappiness/tenacity/white BB player adjective.
Per usual, the intangibles he brings are not always going to show up in the box score. While his numbers were decent (13 points, 7 assists, 3 steals, 3 TOs, 1 block), they don't tell the story of every floor burn, or crash into the stands, or hockey assist, or the shutting down of a high scorer. Before this turns into a complete gushing love letter that I will spray with perfume and decorate with heart-shaped stickers, how about we let Florida coach Billy Donovan take it away:
"I thought, clearly, he dominated the game from start to finish. He was the whole key to me in the game," Donovan said.

"And more importantly, he really did it defensively. I mean, he physically beat up our guards. And I'm not saying our guards got fouled. Totally within the rules of the game, he physically manhandled our guards. And he did it against everybody. Steals, strips, loose balls, drives. . . .

"He's as good as any guard there is out there. I've got a lot of respect and admiration for him, because he's just a tough, hard-nosed kid who probably doesn't get the proper respect that he deserves."
After the game, I happened to catch the highlights on SportsCenter. Sullinger's butt was mentioned as many times as Coach K2, while Craft's name received nary a whisper. What matters most, though, is that the Buckeyes, who will only get better as the season moves along, beat a very good Florida team, one that didn't give up like they did a year ago. 
THE FACE ON THE MILK CARTON. Previously kidnapped and locked away in the NCAA basement, DeVier Posey will return to the field on Saturday, just in time for Senior Day. Considering the immediate contributions of Boom and Adams, it's likely that Posey, and his unmatched experience and stats, will help out the young receiving corps and his freshman QB.
From all accounts, he has provided leadership at practice. During a game is where he can really make his mark. He will be able to give the young'uns tips on routes and getting open, something he wasn't able to do while suspended and banned from the stadium.
As for other personnel matters, Big Hank's MRI revealed that his injury is not a season-ending one, but he still remains doubtful for Saturday. Michael Bennett would probably start in his place, like his fellow freshman, Ryan Shazier, who will replace the concussed Andrew Sweat. J.B. Shugarts' status is up in the air, and if he's not ready, Jack Mewhort will replace him at RT with Corey Linsley taking over at RG for Mewhort. No word on who would pick up the false start slack.3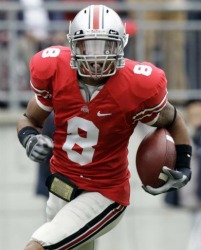 THE URBAN MEYER SWEEPSTAKES. Speaking of the Penn State matchup, Adam Jacobi offers his keys to the game4. Neither team is lighting it up on the offensive side of the ball, and for the Nittany Lions, Jacobi thinks capitalizing on turnovers could swing the game their way. 
Even though Penn State ranks #8 nationally in total defense, their defense against the run isn't as strong as against the pass, so the Buckeyes' best chance at winning is by running the ball, if they even have such plays in their arsenal. Not mentioned was which member of Ohio State's secondary will return one of McGloin's throws for a TD.
Jacobi's X-factor was Penn State's ability to keep the Jerry Sandusky scandal off their minds. Led by former 11W intern Jared Kamrass, the University Athletic Council is spreading the word for students to be welcoming of Penn State fans, because they're not the ones who raped children or looked the other way.
The council is also asking students to pay tribute to the victims via social media profile pictures. I'm not exactly sure what putting a blue ribbon on Facebook is supposed to accomplish, but hey, if it forces the disaffected youth to think, or at least fashionably pretend to care, about something other than themselves for a few seconds, have at it. And get off my lawn.
B1G FOOTBALL TALK. All Michigan State needs to clinch the Legends Division this week is to beat Indiana and for Michigan to defeat Nebraska. Of course, the Spartans control their own destiny, so as long as they win out, including a season finale against Northwestern, they will make the pilgrimage to Indianapolis. Mark Dantonio prefers it that way. He wants his team to focus solely on themselves and their last two opponents, and the thought of rooting for Michigan is as unappealing as smiling for him. 
Illinois, on a four-game losing streak, faces Wisconsin next, and the rumors of Zook's ouster in the near future are not something he cares to discuss. Behind only Kirk Ferentz on the seniority ladder in the B1G, if he's fired, then second-in-command will be shared by Pat Fitzgerald and Bret Bielema, two Gen-Xers.
Hoping to watch the game from the sideline is senior linebacker Trulon Henry, who was shot in the hand over the weekend. Henry was at home with his wife and child on Saturday night when he received a call from a teammate who wanted his assistance in encouraging other players to leave a party. Henry obliged the request, arrived at the party, was shot a few minutes later, and is out for the rest of the season. 
ONCE AND FUTURE OPPONENTS. Yesterday's 24 hours of hoops provided a few intriguing matchups. Thanks to a 20-1 run, Duke prevailed over Michigan State, 74-69.  Down 61-41, Michigan State did not quit and due in large part to Keith Appling and his 22 points on 8/10 shooting, they made it a more respectable game. Andre Dawkins led the way for the Blue Devils with 26 points. Seth Curry added 20 points, 7 rebounds, 4 assists, 4 steals, and 1 block while turning the ball over three times. One stat that Ohio State, who hosts Duke in two weeks, should pay attention to is three-point shooting. Coach Kyrgyzstan's bunch hit 10 of 21 from the perimeter.
On the topic of Coach K, you might not have heard, but he surpassed Bob Knight to become the winningest BB coach in Division I history. The General was there to bro-hug his former protege. I'm just passing along the information, because it's not like ESPN cut into the Ohio State-Florida game on the Deuce to show this happening. That would have been ridiculous since it was already on regular ESPN, and the WWL did the SAME EXACT THING last year when Ohio State-Florida was up against a Connecticut women's basketball milestone5.
Also going on last night was Kentucky's 75-65 win over Kansas.  Tied 28-all at halftime, Kentucky, a team starting three freshmen, overcame their sloppy play, including 19 turnovers, to pull away from the Jayhawks. The Wildcats also blocked 13 shots. Though KU senior Tyshawn Taylor led all scorers with 22 points, the Jayhawks only shot 33.9 percent from the floor.  
LINK AND YOU'LL MISS IT. Kent State beat West Virginia in Morgantown... It's been a rough year for B1G football... Michael J. Fox reenacts the Johnny B. Goode scene from BttF... Donaghy vs. Swanson fight poster... A scene from Ricky Gervais' new show, Life's Too Short... The International Space Station flying over Earth... Matt Weiner talks about how Mad Men will end and Alex Trebek... Creepy twins, cat version.
1 Also, it's possible I've a indulged in a wee bit of caffeine!
2 Kidding, of course. That would be impossible. 
3 Poor Shugarts. This is your legacy. 
4 Somewhere, every Michigan season ticket holder's ears just perked up.
5 NEVER FORGET!