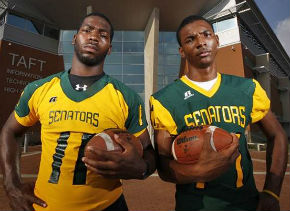 No, not that Washington and Stanford. We're talking about the dynamic Cincinnati Taft duo of Adolphus Washington and Dwayne Stanford, who just announced their college decisions moments ago at a press conference at their school.
While it has been long thought and said that the two would be attending the same school, the longtime friends decided to go their separate ways for their college careers, with Washington choosing Ohio State and Stanford choosing Oregon.
Washington, a 6-6/240 defensive end, is the top ranked player in the state of Ohio and is a top 50 player nationally across multiple recruiting outlets. He moves extremely well for a player of his size and his combination of strength and athleticism have vaulted him to be one of the more feared pass rushers in the country. The future Army All-American is likely to play some form of the LEO position at Ohio State depending on what system the next Buckeye defensive coordinator employs. He chose OSU over offers from Alabama, Michigan, Michigan State, Miami, Notre Dame, Texas, Oregon, USC, and others.
Stanford is a 6-4/200 wide receiver and would provide Oregon a big target to throw to on third downs and in the red zone, something the Ducks haven't had since Ed Dickson went to the NFL. While there have been questions about his speed by members of the media, recruiters have not shyed away from this big time play maker, as his offer list included Ohio State, Alabama, Michigan, Michigan State, Tennessee, Georgia, LSU, Florida State, and others before he settled on heading out west.
While they may not be here much longer after this weekend, Luke Fickell and the rest of the Ohio State coaching staff have been recruiting their tails off to try and close out this class strong and that is something that all fans need to tip their caps to. Getting Washington seemed like somewhat of a long shot after Jim Tressel stepped down on Memorial Day, but a Fickell-lead charge helped the Buckeyes not only get back into the game, but close the deal on this outstanding prospect.
As for Stanford, it definitely would have been nice to have him on the roster next year, but getting Michael Thomas, Roger Lewis, and Frank Epitropoulos gives the Ohio State staff three quality receivers to joining the mix for next season.
With Bri'onte Dunn up in the air, OSU is looking at about 4-7 scholarships left in this class. It should be interesting to see how things shake out the rest of the way, but don't expect any more movement until a new coach has been announced.