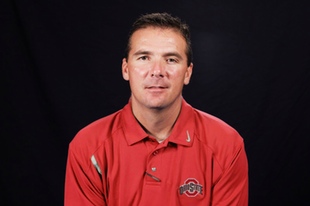 "It's good to be home." -- Urban Meyer, November 28, 2011
The most trying 11 months in Buckeye football history1 came to a close Monday when the university announced Urban Meyer would become Ohio State's 24th football coach this evening.
Though widely considered a candidate for the vacancy left from Jim Tressel's stunning late May departure, Meyer's candidacy first gained steam when we first broke the news that he and Ohio State had agreed to a deal in principle 11 days ago. From that point on, the smoke grew thicker as the two parties continued to iron out the specifics in what is to be a six-year, $24 million (PDF) contract that makes Meyer the highest paid coach in college football.
Speaking in front of a packed house at the Fawcett Center this evening, Meyer answered questions about his beliefs, concerns and physical condition. Most importantly, he addressed Luke Fickell's situation, saying he and his wife had met Fickell and his wife and prayed on it and that Luke would be accepting a yet-to-be-defined role on Meyer's staff.
So how did Ohio State go from losing their best coach in a generation to hitting the coaching lottery with arguably the game's best coach? The Roy Williams to North Carolina analogy has been thrown out and it's certainly fitting. Like Williams, Meyer had previously coached at another football blue blood, the Florida Gators. The two also answered a call to return home, knowing they may never again have a chance to coach the team they grew up loving.
Urban Frank Meyer, III was born in Toledo on July 10, 1964, but his father Bud's2 job as a chemical engineer soon took the family to Ashtabula, a city northeast of Cleveland that's known for tough weather and love for the Browns and Buckeyes3. Reflecting on his love of Woody Hayes and the Buckeyes as a kid, Urban had the following to say:
"You got beat up in school if you were not a Buckeye or a Woody Hayes guy. And I certainly loved him."
Urban and his father shared an appreciation for the Xs and Os in football and often used this shared passion to connect on weekends by discussing options to plays or formations that would have been more effective for a team to run. A particularly charming story from his youth is one of a young Urban going to his seats at a Cincinnati Bearcat game and passing by the Wichita State team. He saw what he believes was the defensive coordinator drawing up plays and barking out orders to his men.
"He's just going after the players with intensity, and I just stopped and started watching him," said Meyer. "I'm a little guy with my dad, and I'm stopped, holding up people. I wouldn't leave and I was just mesmerized. To this day I can remember that coach with that chalkboard, coaching those guys up. I looked at my dad and said, 'I want to be a coach someday.'"
Little did Meyer know at the time, but the Wichita State coach that had such an impact on him was none other than Phillip Fulmer, who would go on to coach Tennessee.
In high school, Urban fell in love with the weights and bulked up to contribute as a star two-way player for the St. John High football team, good enough to earn all-state honors on the gridiron. He was even better as a baseball player, eventually getting selected in the 13th round of the 1982 MLB draft by the Atlanta Braves.
Urban Meyer's Head Coaching Record

| Year | Team | Rec | Conf | Standing | Bowl | AP |
| --- | --- | --- | --- | --- | --- | --- |
| 2001 | BGSU | 8-3 | 5-3 | 2nd |   |   |
| 2002 | BGSU | 9-3 | 6-2 | 3rd |   |   |
| 2003 | Utah | 10-2 | 6-1 | 1st | W Liberty | 21 |
| 2004 | Utah | 12-0 | 7-0 | 1st | W Fiesta | 4 |
| 2005 | Florida | 9-3 | 5-3 | 2nd (East) | W Outback | 12 |
| 2006 | Florida | 13-1 | 7-1 | 1st (East) | W BCS NCG | 1 |
| 2007 | Florida | 9-4 | 5-3 | 3rd (East) | L Capital One | 13 |
| 2008 | Florida | 13-1 | 7-1 | 1st (East) | W BCS NCG | 1 |
| 2009 | Florida | 13-1 | 8-0 | 1st (East) | W Sugar | 3 |
| 2010 | Florida | 8-5 | 4-4 | 2nd (East) | W Outback |   |
|   |   | 104-23 | 60-19 |   |   |   |
Things on the diamond never did work out for Meyer and after two years and against his father's wishes, he returned home, enrolling at Cleveland State with the plans to walk on at the University of Cincinnati. He eventually worked his way into playing time as a free safety and on special teams, but the Bearcats of the mid-eighties were bad on and off the field. Disciplinary issues among teammates bothered him so much that he jumped at the opportunity to take an internship as a defensive backs coach at St. Xavier High School, foregoing his senior season on the field.
It was at St. Xavier that Meyer had an opportunity to meet the Earle Bruce and the rest of the Ohio State staff4 and he soon got his big break as a graduate assistant for Ohio State in 1986. In Columbus, his love of Ohio State only blossomed as he learned under Bruce, who would go on to be a second father to him5. Urban would say the following about Earle and his father Bud:
"If you cut those two open, they'd be the same person inside."
Bud Meyer agreed: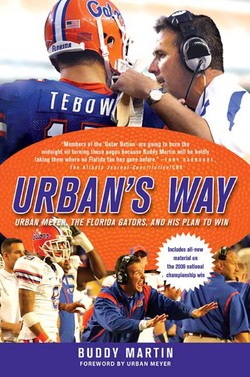 "One person who is a second father to him is coach Earle Bruce. He's the only coach he's ever had in his life."
Serving as a graduate assistant for the Buckeyes was in a lot of ways, a religious experience for Meyer. He recalls how he choked up the first time he touched an Ohio State jersey:
"I had tears in my eyes... I remember grabbing a scarlet and gray jersey and going 'Wow! I mean, 'Wow! I'm here!' Every kid growing up in Ohio wants to do that."
It was at Ohio State in 1986 and 1987 that Meyer would meet coaches that would go on to play instrumental roles on his future staffs at Bowling Green, Utah and Florida. One of those coaches was strength and conditioning guy Mickey Mariotti, who coached alongside Meyer in Earle's final season of 1987. Mariotti and Meyer would go their separate ways after '87, with Meyer coaching for Jim Heacock at Illinois State and Mariotti going to West Virginia to work under Don Nehlen, but the two would reunite as assistants at Notre Dame and continue their partnership in Gainesville. As such, don't be surprised to see Mariotti join Meyer's staff in Columbus.
Meyer would eventually take a job with Earle Bruce at Colorado State, and it's there, as a wide receivers coach, that he began to take more of an interest in the passing game. It was also there that he realized idolizing Woody Hayes and Earle Bruce may be a bit counterproductive to his health. "I was out of control," he later admitted. "I grew up on Coach Bruce and Coach Hayes. When I grew up it was not uncommon for my high school coach to get physical with a player. I had not known it, but I was doing the same thing. I would grab a kid's facemask -- but I was out of control."
Bruce was eventually forced out in Fort Collins, but Meyer was retained by new coach Sonny Lubick and once again he used the opportunity to add a few new wrinkles to his philosophy. Lubick practiced a more restrained approach, focusing on improving players' lives off the football field took that approach to heart.
Colorado State showed improvement on the field and Meyer's name was getting out in coaching circles. The offers started fling in, with Pitt offering to double his salary. Urban told his wife Shelley that she would always going to be instrumental in any career decisions for the family, not just his career and money and she talked Urban into passing on Pitt's offer. He countered with one future condition by telling her:
"You're in charge our career and can veto any decision if it's for the right reason. Except if it's Notre Dame, Michigan or Ohio State. If those ever call, then your majority now goes to a forty-nine percent veto."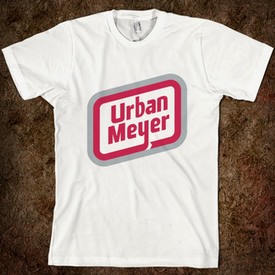 And then Lou Holtz and Notre Dame called. Meyer would spend four years in South Bend, coaching under Lou Holtz and Bob Davie and it was there that his health problems first arose. An intensity that led him to constantly get in the faces of his players and to fling a remote at a projection screen, resulting in $5,000 in damages, were all taking a toll on his health. He'd battle his intensity and his habit of taking losses toughly for the rest of his coaching career through his time at Florida.
Notre Dame is where Meyer was first given charge of special teams and he thrived with it. He developed a strategy of utilizing surprise and speed -- often loading the units up with the team's fastest players -- and he would go on to rely on special teams6 on the way to a 7-1 bowl record and two national titles.
It was also in South Bend that Meyer first fell in love with the spread offense after he and graduate assistant Dan Mullen paid a visit to Scott Linehan and John L. Smith at Louisville. Meyer further augmented his spread philosophy by visiting with Northwestern offensive coordinator Kevin Wilson and head coach Randy Walker, where they taught him how to incorporate zone option reads. The spread would surface from time to time at Notre Dame, but really flourish at his next stop, Bowling Green.
At Bowling Green, Meyer put together his "Plan to Win", which is very similar to Jim Tressel's The Winner's Manual. In the manual, which is handed out to players, are the following key points:
You have responsibilities/obligations; not entitlements
Do your job, nothing else.
You have done nothing; thank those who gave us what we have.
Selfish people fail.
This approach would help Meyer turn around a team that had gone 2-9 the previous year -- and hadn't had a winning season in seven years -- to an 8-3 record and turning quarterback Josh Harris into an NFL draft pick. Meyer's staff at Bowling Green included Greg Studrawa, who is currently the offensive coordinator at LSU (and another coach that may surface in Columbus). The two helped put together a day now known as "Black Wednesday". The Falcons staff had placed plastic trash cans at each corner of the school's field house and locked the doors. The intent was to run the players to find out who would stay and who would quit. It worked: Bowling Green would go 17-6 in two years, as Meyer turned a doormat into a MAC powerhouse.
Meyer's success would soon catch the eye of another school and in 2003, he took the head coaching position at Utah where he would go 22-2 in two seasons, culminating in a 35-7 stomping of Pitt in the 2005 Fiesta Bowl.
In 2005, Urban Meyer was named the head coach at Florida and his record there speaks for itself: 65-15, three SEC first place finishes, two national championships and a 5-1 bowl record. Oh, there's also that painful memory from a night in January 2007 that hopefully you've all forgiven.
Ohio State is getting a winner -- you'd be hard-pressed to find a more qualified candidate now, or at any time to take over the program we all hold so dear. The fact that he's a Buckeye is just icing on the cake. If you saw the excitement in his eyes when he was discussing Braxton Miller and Jake Stoneburner, you know we're in for a special run.
1 At least recent Buckeye history. I imagine the months following Woody's punch in the Gator Bowl weren't exactly a fun time in Columbus.
2 Bud Meyer was a cool dad. Whenever Urban wanted a beer in high school -- which wasn't often, Bud allowed his son to go to the refrigerator and take one.
3 In an interesting twist, Ashtabula also happens to the home town of Jim Bollman.
4 While at St. Xavier, Meyer met OSU quarterbacks coach Tom Lichtenberg, who was recruiting St. X quarterback Greg Frey. Lichtenberg also happened to be in charge of Ohio State's graduate assistant program, so in a way, we owe Greg Frey some love for today.
5 In the locker room after Florida had thrashed the Buckeyes 41-14 in the 2007 BCS Championship Game, it was Earle Bruce, reflecting on things with Urban and his father Bud.
6 It may not be on the same level of Tressel's love of the punt, but Meyer will emphasize special teams play, often letting the unit eat first at team dinners.