Good morning Buckeye fans and welcome to your Tuesday Skull Session.
OSU is most likely not going to the first ever Big Ten title game and that's a tough pill to swallow.
Nonetheless, I'll still be at the games for the remainder of 2011, rooting aimlessly for a team which is a mere shadow of its former glory, I will still jump into the ghastly depths of Mirror Lake next Tuesday, and, most importantly, I will rejoice once Michigan falls yet again in it's quest to beat the Buckeyes (here's to hopeful thinking and continuous drinking).
Even if Ohio State isn't where we, as fans, want them to be, there is still meaning in and traditions left to uphold this season and beating Michigan NEVER gets old.
Let's get started: 
MEINEKE CAR CARE OR THE INSIGHT BOWL. These are the two bowls where Ohio State is most likely to end up, according to SB Nation and CollegeFootballNews.com, respectively.
The projected opponents for OSU in both these two scenarios are Texas Tech for the Meineke Car Care Bowl and Texas A&M for the Insight Bowl.
My question is: Do the Buckeyes actually go and play if they wind up in one of these bowls? My answer: Absolutely.
Luke Fickell needs to get as many opportunities as he can to prove he still deserves his job, or as it's looking now, deserves some sort of BCS football head coaching gig. If he can pull off a win in one of these small-time bowls, it can only help him. If he loses, it's not like things have been going his way this season anyway.
Fickell might as well try his luck, but the Buckeyes haven't been officially eliminated from Big Ten contention so keep your fingers crossed. Crazier things have happened, right? 2007, right?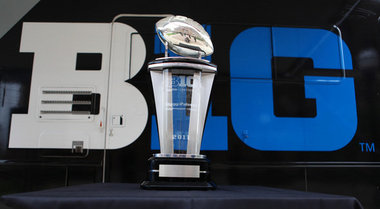 TOUGH GRADER. Jon Spencer of the MansfieldNewsJournal.com has graded the Buckeyes' performance against Purdue, and it looks as though Spencer thinks they're far from dean's list material.
Spencer gave the running backs, defensive line, linebackers and defensive backs Cs; the passing game and coaching staff received a C minus; and the offensive line and special teams were the dunces of the class with Ds.
I can't really disagree with Spencer's grades. The team, as a whole, either played flat out mediocre and if you were grading heart, especially in the first half, you would have to give them all "Fs". The offense looked as if it was just trying to keep up and, at times, looked lost, while the defense continued to miss tackles and give up big plays on 3rd downs.
Fickell's aforementioned chances of keeping the Buckeye job diminish weekly with this poor output, and he'll need to change things quickly to help the Bucks finish out strong at 8-4.
NEW FACES IN DIFFERENT PLACES. As of now, Michigan State and Wisconsin are the favorites to make it to Indianapolis for the inaugural Big Ten title game. Both squads just need to manage to win out their next two games, which will punch their tickets to Indy.
I'm sure many are disappointed that there isn't a more iconic matchup like OSU-Michigan, but perhaps B1G commissioner Jim Delany isn't so bummed about seeing new faces leading the conference.
Doug Lesmerises of the Plain Dealer suggests that since Jim Tressel and Joe Paterno, arguably the faces of the B1G over the last decade, have been ousted, Delany would like to see some new figures become the representatives of the conference.
Lesmerises suggests that Wisconsin coach Bret Bielema, currently in his sixth year at Wisconsin, could become one of the bigger names with Tressel and Paterno out of the picture. Currently, Iowa coach Kirk Ferentz has been tenured as head coach in the B1G for the longest, with 13 years under his belt.
CUTTING ALL TIES. The Big Ten is trying to wash its hands by removing all links to the Penn State sex scandal. Adam Rittenberg of ESPN reports that Paterno's name will be removed from the B1G title game trophy for starters.
The trophy was originally supposed to be named the Stagg-Paterno Championship Trophy, honoring both Joe Paterno and Amos Alonzo Stagg, a former coach of the University of Chicago, who compiled 314 wins in his career.
The trophy has been simply renamed the Stagg Championship Trophy, leaving Joe Pa's once sure-fire legacy in the dust for now.
LOS LINKS. The lawyer involved in the suspension of OSU players denies any wrongdoing... Marvin Robinson is a true Michigan man... Denard Robinson is expected to play against Nebraska... OSU-Michigan to be played at noon... Shout out to the one legitimate sports team in Cleveland, the Cleveland State Vikings, for knocking Vanderbilt back 13 spots.