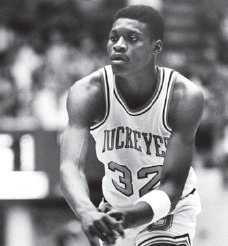 Usually, Tuesday afternoon at 5pm is the home to "Around The Oval" here on ElevenWarriors.com, your weekly look at non-revenue sports at Ohio State. Due to the holiday last week, most of those Buckeye teams had the majority of, if not all of, the last week off. I was given a chance to talk to an all-time Buckeye great, and with Buckeye hoops being the main course today, I thought it was a good time to deviate from the norm.
Ohio State has a long and storied basketball tradition. One that, believe it or not, rivals that of nearly any school in the country not named Duke, North Carolina, Kansas or UCLA. There are names and faces that are indelibly etched in NCAA and Big Ten lore. Five national player of the year awards, 22 NBA first round picks, 9 Final Four trips, etc. The accolades are indisputable, and the names unforgettable: Jerry Lucas, Jim Jackson, Evan Turner, Clark Kellogg, Gary Bradds, Kelvin Ransey and more.
If you look into the rafters at the Schottenstein Center, Ohio State's grandiose mecca to basketball excellence, you'll see names and numbers and reminders of the golden years gone by, and others that showcase the successes of the Thad Matta regime. Those names and numbers are most assuredly deserving of their place in the program's lasting spotlight. 
They are the teams and players who have put the Buckeyes on the map.
One name and number that is conspicuous in its absence from those rafters is a name that is all too often neglected completely when discussing Ohio State's basketball tradition.
Dennis Hopson.
Growing up in the shadow of the University of Toledo, Hopson grew up modeling his game in the style of a Michigan State Spartan, Magic Johnson. Hopson, 6'5, did not have the size of Magic, but found himself drawn to his unselfish style of play, that he could "do everything on the court". It was a style of selflessness that Hopson tried to emulate despite the fact that he was breaking all the scoring records at Toledo Bowsher High School.
Averaging 24 plus a game at Bowsher got the attention of many schools, and Hopson had decided to attend the University of Cincinnati and play under Ed Badger in the Metro Conference. When Badger was let go following an 11-17 mark in the 1982-1983 season, Hopson was forced to re-evaluate his opportunities and fortunately for Buckeye fans, decided to give another look at Ohio State. Hopson had grown up watching fellow Toledoan and Buckeye great Kelvin Ransey play at Toledo Macomber alongside his brother, and that connection was enough to set Dennis on his path to Columbus.
Being a scorer in Eldon Miller's offense at Ohio State was not necessarily a great fit for Hopson, and it showed in the early parts of his career as he tried to establish himself as a complete collegiate basketball player.
Miller's style, a slower paced, methodical offense helped Hopson develop the other elements of his game, but his calling card, his ability to put the ball in the basket, suffered. Hopson averaged only 5.3 points a game as a freshman, but nearly doubled that with increased playing time as a sophomore, to 9.8 per contest; then doubled it again to 20.9 in 1986 when the Buckeyes would win 19 games, including an NIT championship
In 1987, a new brand of Buckeye basketball took the floor in Columbus, and it was a much better fit for the athletic Hopson. Gary Williams brought with him from Boston College a defensive philosophy of press, press, press; and according to Hopson, that allowed his teammates to get him more involved in the offense.
"Under Coach Williams we would press on defense close to 40 minutes a game.  It allowed me to be on the ball and get easy steals to go with my inside and outside game.  Plus I played with a great group of guys that looked for me and helped me score points."
Hopson exploded offensively, averaging 29 points a game, good for second best in the country and was named the Big Ten's Player of the Year. He scored from from all over the floor. In the first year of the NCAA adopting the three point shot, he hit 67 of them (to compare, William Buford's career high is 61 in 2010), and he set a school record for free throws, attempting 264 of them (Sullinger eclipsed that mark last year).
He didn't just score for the Buckeyes that year, either. Hopson finished second on the Buckeyes in assists, and led the team in rebounds with 8.2 a game. Maybe not Magic Johnson, but Hopson was more than just a scorer.
The Buckeyes finished the 1987 season 20-13. In the post-season, Hopson scored 32 points in the first round of the NCAA's against Kentucky, helping the Buckeyes advance to the second round where they were knocked off by top-seeded Georgetown.
Hopson would finish his Buckeye career as the leading scorer in school history with 2096 points, which still stands as the school's benchmark. He reached that number in 125 career games for the Scarlet and Gray and he finished second to Navy's David Robinson in the voting for National Player of the Year honors.
FROM THE aRMPIT OF AMERICA TO THE LAND OF MILK AND HONEY
There are a lot of bad things you could wish upon a man, but being drafted by the New Jersey Nets may be among the worst. It's the NBA version of purgatory, offering no chance for reprieve. That happened to Dennis Hopson.
After his record setting career at Ohio State, he was chosen as the #3 pick in the 1987 draft, behind Robinson and Armen Gilliam of UNLV.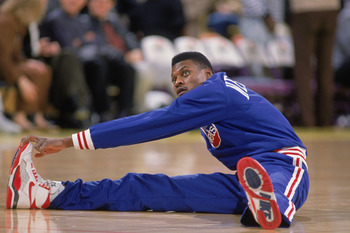 After seeing his initial choice for a college coach fired before he attended college, and then seeing his first college coach fired after three years, coaching changes were nothing new to Hopson. The Nets, as they are prone to do, took dysfunction to a whole new level. Hopson played for four coaches in the first three years of his NBA career, and the disorganization within the organization left the young superstar reeling and without structure.
"Playing for 4 coaches in 3 years was tougher because there was no stability within the organization.  It was a difficult time for me because I was expected to be the savior and turn a team around that was still a few players away.  If I had to do it over again I would have been more selfish as a player.  I was too passive and where I was drafted and my reputation as being a scorer, I should have looked to score more and not worry about making mistakes."
Despite the challenges, Hopson's talent did find a way to break through, and in 1989 he played in 79 games for the Nets and led the team in scoring at 15.8 points per game. The Nets finished the 1989-1990 season 17-65 under the direction of Bill Fitch, a two-time NBA Coach of the Year, who was named one of the top 10 coaches in NBA history in 1997.  It seemed that the scorer would finally see his career take off as he headed into his fourth season, but there were some causes for concern.
"My 3rd year as a player in New Jersey I did just that (looking to score), look for my shot and ended up with career highs that season.  The only struggle I had that season was with my relationship with the Head Coach Bill Fitch.  To this day I don't believe he cared for me and it caused for a tense situation."
That tense situation was quickly remedied, as three years and four days after hearing Commissioner David Stern calling his name for New Jersey, Hopson was traded to the Chicago Bulls for three drafts picks, a first round pick in 1990, and second round picks in 1991 and 1992. It was a move that was greeted with mixed emotions by the competitive Hopson.
"I had mix emotions playing in Chicago because I didn't get the playing time but I was playing on a great team with great players.  Our team was super competitive and we knew how to win night in and night out.  That was a change for me coming from New Jersey because now I am playing for a playoff caliber team."
Hopson saw his minutes per game drop from over 32 in 89-90 with the Nets to just under 12 in Chicago during 90-91, but as the season ended he stood alongside Michael Jordan and fellow 1987 1st round picks Scottie Pippen and Horace Grant as an NBA champion. The following November, he was once again traded - this time from Chicago to Sacramento. The chance to prove his value as an NBA player was something Hopson relished, despite knowing he was leaving a special team.
"There have been a lot of players that played in the NBA but they never won a Championship.  For me to be drafted by the Nets and get traded to a championship team was incredible.  That next year 4 games into the season I was traded to Sacramento.  Even with a championship ring I still wanted the opportunity to play more.  I got that opportunity in Sacramento.  We didn't make the playoffs but I was getting the playing time and averaging 10+ points a game."
After the 1991-92 season, Hopson's agent pushed the Kings for a multi-year contract offer, Sacramento countered with a one year contract offer; and Hopson, upon the urging of his agent, decided instead to try his hand playing internationally. The Kings turned their focus to Vincent Askew, and just as quick as his jab-step, Hopson's NBA career came to an unexpected close.
"My European career was a great experience.  Even though I made a big mistake by not taking guaranteed Money from Sacramento I had a great seven years playing in Spain, France, and Israel.  The teams I played for in the different countries were all Americanized so I was able to live like I was in the States. "
After seven years and stops in the Philippines, Turkey, Israel, France and Spain; Hopson hung up his sneakers for good, retiring after 12 years of professional basketball.
the road to here
Following the end of his playing career, Hopson attempted to live a life without basketball. He briefly ran a trucking company in Columbus, and in 2006 returned to school to complete the degree he had come so close to attaining when the NBA came calling.
"I left school without my college degree but I promised myself that I would come back one day and get it.  Well that one day was at the age of 40 and I was a year and two quarters away from a degree. It was a grind but I received Bachelor of Science in Education. I knew the importance of my degree and where it could take me in life."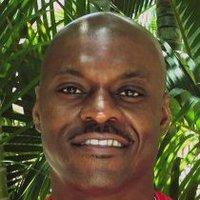 It was not too long before it became apparent that basketball would find its way back into Hopson's life.
He was offered an opportunity to return to his hometown in 2006 and take over the head coaching job with the Toledo Royal Knights of ABA. The team folded before Hopson could ever coach a game, but the desire to return to basketball and to help young basketball players was now something he knew he was going to do. His first "real" opportunity in coaching would be in Florida, at Northwood University of the tutelage of NCAA great Rollie Massimino.
"Working with Coach Mass was like playing with Michael Jordan, Coach was well known for his experience and winning the NCAA Tournament with Villanova.  His passion for the game is incredible and at 76 years old he still has the love and energy to Coach and teach the kids. Coach Mass was a teacher to his staff as well; he always has an answer for whatever it is in regards to basketball.  My 2 years were irreplaceable and I learned so much about being a coach."
In 2009, Hopson was offered his current job as an assistant at Bowling Green. The Falcons are 4-2 in 2011 after going 28-35 in the last two seasons. Hopson believes that they are improving every day, and that this season will be better than the last two, and he has developed an understanding of what it takes to win at the college level as a coach. He also remembers it's still important to have a little fun on the job.
"A coach is only as good as the players they have around them so recruiting is a big part of any college program.  I love all the travel involved with going out and finding talent and competing against other College coaches going after the same kids.  The 1st thing we try to look for in a kid we are recruiting is if he fits our system and what we like to do on offense and defense.  Once that talent is identified we look for character and what type of a kid he is.  We don't want high maintenance kids because it can make for problems within a team and a nightmare for a coach."
proud to be a buckeye
Dennis Hopson played basketball at Ohio State in what could be described as some of the "dark ages" of Buckeye basketball. When he came to Columbus in 1983, it had been 13 seasons since Ohio State had won a B1G title, and it would not be until four years after his departure that another Toledoan, Jim Jackson, would lead the Buckeyes to one. His time at Ohio State did see two NCAA tournament berths and two NIT invitations, but in an era that lacked today's media exposure, a mediocre basketball program at a football school in the middle of Ohio hardly received much publicity outside of the tri-state area.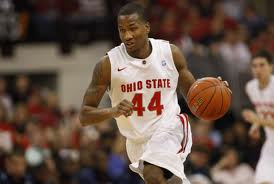 Hopson's teams were never great, although some of the school's most memorable players played on the same teams as he did. Jay Burson, Brad Sellers, Tony White, Jerry Francis and Curtis Wilson among them. The teams never garnered much in the way of national attention, didn't have exclusive shoe contracts that saw them outfitted in the coolest kicks or hottest styles of mid-thigh shorts, they just played Ohio State basketball at a time when a lot of people did not think much about it.
In today's era of up-to-the-minute statistical analysis, social media and multi-million dollar TV contracts, it's no surprise that the players of today are up to their necks in media attention and Dickie V style praise. The efforts of today's players may even warrant some extra praise for having to put up the constant media push for their time, but they are also promoted as kings and find themselves lined up for millions in NBA contracts, so it's a fair trade.
The school's all-time leading scorer isn't ignorant to the fact that his time at Ohio State has been, in some ways, glossed over because of the way the school chooses the faces that represent it. He sees it himself, but says that other people often remind him of it.
He recognizes a need for standards for retired numbers, but feels there are circumstances that warrant extra consideration, and that his circumstance should qualify for that consideration. He also realizes that in a history as rich as Ohio State's, that he's not alone.
"I have mixed feelings about not having my jersey number retired.  I understand the criteria that Ohio State requires in order to have a jersey retired (National Player of the year) but I was runner up for national player of the year and my overall play and numerous records plus earning my degree I think I am more than worthy.  This is not only about why Dennis Hopson's jersey is not retired, but why other great player's jersey's are not retired as well.  When you step in arenas like Duke and North Carolina and see all the retired numbers, I am surprised they still have numbers available for their players to wear today.  Not having my number retired is something I think about....I am proud to be a Buckeye."
While he won't come out and say that he feels his jersey should be retired, it's obvious that Hopson feels slighted and letdown by a program that he loves, and it's about time that the Buckeyes show a bit more love to the players who have put the program on the map, even if they didn't get named National Player of the Year.
buckeye for life
As Ohio State gets ready for its nationally televised heavyweight bout with #3 Duke tonight, Dennis Hopson is likely to be breaking down film as his team prepares to head to Bowling Green, Kentucky this weekend, while keeping an eye on the TV to check out his alma mater.
He thinks it will be a great game, and that the Buckeyes will benefit from playing at home, but that Duke is a good match-up for this year's Buckeyes. He thinks this year's team can be as good as last year, provided the young energy can find a way to replace the veteran depth lost by the departures of Lighty, Diebler, and Lauderdale.
He may also have his eye on another fellow Toledoan, William Buford, as he continues to climb his way up the Buckeyes' all-time scoring list. Buford entered the season 671 points behind Hopson, but the thought of being passed up doesn't bother Dennis much, and if he has to overtaken, it might be fitting that another kid from the Glass City would be the one to do it.
"I am sure the day will come to where somebody will score more than 2096 points.  It has been an honor for me to be the all time leading scorer up to this point, but it would be more of an honor if a player like William Buford from my hometown breaks the record.  I think Toledo Ohio has been good to Ohio State Men's Basketball and I hope the Toledo tradition can continue."
Maybe one day the powers that be at Ohio State will look back on the rich history of Buckeye basketball and give players like Hopson their due, but if they don't, he should take solace knowing that Buckeye fans will long remember his contribution to Ohio State basketball.
Until then, Dennis Hopson will settle for his place in the school's records books, but his place should be in those rafters.
I would really like to thank Dennis Hopson for the opportunity to do this story. He was not only a great Buckeye on the court, but remains a great ambassador for Ohio State today. -Birm-