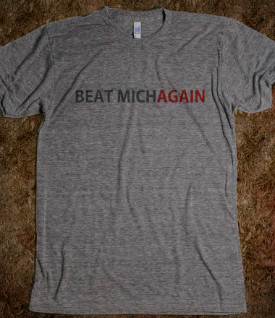 It's hate week and time for another score prediction contest. These haven't exactly been pleasant experiences this year, but we're hoping to change that.
You know the rules. The comment with the closest prediction for the final score of Saturday's tilt with the Wolverines will win a shirt from 11W Dry Goods.
Like the lovely design featured on the right. Or something else. Your call.
The fine print:
Must be 18 years-old or older.
One entry/comment per person.
Duplicate predictions are ineligible — first come, first serve.
Deadline for entries is kickoff.
Good luck!