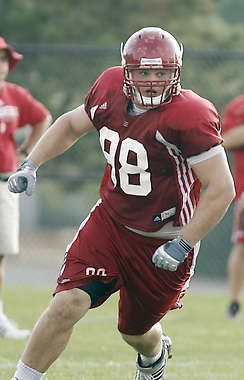 Let's assume for a moment that it's a few months ago, and you are a fan of the Indiana Hoosiers, either through a gypsy's curse or by some kind of horrible stroke of genetic luck. You know that your team is going to be awful in the upcoming football season; head coach Kevin Wilson hasn't exactly been the savior that you'd been hoping for, and though you have some playmakers, you know that ultimately your lot as a Hoosier fan is to hope that you will someday finally summon up the courage to watch more than one half of Indiana football before succumbing to the urge to watch the most recent episode of Parks and Recreation on your DVR for the 15th time.
Then, suddenly, a ray of hope. A shining beacon in the distance that is telling you: "Fear not, pudgy midwesterner! For unto you a child is verbally signed, a child that will transform your horrible team into merely a crappy one. Rejoice!"
And you do, in your own fumbling, awkward way, grinning inwardly as much as your Puritanical sensibilities will allow. For you carry within the special knowledge that Gunner Kiel, the boy with perfect football name, is coming to Bloomington. A boy that will make annihilations at the hands of Illinois, Wisconsin, Iowa, Northwestern, and yes, Ohio State all worthwhile. For once in your sad, dreary life, you look to the future.
And then Nick Saban goes and screws everything up.
Seriously, getting Gunner Kiel to reopen his recruitment was probably about as hard as getting a starving Augustus Gloop to Hershey, Pennsylvania for vacation. If I'm an Indiana fan, right now I'm pretty angry that someone told that kid life doesn't have to be filled with misery and pain.
Opponent
Speaking of which, meet the 2011 Indiana  Hoosiers football team! Pretty easily the worst team in the Big Ten this year, they are 1-8, with their one victory coming over South Carolina State. They've given up more than 40 points in each of their last 4 games, opponents are rushing for an average of 235 yards on them, and I'm pretty sure one of their linebackers is actually a Denny's Grand Slam breakfast.
Greasy toast aside, the Hoosiers have an extremely young football team. After quite a bit of shuffling, their quarterback is now Tre Roberson, who right now is statistically very similar to Braxton Miller. Roberson has the ability to run the ball somewhat, and if he were actually good at that rather than mediocre I might say that this is another good opportunity for the Ohio State defense to prepare for Denard Robinson at the end of the month, but since he isn't it isn't, so forget it. The Hoosiers are also very undersized at offensive line in between the tackles, which could definitely make protection an issue.
Stephen Houston, from Lakota West down near Cincinnati, is Indiana's running back. Houston is probably the most functional member of the offense, putting up some pretty impressive numbers against the likes of Wisconsin and Northwestern. Had he actually started the season he would be well on his way to 1000 yards for the year, and as a result, his 5.2 yards per carry will probably result in Hankins and Simon making him their personal pet project. Part of me wants to see an Ohio boy do well in Ohio Stadium, but on the other hand in high school I had a crush on a girl who went to Lakota West who I never worked up the courage to ask out. So another, more vindictive part of me wants to see him crash and burn.
It's difficult to even begin to describe the Hoosier defense without using the words "horrorshow" and "atrocious" and "incredibly depressing to witness," but I will say this for them: the Hoosier defense is an atrocious horrorshow that is incredibly depressing to witness. Wait. Dammit!
The numbers tell pretty much all you need to know. In addition to the aforementioned 235 yards they give up on the ground per game, another 224 come through the air. Indiana is allowing conversions on 3rd down nearly half of the time, and are giving up a total of 36 points per game. There are a few bright spots here and there, but right now there doesn't seem to be a light at the end of the tunnel defensively. One bright spot is the play of Adam Replogle, a defensive tackle who has racked up 4 sacks this year to go along with 5.5 tackles for loss. He's possibly the most athletic member of the team, and will likely see fireman duty, moving around constantly to try and probe a weak point in OSUs offensive line.
The rest of the defense is non-descriptively bad, save for maybe Mark Murphy. He's a safety with some size, and along with fellow safety Drew Hardin, could account for some big hits and disruption among OSUs young WR corps. An interception certainly isn't out of the question, although it likely won't matter as the Buckeyes should have virtually no trouble rushing the ball against a young and inexperienced defensive line.
Buckeye Breakdown
Right now the Ohio State Buckeyes are apparently the Big Ten's most dangerous team, and though I'm not entirely convinced that the moniker fits, it's hard to argue with a group of players who knocked off two ranked opponents as underdogs in consecutive weeks.
One of the things that people have been talking about the the "evolution" of Braxton Miller, but to be honest I attribute a lot of the development that we've seen to him simply getting more opportunities to throw the ball. Having at least the threat of passing turns out, incredibly, to be a positive thing schematically, the discovery of which for Jim Bollman was probably on par with the finding of gold at Sutter's Mill or the first successful taste test of fried candy bars.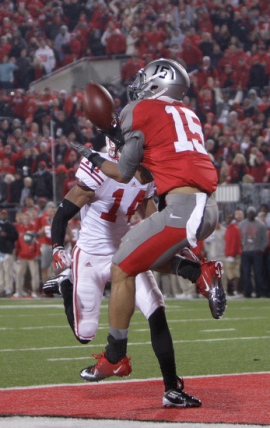 A consistent running game helps, too. Boom Herron is hypothetically playing like a man possessed, although actually he isn't, since if he was that would require some kind of football exorcist (probably Lou Holtz) and no one wants to see that. Interestingly, Boom is right when he says that he's leaving yards on the field; most people would agree that he had a terrific game against Wisconsin, but he ended up averaging 4.8 yards per carry. Carlos Hyde is still statistically the best RB on the team, and with Jordan Hall's injury he should have plenty of opportunities to prove his mettle. Of course, given how the offensive line is just straight up mauling dudes, it probably won't matter who is toting the rock for Ohio State tomorrow.
The defense continues to be something of a concern, at least in the secondary. Rendering Russell Wilson an almost non-factor for 90% of the game was impressive, but a lack of focus allowed the Badgers back in the game and gave everyone involved some nasty Nebraska flashbacks. If Braxton's scream and wing throw had been incomplete, the discussion all week would have been about the defensive backs not getting the job done in crunch time yet again. Howard remains inconsistent, and Christian Bryant looked foolish when he wasn't doing his best Mack truck impersonation. This week would be a good opportunity for the defense to put together a consistently dominant game.
The special teams continue to be very good, especially the kicking game. Drew Basil hasn't missed on anything since Toledo, which makes me all the more nervous that he eventually will at an inopportune time, but this is probably not the week to worry about that all that much.
Prediction
OSU has the ability to win this game by running off tackle about 50 times and maybe throwing a cursory toss downfield to remind everyone that they're aware the forward pass exists. They shouldn't though, as this is a great opportunity for Braxton Miller to develop more of a rapport with his receivers, kind of like how dunking on a six foot high hoop gives you this hollow yet satisfying sense of accomplishment. Hankins and Simon should absolutely destroy the interior of Indiana's line, making life pretty difficult for Houston and putting pressure on Roberson to make plays. This may stay something of a game for the first quarter or so, but Indiana will eventually crack under constant pressure from the defensive line and the running game, and things should snowball from there. On paper, this game isn't close. On the field, this game won't be close either.
Last week Alex was King Cool Guy, calling the upset that some of us could not. Props to all the Eleven Warrior writers who kept the faith, for you are stronger souls than I. This week we have reached unanimity, calling for a total destruction of the Hoosiers to the tune of...
Ohio State 39, Indiana 8