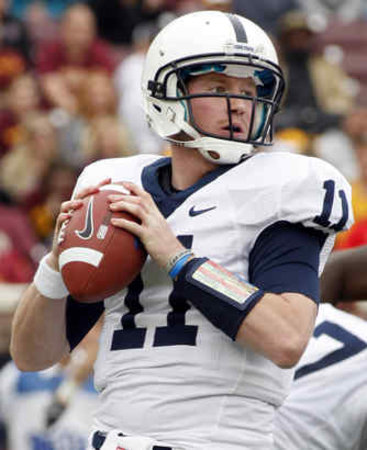 No jokes. These past two weeks have been some of the most mind-bendingly ridiculous in the history of Penn State. I won't rehash the whole episode here; no doubt you're already familiar with the disgusting specifics of the case, and I'm sure that in the coming weeks and months you'll be spending plenty of time learning the details of what has transpired over and over again. It's a sad, depressing situation that only seems to get worse over time.
Earlier this week, Ohio State made a concerted push to encourage sportsmanship at tomorrow's game; they want Ohio State fans to let Penn State fans know that they can still, on some level, enjoy football again without being constantly reminded of Jerry Sandusky and Bob Costas and Joe Paterno and CNN and public outrage and everything else that goes along with a public scandal of this magnitude, a scandal that none of them had any hand in perpetuating.
It's a nice gesture, so of course my initial reaction was "Screw that." Penn State had/has a reputation for some of the worst fans in the Big Ten, so when some of the denizens of Happy Valley decided to riot following Paterno's dismissal, my first thought was that I hope they never are able to take pleasure in a sporting event ever again. I don't care how revered or woven into the social fabric of Penn State Paterno is, at some point moral logic needs to trump gut emotion, and the ongoing protection of a child molester is well beyond that point.
Unsurprisingly though, Jared Sullinger stepped in and brought some perspective to the situation. And he's 100% correct. PSU fans who are still somehow deluded into thinking that Paterno did no wrong and that this is part of some kind of media conspiracy to discredit him are not going to be swayed by boos or chants or signs; instead, the people who actually will be effected by that are the victims of the alleged crimes by way of making their very private situations fodder for one upmanship in a football game. My take? If you want to boo Penn State the football team, that's fine. Any other year, under any other set of circumstances, they'd get booed the second they step into the stadium.
But for three and a half hours tomorrow, make this about the game, not about a horrific situation that the victims are still learning to cope with. We owe them that. Not as OSU fans or as college football fans, but as human beings.
Opponent
One thing that I think is important to point out right away is that as a practical matter, losing Joe Paterno as head coach is nowhere on the same level as losing Jim Tressel as head coach. Paterno hadn't been anything more than a figurehead for at least five years, and Tom Bradley now has the pleasure of being referred to as the actual head coach rather than just the de facto one.
What that means is that anyone expecting a substantively different Penn State team against Ohio State is likely to be disappointed. After last week Bradley and company by now have surely picked up on the fact that the more Matt McGloin, confirmed starter, is forced to pass, the less likely it is that Penn State is going to win the game. McGloin has completed less than 50% of his passes in five games this year, including against Nebraska. One thing he does do well is take care of the football; he's only had 3 interceptions on the year against 7 touchdowns, although he hasn't thrown one of those in the past two contests. Despite owning the world's largest supply of moxie, McGloin is not going to win any football games for you.
With that said, up until last week the real challenge was for McGloin to efficiently hand the ball off to Silas Redd 25-30 times per game. Redd is, as a sophomore, better than Evan Royster ever was throughout his Nittany Lion career. PSU leans on him heavily, and though he's nursing a collarbone injury, Bradley expects that Redd will be available to play. With that said, expect a steady dose of senior Stephfon Green as well. Green has been the Brandon Saine of Penn State for most of his career, in that his production has steadily fallen off after a promising freshman season.
Running the ball is the crux of the PSU offense. Derek Moye is the best of a WR corps that is better than you might expect, but everything is predicated on defenses being forced to stop Redd from getting consistent yardage. Unfortunately for Penn State, oftentimes he hasn't done this, despite a talented (albeit somewhat undersized) offensive line. If they can't run the ball, they grind to a halt behind generally poor quarterback play, which is why their 90th ranked offense is only 18 spots ahead of Ohio State.
The Lion's defense is what has kept them in games, particularly their secondary, which is huge, experienced, and smart. The last thing that Fickell and Bollman will want is for Braxton to have to throw into the teeth of one of the better secondaries in the Big Ten, and worse, Penn State's defensive line is more than adequately equipped to bring pressure and stop the run. DT Devon Still is a monster on the inside, with 4 sacks and 16.5 TFLs. Also making noise is LB Gerald Hodges, who leads the team with 4.5 sacks and 86 tackles.
The thing is though, as terrific as Penn State is on the defensive line, they excel at making their opponent pay for passing the ball. The Nittany Lions boast the nation's 5th ranked pass defense, so the matchup between Nick Sukay, Chaz Powell and company (all 6 feet, 200 pounds or bigger) and OSU's 118th ranked passing offense is not one that I'm particularly looking forward to.
Buckeye Breakdown
I'm not really sure how OSU is going to approach this game. My biggest worry (aside form my usual weekly worry about the secondary and linebackers, which has now been compounded by Hankins' uncertainty, but we'll get to that) is that the one dimension of the Buckeye offense is going to be taken away. We rag on Jim Bollman quite a bit here, and while most of it is deserved, he can't prevent injuries to what was already a desperately thin offensive line unit (which is partially his fault so hey!). Shugarts pretty much has to come back; we saw what an unmitigated disaster Underwood was at tackle, and though a stopgap solution was found with Mewhort, the absolute worst part of the Purdue game for me was watching OSU running backs get hit before they even got to the line of scrimmage. And Penn State fields a much, much better d-line than the Boilermakers do.
The return of DeVier Posey should theoretically make the passing game better, and actually I wouldn't be surprised to see him catch a bomb or two. The coaching staff seems to think that short passes are way too difficult for Braxton to complete, and since Posey is one of the few WRs on the team who can match up physically with the Penn State corners, he might be able to get fairly open from time to time. Maybe not enough to change the outcome of the game, but definitely enough to make you angry that he got himself in trouble and couldn't play until senior day.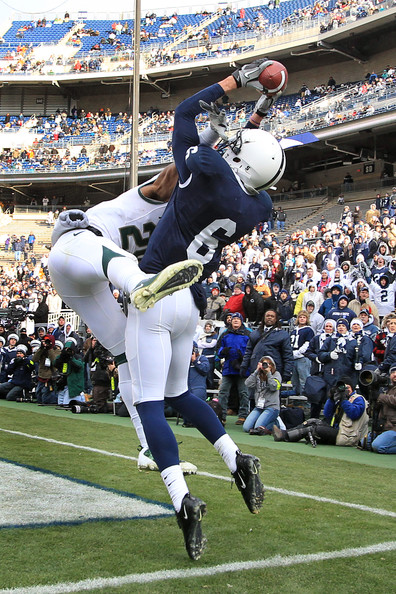 If Penn State can run right at the Buckeyes, it could be game over. Hankins, even though reports indicate that he should be playing, will likely be limited. PSU seems generally content to try and run it right at their opponents, which, if the loss of Sweat and a depleted d-line doesn't factor into the equation too much, should play right into the Buckeyes' hands.
A lot has been made this week of Ryan Shazier starting, and rightfully so. Anyone who watched him in practice this summer knows that he plays on pure rock fury adrenaline; the kid can hit, is fast, and is smart. It's unfortunate that his start has to come at the cost of Andrew Sweat being out, but he should make an immediate and visible impact on the game, provided he understands his coverages.
And once again, this is my primary concern about the Ohio State defense. Purdue converted half of their third downs last week, four of them on 3rd and 5 or longer. The lack of leadership and understanding of coverages among the secondary has now reached critical levels. I'm not as rabidly anti-zone as some people tend to be, but if that's what Heacock wants to run, he needs to make sure that everyone involved understands where they're supposed to be, and not completely befuddled as they were in overtime against Purdue. In what is likely to be a low scoring game, one blown assignment could be the difference maker here.
Prediction
Throughout all of this, it's been easy to forget that Penn State is playing to sustain their divisional crown and Big Ten title game hopes going into their final game against Wisconsin. Anyone hoping for a team in utter disarray might end up frustrated as I'm fairly confident that Tom Bradley will have his team prepared and ready to play. OSU is favored in this game by a touchdown, but the relative ease with which Purdue shredded the Buckeye offensive line worries me, Shugarts or no. I wouldn't be surprised to see this game come down to the wire, but I also think that the tone of the game will likely be set within the first few drives. Simply put, this is a pair of one dimensional teams who will likely refuse to deviate from their established agenda. The winner is going to be whoever finds success in the face of utter predictability.
Last week, Sarah was Queen Sad Guy, although she ascended to the throne by default as literally no one on staff predicted an OSU loss. This week we do have a couple of haters (including myself), but as always we aggregate the score of all of the 11W predictions, and this week we come up with the sunny side up score of...
Ohio State 15, Penn State 12