I'd write some crazy diatribe about losing to Purdue, but I think I'm over it. Frankly, I'm over this whole season, which was squandered over a few thousand dollars of cash and some lousy tattoos. (*sigh*) I normally hate college basketball, but with actual basketball currently locked out, I guess I'll start watching Ohio State basketball when they're playing respectable competition. (What's good on Tuesday at 8:00 PM at the Schott, #8 Florida Gators?)
Before we get to the latest sickening revelation in the Penn State saga, I must ask a personal favor of the fine readers of this website. If any of y'all would be interested in parting with a pair of Penn State tickets (for $$), would you be kind enough to Tweet me or sling me an email?  Remember, there are homeless people on High St. with more money in their styrofoam cups than I have in my bank account; so please don't come to me if you expect payment in bricks of gold. Also, I ain't interested in C-Deck tickets. (I actually like the people I'm getting these tickets for.)
THE LATEST "ARE YOU SERIOUS?" REVELATION FROM THE JERRY SANDUSKY CASE. I remember thinking last week how bizarre it was for Jerry Sandusky to still have his freedom. Well, that's no longer a mystery, but it's answer is as sickening as every turn in this story seems to be.
The prosecutors originally wanted a $500,000 bail set for Sandusky. The judge of the case, Leslie Dutchcot, struck the motion down and set bail at an unsecured $100,000. The madness was taken to another level when it was revealed Judge Dutchcot is a volunteer at Sandusky's Second Mile charity. This inanity is why I agree with Fox Sports' Jason Whitlock: the Federal government needs to handle this investigation and prosecution.
(Also related: Penn State is about to get sued out of its britches, and "At Penn State's Stadium, Profanity, Scorn Greet One Father's Protest.")
YES, JOE SCHAD ACTUALLY TWEETED THIS. I'm sure most of you have seen Notre Dame's hideous throwback helmet from their game against Maryland last Saturday, but I'd like to draw your attention to an especially ridiculous Tweet from Joe Schad: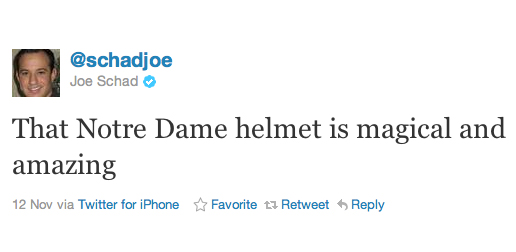 Only Joe Schad could look at a piece of painted plastic used to prevent head trauma and call it "magical." I'd love to sit Joe Schad down and have him explain to me magical powers one of these helmets posses. If they are indeed magical, then maybe Notre Dame should've worn them every game this year and allowed the magical helmets to keep their BCS hopes alive.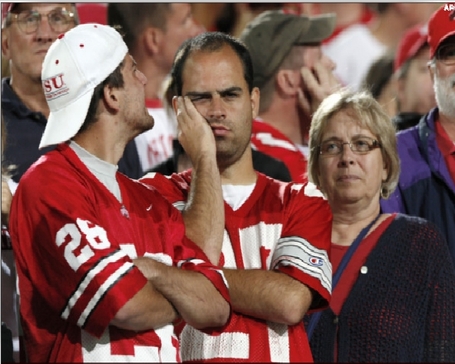 BAD TO WORSE FOR OL' NATTI. Just as Cincinnati began to climb its way back into the AP's Top 25 -- thus, once again igniting the whole "Cincinnati is the best team in Ohio" troll argument -- the Bearcats got skinned in their own house, 24-21 by West Virginia.
To compound the matter, their formidable quarterback, Zach Collaros, will have season-ending surgery on his ankle. Cincinnati must be extra salty too considering Collaros is a senior.
Cincinnati is definitely the second best program in the state. Why doesn't Ohio State play them every year? I'd love nothing more than for Ohio State to have an in-state rival -- a scrappy little brother who brings out the best in OSU. Why couldn't it be Cincinnati?
CHAOS IN THE HEISMAN RANKS. Now that Oregon finally exposed Stanford (something I've been waiting for all year), Oklahoma State's Brandon Weeden has made his move to the top of most people's Heisman charts. I think the Heisman is dumb, but Oklahoma State's offensive attack is one of the best I've seen in recent memory, so I think their field marshall deserves the spot. (Personally, I hope Andrew Luck never completes another pass at Stanford so he can fall to the Cleveland Browns, who will have the #3 pick in the 2012 NFL draft.)
OHIO STATE'S BIG TEN CHAMPIONSHIP DREAMS ARE NOT SHATTERED YET. Think a mind-numbing overtime loss to Purdue could end Ohio State's Big Ten Championship run? Not so fast, my friend! (/leecorsovoice). While Ohio State was never in the driver's seat since dropping their first two conference games, they're now "sitting in the 3rd row of a sputtering minivan." It may take a small act of God in order for Ohio State to be playing in the inaugural Big Ten Championship game on December 3rd in Indianapolis, but still, hope remains.
INTRANAT LINKZ. 911 prank callers target couple over 150 times... The Rubber Duck knows no frontier... Five myths about J. Edgar Hoover... LOLWUT???... Seattle's underground history of bad plumbing and prostitutes... Sweet time lapse video of Earth from the space-station... A Zen Diagram... The face of the 2011 Cleveland Browns