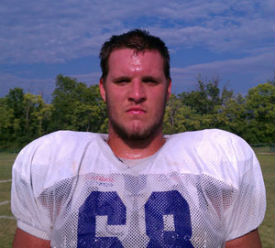 One of the top offensive tackles, not only in the state of Ohio, but in the entire country, is Taylor Decker of Vandalia Butler. The Dayton area native is ranked as a four-star prospect across all recruiting sites, and at 6-8/290, has an imposing presence in his spot on the offensive line.
Much to the dismay of Buckeye fans, Decker was never heavily recruited by Ohio State, and thus, made the decision to commit to Brian Kelly and Notre Dame earlier this year. It certainly was puzzling to see the OSU coaches let one of the state's best, albeit raw, talents escape Ohio's borders without much of a fight, especially with the thin depth on the offensive line.
While little has been made about the Buckeyes jumping back in the picture for Decker, the start of the Urban Meyer era may have that changing. Meyer contacted Decker's coach at Butler, and while things appear to be still sitting well for the Fighting Irish, it looks like the new Ohio State head coach is giving the talented prospect his best sales pitch.
We got the chance to sit down with Taylor Decker to discuss why he liked Notre Dame, what is going on with his recruitment, whether OSU has a chance to change his thinking, and much more. Join us after the jump to catch up with one of Ohio's best, Taylor Decker.
How did your senior season go and how did your team perform this year?
We finished 6-4 and had our first winning season in eight years.
You committed to Notre Dame a while back. What was it about the Irish that you liked so much that you made that decision?
I love the smaller campus feel, as opposed to universities in big cities. I love the enthusiasm around Notre Dame. I believe with Coach Kelly they will return to prominence. Of course, the education is second to none. They have an awesome combination of big time athletics and education.
What was the decision like having to choose between basketball and football? What schools looked at you for basketball?
It was not too bad. Early on in high school I wanted to play hoops, but as I got older I was all football. I had a lot of MAC schools for basketball and some contact with West Virginia, but it was limited.
Did OSU ever go after you hard or offer you when Jim Tressel was in Columbus? Did they do so under Luke Fickell? If not, why do you think?
They did pursue me some with Tressel, but not very strongly. They did not pursue me at all under Fickell and I'm not sure why.
Has Urban Meyer contacted you since becoming head coach at Ohio State?
He has not contacted me directly, but he has contacted my head coach.
Would you listen to what the Buckeyes have to say if they offer you a scholarship under the new coaching staff?
 I would listen to what they have to say. But I am still strong on my commitment to Notre Dame.
Is there any chance you would switch your commitment if you felt Ohio State was the right place under Urban Meyer?
Very slim chance. I feel like Notre Dame is the best place for me right now and there are so many positives about ND.
What do you think of the decision for OSU to hire Coach Meyer?
 I feel like it was a great choice. He is one of the best coaches in college football and will do great things there.
Have you picked a major you would like to study?
I would like to major in something that would allow me to be a physical trainer. Maybe exercise science or whatever I would have to major in for that.
What are your goals before you get to college? What are your goals when you get to school?
My goals are to work on my strength and agility as well as overall skills as best that I can. Arriving on campus, I want to do everything I can to play and just develop a good relationship with the players and coaches.
HIGHLIGHTS: