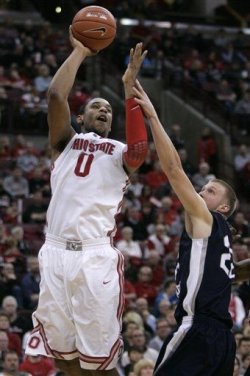 It wasn't pretty early but the Buckeyes outscored North Florida 34-10 over a 13 minute stretch overlapping the last eight minutes of the 1st half and the opening five of the 2nd en route to an 85-50 win tonight in a drowsy, 65% full Value City Arena. (Well, it was 65% full until the midpoint of the 2nd half, then someone apparently pulled the fire alarm.)
Jared Sullinger dominated the action with game highs of 27 points (9/16 FG) and 13 rips in just 28 minutes of action. Sully plowed through double teams all night earning 10 trips to the line, hitting nine, bringing his season FT total to 33/37. He added a career high three steals for good measure.
DeShaun Thomas also had a strong showing with 16 points and six boards on 5/11 shooting in 28 minutes. William Buford was the only other Buckeye to reach double figures with 13 on just 4/13 from the floor but he did have another good night sharing the sugar with four assists.
All that said, I'm still the most excited about Lenzelle Smith Jr. keeps bringing to the court. We heard about Matta's desire to see him step up as Lighty's successor as a lock down defender - and we've seen that to some degree so far - but his all-around game has been a key ingredient to the starting five. 
Tonight he gave the Buckeyes seven points, five boards and five assists despite clanking 1 of 6 from the line. With Sully, WB and Thomas able to fill it consistently while Craft does his thing, Smith has meshed very well thanks to his versatility at both ends and freakish athleticism. And he's probably just scratching the surface of his potential.
The Buckeyes got off to a sluggish start hitting just 6 of their first 17 shots from the floor and only 1 of 5 from the stripe with two turnovers to lead just 15-12 with 10:51 in the half.
The sleepwalking was over after a Jerron Granberry jumper made it 24-19 Buckeyes with 7:47 as Matta's crew unleashed a 21-7 run to close the half.
Sullinger was in beast mode despite continuous double teams as he racked up 13 of his 16 first half points during the spurt. Sully started the run with a bucket off a nifty feed from Smith and later scored on three straight trips with a spin in the lane, a bully move from the right block and a pair of free throws.
Thomas and Smith were also loud as DeShaun picked up six of his 13 first half points and Smith added two via a steal out top leading to a thunder dunk coupled with a great feed to Sully to jump start the run.
Hot shooting during the final eight minutes allowed the Buckeyes to shoot 51% for the half though they shot just 2/10 from distance with WB and Thomas both hitting 1 of 3.
Typically, their cold shooting is the result of poor ball movement but that wasn't the case as more than a few shots rimmed in and out and they still managed to assist on 10 of their 13 FG's in the opening half to take a 45-26 lead at the break.
Buford was quiet during the run but did the heavy lifting early as he scored of the first 19 Buckeye points, finishing the half with 10 points and three dimes.
The real weakness besides an overall ho-hum attitude in front of a drowsy crowd was a defense that let North Florida penetrate the lane too often resulting in 16 points in the paint. The Buckeyes did have a hand in forcing 13 turnovers but let's not forget the Ospreys were junk.
Ohio State began the 2nd half on a 13-3 run highlighted by Craft and Smith.
Smith got things started with an assist to Sully for two before Craft picked up a steal at the other end and fed Buford who was fouled and hit a pair from the stripe. Two possessions later, Smith led the fastbreak dropping a dime to Buford for a one handed jam and a 51-26 lead.
After a Charles McCroy bucket, Smith faced up in the left corner, offered a shot fake and blew by his defender for a high rising tomahawk to wake the crowd. Dude's athleticism is off the chain.
Sullinger recorded a steal on North Florida's next trip down the floor and Craft capitalized with a drive and dish to Sibert for a triple capping the run and giving the Buckeyes a comfortable 58-29 lead with 14:51 to play.
For the game, OSU shot a meh 47% from the floor, 24% from distance (4/17) and 63% from the line but they limited the Ospreys to just 39% overall and 20% from deep while winning the glass 44-31 including 13-4 at the offensive end led by five from Sullinger.
Ohio State also turned 23 North Florida turnovers into 25 points and won the points in the paint battle 44-20.
The busy holiday week continues Wednesday for the Buckeyes as they take on VMI at 7pm followed by a Friday night tilt with Valpo.