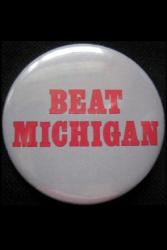 Welcome to the Big Ten Recap, Week 12: The Penultimate Peril. Some stuff happened, followed by blah things and then a bunch of whatever, which was the opposite of all the "!!!??!?!?" non-B1G action.
Anyway, as if you needed a reminder, it is now Beat Michigan week. That's all that matters. 
However, for purposes of creating content that corresponds to the topic set forth by the title of this piece, I suppose I should offer a few more details about what transpired in conference play. After the rest of the B1G teams collectively reacted to Ohio State coaching news in the manner of State Senator Clay Davis1, they took the field for the second-to-last time of the regular season.
With a blowout win over Indiana, Michigan State secured a spot in the Big Ten Championship Game as the Legends Division's representative. Wisconsin and Penn State will face off next week for the Leaders crown, their first meeting since 2008. The winner of the title game, to be played December 3rd in Indianapolis, will head off to the Rose Bowl and lose to some TBD opponent, because the Big Ten is just not very good this year.
How debilitated is this conference? Penn State and Michigan currently boast 9-2 records. It's still plausible for one, or even both, to reach a BCS bowl game. Throughout the country, so much of this entire football season has been of inferior, if preposterous, quality, but that is completely unacceptable and borderline felonious. Nothing about those two teams is BCS-caliber. With a neutered Ohio State unable to carry the banner this year2, no one else can seemingly handle the responsibility.
Thanks to a Northwestern victory over Minnesota, the B1G is now nine bowl eligible strong weak. I don't know, maybe one of the teams will come out ahead in postseason play. I don't particularly care at the moment. In fact, the only reason I'm not at a Corso-level of apathy toward this diabolical sport is because it's Beat Michigan week.  
And on that cheerful note, let's take a look at yesterday's contests!
WISCONSIN 28, ILLINOIS 17
Down 14-0, Wisconsin came back to beat Illinois 28-17. Another slow start on the road for the Badgers eventually turned into three more touchdowns for Montee Ball, his single-season conference record extending to 30. Ball is one of only five players in NCAA history to accomplish that feat. He tallied 224 rushing yards for the day, 164 of which came after halftime.
Bucky's Fifth Quarter praised Ball's performance: "One of those plays was a ridiculous 17-yard touchdown run in the fourth quarter in which he spun out of a tackle and ran away from the entire Illini defense. The run had many in the press box wondering out-loud, 'Why is this guy not getting more Heisman consideration?'"
Illini RB Donovonn Young (8 carries, 43 yards), reached the end zone twice, one set up by a rare Wisconsin fumble. DE Whitney Mercilus, now with 13.5 sacks on the year, knocked the ball out of Russell Wilson's hands and LB Jonathan Brown recovered it.
Not much else went right for Illinois. Punter Jusin Duvernois mishandled a snap at the UI 2-yard line, leading to Wisconsin's first score. In the same quarter, an iffy pass interference penalty against TE Jon Davis negated an Illinois TD. Add in four turnovers—3 INTs and a fumble, all in the second half—and the Illini handed the Badgers a short field on a silver platter. Wilson, while completing 10/13 passes, only threw for 90 yards. The four scoring drives for UW were 2, 30, 39, and 45 yards long. 
A Lion Eye harped on this point of the Zook Era, which likely had its swan song in Memorial Stadium: "We never did any of the little things well.  So despite a pretty good offense here and a pretty solid defense there, Zook's teams are now a collective 34-50 mostly because they were never properly instructed on how to win games with just the little things."
Illinois has now lost five straight and will travel to Minnesota for the season finale.
MICHIGAN 45, NEBRASKA 17
Before getting ready for the Bobcats, Michigan smoked Nebraska, 45-17.  Tied 10-all early on, Denard Robinson and Fitzgerald Toussaint escaped several arm tackles3 to help the Wolverines pull away. Robinson accounted for two TDs in the air (11/18, 180 yards, 1 INT) and two on the ground (23 carries, 83 yards). His 38-yard pass to Martavious Odoms in the back of the end zone was actually a well-placed, non-jump ball throw, his one and only of the game.
Toussaint contributed two scores of his own on 29 carries for 138 yards. His counterpart for Nebraska, Rex Burkhead, managed a mere 36 yards, his lowest of the season. Taylor Martinez ran for 49 yards and lost one of three fumbles for the Cornhuskers while his passing game was T-Magic-like (9/23, 122 yards, 1 TD). The Michigan defense enviably held NU to a 3/13 third down conversion rate. 
As for special teams, the Wolverines won that battle, too. A fake field goal ended with a first down when holder Drew Dileo carried the ball for four yards, which led to a Toussaint score. After a sweet-looking option pitch to Ameer Abdullah cut Nebraska's deficit to 14, their defense stopped UM. But a flop by punter Will Hagerup gave Michigan a first down, and a few plays later, Odoms hauled in the TD. The Cornhuskers also lost their two other fumbles on kick returns and allowed a blocked punt. 
MGoBlog is back to Muppets because "Nine wins? Annihilating a ranked team? Going into an Ohio State game favored?" Yes, all of the above are baffling.
Something the current OSU staff should take note of is Husker Mike's main reason for the loss: "Michigan's defense dominated the Huskers today, and it started up front.  No room to run whatsoever meant Nebraska needed to throw the ball...and the receivers pretty much sucked all day long."
The Cornhuskers wrap up their Big Ten infancy with a home game against Iowa. 
IOWA 31, PURDUE 21
For their first road win of the season, Iowa prevailed over the demons of West Lafayette. Continuing the fumblitis theme running through the conference yesterday, each team lost two fumbles. Purdue QB Robert Marve was responsible for one, along with two picks4.
Despite turning the ball over once himself, Iowa QB James Vandenberg (22/32, 273, 3 TDs) played a nice game. He connected with Marvin McNutt frequently (9 catches, 151 yards, 2 TDs), while RB Marcus Coker rebounded from last week to the tune of 140 yards and a touchdown. 
Big Ten Standings
Legends
Michigan State
6-1
9-2
Michigan
5-2
9-2
Nebraska
4-3
8-3
Iowa
4-3
7-4
Northwestern
3-4
6-5
Minnesota
1-6
2-9
Leaders
Penn State
6-1
9-2
Wisconsin
5-2
9-2
Purdue
3-4
5-6
Ohio State
3-4
6-5
Illinois
2-5
6-5
Indiana
0-7
1-10
After Caleb TerBush tossed a TD to Gabe Holmes, the two squads exchanged punts and turnovers. Then, Marve came in at QB, brought the Boilermakers to the 1-yard line, and threw an interception. Almost immediately, Vandbenberg was stripped by Dwayne Beckford. Brandon Taylor fell on the ball, tying the score at 14. 
With thirty seconds left in the first half, Coker's 2-yard TD gave Iowa the lead for good. McNutt's 51-yard TD snag, an underthrown ball he adjusted impressively to, increased that margin, but Purdue would not go away. Ralph Bolden scored on an 11-yard pass from TerBush, and late in the fourth quarter, Marve returned to the field to convert a 4th and 18. His fumble for a touchback, originally ruled a TD and then overturned, sealed the game for the Hawkeyes.
Hammer and Rails, voiced frustration with the capricious Boilermakers: "For the third straight year we sent our seniors off with a home loss in a game that we made a metric ton of mistakes in. We lack consistency, which can make even an under-talented team a good one."
Needing one more win to become bowl eligible, Purdue's last chance is on the road at Indiana, who will get their final shot at nabbing a conference victory.  
MICHIGAN STATE 55, INDIANA 3
On Senior Day in Spartan Stadium, Michigan State's demolition of Indiana earned them the highly sought-after Old Brass Spittoon. Oh, and the first-ever Legends Division Trophy. Kirk Cousins was efficient (!6/23, 272 yards, 3 TDs), particularly when he found BJ Cunningham (6 catches, 132 yards, 2 TDs) and Keshawn Martin (8 catches, 99 yards, 1 TD). 
Although he only ran for 34 yards, Edwin Baker hit paydirt twice. Le'Veon Bell added 76 yards and even offensive lineman Joel Foreman was afforded the opportunity to tote the rock on an end-around. He gained three yards.
Indiana couldn't find much rhythm on offense. Tre Roberson struggled through the air (10/23, 92 yards) and threw two interceptions, including a pick-six to Johnny Adams. The freshman QB was replaced by Edwin's half-brother5 Edward Wright-Baker (5/9, 50 yards), his first game action in a month. 
The Only Colors, in the midst of celebrating the divisional championship, didn't have much to say about what happened on the field: "Nothing really bad to take away from this game; it's always nice to win comfortably against a bad team."
Meanwhile, at some point around always, Indiana fans have moved on to basketball.
NORTHWESTERN 28, MINNESOTA 13
Holding on after taking a 21-7 lead in the first quarter, Northwestern topped Minnesota. It was the fourth consecutive win for the streaky Wildcats, who previously suffered a five-game losing skid. 
Dan Persa was solid (22/31, 212 yards, 2 TDs, 1 INT) and Jeremy Ebert—oh my god, does anyone even care? I might as well start rambling on about how I want to sample each flavor of IHOP's holiday hotcakes, because the four people who had any interest in this game probably already saw it, and one of them is in a coma. Whether that is a side effect of watching Northwestern-Minnesota, I don't know. I'm not a doctor—led all receivers with 6 catches for 62 yards, a relatively quiet day for him. 
Still, Minnesota was able to move the chains. MarQueis Gray didn't light it up passing the ball (9/21, 124 yards), in part because of receivers' drops, but he found success running the ball. He totaled 147 yards on 26 carries, scoring once, and RB Duane Bennett nearly duplicated that with 127 yards on 23 touches.
The Northwestern defense made a play when it needed to, though. With the Golden Gophers threatening to score, safety Brian Peters grabbed a tipped ball for an interception. An 80-yard drive later iced the game for the Wildcats. Peters came away with 11 tackles, a forced fumble, and recovery. 
While Lake the Posts is happy for bowl eligibility, the blog pleads with fans to show up for the final game against Michigan State: "If this gets pointed out as the reason we don't get picked for a bowl or worse, get jumped by a team that isn't as good, we share this blame (with the NU team for losing to Army)."
Relax, Northwestern fan. Your team is 6-5, and that totally means they're going to play in an awesome bowl! 
1 For those of you slackers who still have yet to watch The Wire, a point of reference (language warning). 
2 As they will for the glorious sport of basketball.
3 Take note, Ohio State defense. 
4 One of those would have been nice last week in OT, jerk. 
5 Not true.