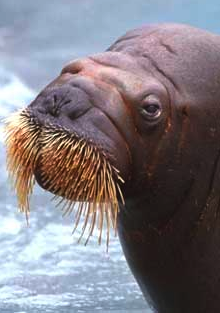 There might be no better historical third-party indicator of Ohio State's success in any given season than how it performs against Michigan State.
To illustrate, let's play the association game: Michigan State football. Quick, Buckeye fan - now pick any year.
It's almost certain that you immediately landed on 1998, 1974 or 1972, depending on how old you are. In 1998 the best Ohio State team of the John Cooper era and one of the most talented in college football history was derailed by a Spartan team that ended the season 6-6 and without a bowl bid.
In 1974 the Buckeyes' only loss of the regular season was to a Michigan State team that had played an entire month without a single victory. That Ohio State team allowed an average of just nine points a game to the rest of its opponents that season.
It was almost identical to what happened in 1972, when the Buckeyes went to Pasadena with one loss, to Michigan State.
The Spartans have taken a handful of other games from the Buckeyes, but aside from those three elephantine upsets, they've come exclusively against lousy Ohio State teams which you have deliberately forgotten.
Over the past 40 years - without a single exception - Michigan State has only beaten two types of Ohio State teams: The exceptionally good or the exceptionally bad. What makes this odd Sparty indicator so unique is that Ohio State is rarely exceptionally bad.
We can use this to project how many wins Ohio State will end up with for 2011. If the Buckeyes run the table, they'll have ten wins and be championship contenders, whereas winning only nine would result in the first three-loss Ohio State team to lose to Michigan State in almost 60 years.
No eight-win Ohio State team has ever had a loss to Michigan State, and the only time Sparty ever beat a seven-win Ohio State team was back in 1965, when the Buckeyes only played nine games. When the Buckeyes fall to Sparta, it's either double-digit victories that season or a total bust. Every single time.
Knowing this, we can take the Buckeyes' 10-7 loss to the Spartans on Saturday and reasonably project how this season is going to end. Considering Ohio State was just held to seven or fewer points for the second time in three weeks, we can probably rule out the possibility of championship flirtation.
If anything, the Sparty indicator for total Buckeye wins this season is currently hovering over the number six. Yeah, Happy Monday to you too.
Those aforementioned rare, exceptionally bad Buckeye teams that lost to Michigan State were all transitional: In 1999, Cooper was on his way out of a job. In 1988, Cooper was on his way in. In 1987 it was Earle Bruce who was on his way out. In 2011, Luke Fickell appears to be doing both of those things, simultaneously.
On a much more micro level, there are three non-Tatgate factors that contribute to Ohio State having one of the very worst offenses in all of football: One is the offensive line, which appears to have atrophied from its regularly-scheduled mediocrity under Jim Bollman to something even less effective and disciplined, despite having nine four or five-star recruits in the two-deep.
Two is the QB situation, which should continue to be execrable under Nick Siciliano, a once-convenient crony-hire who has essentially been reduced to a halcyon ventriloquist's dummy, fully exposed by no longer having Jim Tressel speaking and teaching through him.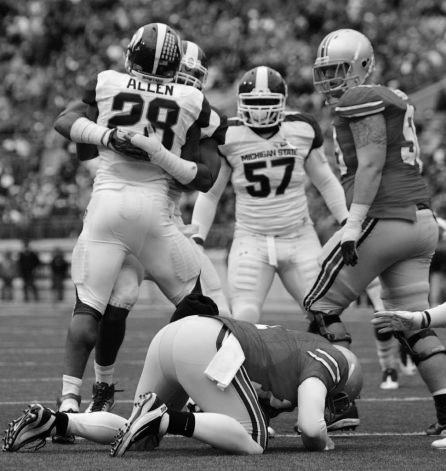 Three, as is often the case with teams that cannot move the ball, is the playcalling. As green (or bad) as the quarterbacks are, Ohio State does not appear to perform or allow even the most basic functions of signal callers, like checking down on passing plays or altering its snap counts, which allows defenses to get the first step on an already underperforming line and resulting in the Buckeyes routinely running helplessly into the teeth of a defensive scheme.
Case in point: Ohio State ran 64 plays on Saturday. Thirty of those plays either went for no gain or negative yardage. Michigan State blitzed at least 60 times yet Ohio State ran exactly one screen pass and one draw play all afternoon.
Junior varsity high school coaches know how to correctly respond to constant blitzing, yet apparently Ohio State's either are unwilling or do not, and the evidence is gruesome: The Buckeyes made no adjustments with the offense on Saturday and slammed fruitlessly right into the Michigan State defense for three straight hours.
If Ohio State does not have a quarterback capable of throwing a screen pass under pressure, then that falls on the position coach who is better equipped to be washing dogs at PetSmart for a living instead of coaching Buckeye quarterbacks. The blame here points exclusively to the sideline.
Bollman (let's refer to his offense 'Walrusball' going forward) has now produced two games where the Buckeyes failed to score more than seven points. He is on his way to becoming known nationally as the Greg Robinson of offensive coordinators for 2011. All he needs is a little stuffed Brutus to sick on JB Shugarts' neck every time he does what JB Shugarts always seems to do.
The timeless and tired playcalling debate typically ends with the mother of all strawman rhetoricals: Do you really think you know more than the coaches do? Isn't it convenient that you get the benefit of hindsight to change what would have happened?
With this team, and these coaches, that strawman falls on its face. I believe many of our readers could have coached Ohio State to more than 100 yards of offense through three quarters on Saturday, because I believe many of our readers would have been willing to risk what Walrusball refuses to allow: Playing without fear.
After Michigan State's 25th consecutive blitz - and that is a very conservative estimate - I'm confident that you were ready to exploit the opportunity to attack the gaping vulnerability in the defense, regardless of how hampered any of the quarterbacks are by Siciliano's "mentoring."
Forget about Bollman, Fickell's fragile internship and Ohio State's offseason coaching search and consider what history, like the Buckeyes' odd Spartan indicator, says about how the team might fare over the final seven games: Under Tressel, Ohio State often rebounded from mid-season disasters (three-game losing streak in 2004, Penn State debacle in 2005, Purdue in 2009) to finish very strong (beating Michigan in all three seasons and delivering convincing bowl victories).
Ohio State is now through its five-game Tatgate suspension period. The Buckeyes are 3-2 and don't seem to have improved at all. If anything, improvement in the absence of those suspended offensive starters should have been exaggerated, not invisible, unless I'm misinterpreting what the coaches' Next Man Up directive meant.
You have probably already noticed that the October schedule does the Buckeyes no favors. Nebraska's Big Ten home opener, the undefeated Illini and then what appears to be a tree-shredding Wisconsin team to close out the month provide no easy victories.
Right now it is difficult to imagine the Buckeyes winning a single quarter against any of those teams. The three schools Ohio State has beaten this year are currently 2-12 against FBS competition. Those three schools the Buckeyes will face this month have one loss, total.
DeVier Posey, Boom Herron and Mike Adams should eventually bring immediate and very significant upgrades to the offense, but for the Buckeyes to avoid a 3-5 record heading into November the refugees of Tatgate cannot afford to just be better at their positions than the guys they're replacing.
Their presence will have to transform the entire offense into something greater than the sum of its parts, and right now, it is gruesomely obvious that is the same kind of impact their former head coach had on this coaching staff.