I am typing this... so I am still alive, right? I haven't had any federal agents break down my door today; so I am hoping the memory fragments I have of Craig James cackling like a rabid jackal while drenched in prostitute blood and holding a machete was just a dream I had while passed out in a puddle of my own urine in the aftermath of #D2B. I also didn't get shanked at #E2B nor was I the subject of a Dispatch article with the headline "Argument Over Eric Mangini Turns Violent; Brawl Mars Charity Event". And, of course, I am now a loyal subject under King Braxton.

All in all, it was a pretty good weekend, I'd say. The fact I used to arrange words around on the internet for a website which cut a check to the Stefanie Spielman Foundation is something I hope to leverage in my defense before God (or Cthulu or whomever) throws me into the deepest pits of Hell.
JIM TRESSEL LIVES ON IN THE HALLS OF OHIO STATE. Bill Livingston of the Plain Dealer wrote an article questioning Ohio State's "rush" to honor Jim Tressel by putting a picture up of him in the Fawcett Center (one of eight pictures honoring past Ohio State coaches) without the consequences of his actions being known yet. He spins in a nice angle about the 2008 recruiting class too, which didn't help Tressel "get over that little hump" as Terrelle Pryor once put it. I disagree with the notion it was wrong to honor the Vest, though.

Look, Woody Hayes assaulted a man while on national television and he's revered in Ohio. John Cooper attends practices and has an "A-Pass" hanging from his Lexus' rear-view mirror. Weren't his crimes were far greater against Ohio State football than anything Tressel did? As for the NCAA: Ohio State fired its coach, suffered the "defection" (Livingston's word) of Terrelle Pryor to the NFL, and suspended the other players for five games. (Hell, Gene Smith even backed the bus up over DeVier Posey for good measure). THEY ALSO STARTED JOE BAUSERMAN. The NCAA isn't going to do anything because there isn't anybody left to punish. And even if OSU did lose the right to play in some fancy exhibition game at the end of the season, the good Jim Tressel did at this university will still outweigh the bad.

And yes, it's going to be miraculous when Jim Tressel is anointed as the head football coach of Ohio State this spring. It will be Gordon Gee's biggest power move yet. I already have goose bumps thinking about it.
IT'S MILLER TIME!!!! (U DO SEE WHAT I DID THERE, RIGHT?). If you still want to bask in the awesomeness of Saturday night, then this piece on Ohio State's/Braxton Miller's rise by Adam Rittenberg is probably for you. I read it this morning on my Kindle while bathing in the tears of Bret Bielema and smoking a tobacco pipe. This was my favorite part, a quote from Devin Smith:
"Once I looked back, I expected him to run because that's usually what he does," Smith said. "And I saw him look directly at me. And I saw him launch the ball. The ball was up there forever and I was like, 'Will it come down?' They all said it looked like a punt."
"Will it come down? Will it come down? .... WILL IT COME DOWN!?" was what I was thinking too as I screamed those exact words at my friend's television. I thought Braxton uncorked a ball which was defying the laws of gravity and something which would make Joe Bauserman green with envy. How long was that ball in the sky for? No less than 30 seconds, says I. Good thing Wisconsin has the slowest safeties in the country.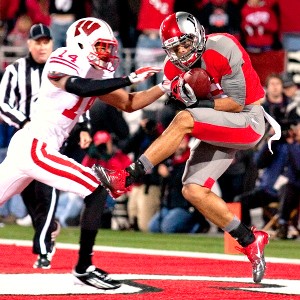 ADVERSITY IS GOOD. Stewart Mandel at Sports Illustrated has a nice little piece on how adversity can be good for a contender, using the Stanford-USC game as a back-drop. I couldn't agree more and it's why I'm glad Ohio State has made a habit out of playing a premiere out-of-conference game every year since the Big Ten is abominable. It's also why Wisconsin has folded the last two times they played a team with players who may actually one day play in the NFL.

It's also why LSU is going to beat the tar out of Alabama this week in a game which I'm sure will go under-hyped in its build-up. (Quick aside: could you imagine if Wisconsin-Ohio State would have been, say, Georgia-Alabama? ESPN would probably make its own channel to play it on a loop while people Tweeted things like "This is why you can't fall asleep in the S-E-C! Every week is a dog fight!" Let's move on before I remember the Big Ten is going to get shelled in bowl games this year).
ARE YOU READY FOR THE TAXSLAYERPRO.COM GATOR BOWL? Because that's where some people are projecting Ohio State to land when the dust settles on this season. Man, who said there wasn't glory to be had for OSU after they dropped their first two conference games? THEY COULD GO TO  THE TAXSLAYERPRO.COM GATOR BOWL!!! What a stupid, stupid system.
THE CLEVELAND BROWNS MAY NOT WIN A GAME FOR THE REST OF THE YEAR. I'd like to personally thank the Cleveland Browns for doing their best to ruin this dream-sequence of a weekend for me. It's as if this team doesn't practice on anything. Besides the immortality of Phil Dawson, the Browns are a team which don't do ANYTHING on the football field above the level of "mediocre." There is zero identity, zero game-planning, and absolutely zero play-makers on either side of the ball. It's going to be a crazy thing if the Browns ever get me to raise serious expectations of them. At this point, I watch them as the tragicomedy they are. It's the only way I can keep few threads of sanity I have left.
INTRANT THINGZ. "Staggering" amounts of homeless students in Seattle... 8 common traits of NBA draft busts... Can I interest you in a piece on Syrian sectarian strife?... Jonathan Newsome, King of Twitter, continues his reign... Girl at haunted house "accidentally" hanged herself?... Only 50 arrests in Athens this weekend? *yawn*....