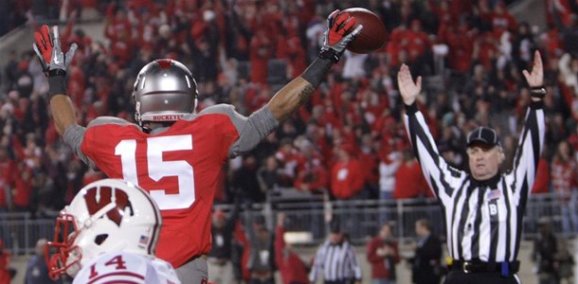 What a weekend. 
Friday night's Drink Too, Brutus was off the chain. Saturday's Eat Too, Brutus was even better. Then came the cherry. I was admittedly expecting a defeat and instead witnessed one of the most gutsy performances from a Buckeye squad ever as they outlasted Wisconsin 33-29 in an instant classic. 
All of a sudden the Buckeyes are very much in the hunt for another B1G championship, needing to win out against the likes of Indiana, @Purdue, Penn State and @Michigan - all very doable - while getting some help from Penn State. The Lions are 5-0 in conference but face a gauntlet of Nebraska, @Ohio State and @Wisconsin. If they drop two of those, the Buckeyes would be Indy bound. 
There's still a long way to go but to be in this position after dropping the first two conference games is unreal. 
With the weekend draining my soul, legs and energy, this could be an abbreviated Five Things but something tells me you are hungover and struggling to focus anyway. O-H...
I sense a spike in #5 jersey sales
What an unflappable performance by Braxton Miller. 
In a must win for his team, the kid runs for 99 yards picking up his first 2 rushing TD's along the way and throws for another 89 yards including his first truly signature play, a game-winning 40 yard TD strike to Devin Smith with :20 left in regulation. 
The throw was just one part of the miracle play as he escaped pressure in the pocket, raced right, avoided another tackle and launched a laser across his body, staying just behind the line of scrimmage. The play showcased his many talents, one of which is the ability to keep his eyes downfield while evading pressure, buying time to throw. 
He completed just seven passes in 12 attempts but factor in two drops, one by Philly running a streak on Ohio State's 2nd play from scrimmage and another by Stoney to kill the 2nd drive of the night on a 3rd and 12 missile and his statline gains about 60 yards. 
With his feet, the kid was again breaking ankles with scary regularity. His 1st career rushing TD came on the opening drive of the 2nd half as he juked Brendan Kelly in the backfield before waltzing into the end zone on 4th and Goal. The clutch move in the backfield on a do or die play showed what the kid is all about. More impressively, Braxton is evolving into the 3rd down weapon that made Pryor so ridiculously tough for defenses to handle. 
Ohio State went 11/20 on 3rd down conversions last night thanks to Miller's efforts. That 15 yard laser on an out route to Philly were it looked like Brown might've not gotten his feet down? 3rd and 12. That laser Stoney dropped three plays later? 3rd and 12 (wasn't a conversion but Miller did his part). A four yard hookup with Philly on a curl route? 3rd and 4. On the FG drive cutting Wisconsin's lead to 7-3, Braxton converted a 3rd and 3 with a four yard run, a 3rd and 10 with a whirling 14 yard scramble, and found Hall for eight yards on 3rd and 12 to shorten the length of Basil's kick. 
Up 20-14 midway through the 4th Qtr, Miller converted a 3rd and 4 with a determined five yard run in which he had the presence to stretch out ball just across the OSU 48 to extend the drive. Three plays later on 3rd and 2, Braxton swept left for the 44 yard TD. 
Without his uncanny ability to extend drives with 3rd down conversions either by foot or by air, no way Ohio State wins this game. 
boom is the heartbeat
It seemed pretty obvious even before the game started that Boom Herron was going to run like a crazed dog for 60 minutes.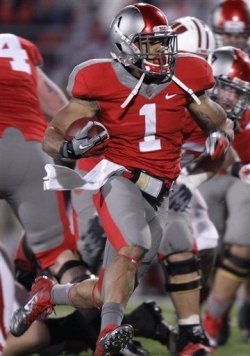 Crying during the national anthem, the unquestioned emotional leader of this team was ready to put on a show. His statline? A career high 33 carries for 160 yards, good for 4.8 a pop. 
In a game where time of possession and field position were critical elements, Boom helped OSU keep the Wisconsin offense off the field. Excluding the 1st quarter, the Buckeyed held the ball for over 63% of game time. 
His first carry was a slippery 12 yard run that eased the nerves of fans worrying that OSU would fail to at least flip the field having taken possession at their own 10 yard line. The drive was shortlived but Buchanan got off a 47 yarder to push Wisky back to their own 31. Wisky cobbled together a TD drive, but at least they had to work for it. 
Trailing 7-3 to start the 2nd half, Boom took over. On the first play from scrimmage at the OSU 25, he slashed through the right side for 57 yards to the Badger 18. The burst was the 2nd longest play from scrimmage for OSU this season. After Miller lost a yard on 1st and 10, Boom again swept the right side, gashing Bucky for 18 yards to the one yard line, setting up Braxton's 4th down bootleg TD run. Seventy-five yards for Boom on one drive. Me likes. 
Later, with OSU nursing a 17-14 lead early in the 4th quarter, the Buckeyes took possession at the Wisky 34 following a 12 yard Hall punt return. Boom carried the ball six straight times, gaining 28 yards, 16 on a  clutch dash up the gut setting up a FG and a 20-14 Buckeye lead. 
Since returning from his suspensions, Boom is averaging 137 yards per game, good for 4.9 per carry. He's also created a little more freedom for Braxton as defenses must always be mindful of what Boom can do whereas teams weren't as concerned about the Hall and Hyde combo. 
Unfortunately, the only bit of bad news for Boom last night (not that he cares) was that his steak of 13 games with a rushing TD came to a halt. All good. He did more than his fair share. 
bullets bully badgers
It got a little wild at the end but the defense did what it wanted to do - stop the run and force Wilson to try and win the game through the air - he couldn't do it. 
The gameplan worked virtually to perfection in the 1st half as the Bullets held Wisconsin to 10 rushing yards on 12 carries. The 2nd half saw Bucky fare a little better with 17 carries for 79 yards but subtracting a 40 yard run from Montee Ball, the stats shrink to 16 for 39. For the game, what was the nation's 8th ranked rushing attack averaging 252 rush yards per game totaled just 89 yards on 29 carries. 
The defensive line was most responsible for slowing the Badger attack, specificallly Simon, Hankins and Bellamy. Big Hank actually recorded seven stops on the night as he continues to show stamina is not the problem it was a year ago. 
Simon recorded a career high two sacks but was most impressive was the amount of pressures and overall disruptions he created while being held on at least 67% of the snaps. Seriously, I don't think I've seen more missed holding calls against any one player in my 37 years of drawing breath. It's a testatment to Simon's determination as he just kept coming and coming in a manner maybe only exceeded by John Holmes a young Mike Vrabel. 
Another key effort on this night came from Adam Bellamy. Searching for another killer up front to complement Simon/Hank with Williams on the shelf, Bellamy showed just how effective he can be. He notched a sack and was constantly roaming in the backfield disrupting the timing of numerous plays. If he can build off this performance and become more consistent, that could go a long way in helping OSU's goal of running the table in November. 
My main reason for expecting a loss coming in was thinking our LB's wouldn't be able to make enough plays to control Wisky's running game. Thankfully, the D Line stepped up meaning the LB's didn't have to do as much but a tip of the hat to Sweat for tallying eight crucial stops not to mention his pressure of Wilson to end the game. Fellow LB's Klein and Sabino chipped in four stops apiece but safety CJ Barnett deserves praise for his work in run support. The big hitter was physical last night, throwing his body at seven tackles, most of which were pad poppers. 
Christian Bryant added some slobber knockers (6 stops) but he also continued his trend of at least three missed tackles per game plus one gamble that didn't pay off as he whiffed on an INT allowing Ball to coast into the endzone for six. I love his intensity and desire to make the big play but a bit more discipline in space would be welcomed. 
it takes all three phases
After years of watching special teams stink up the joint, it's comforting to know the 2011 Buckeyes have multiple weapons on this front. 
Ben Buchanan has been in beast mode all season and last night was more of the same. He dropped three punts inside the 20 and uses hangtime to allow for virtually zero running room once the catch is made. Three punts were returned last night for a grand total of six yards. Coupled with that hangtime is the ridiculous coverage skills of Ryan Shazier. While he'll eventually star at linebacker, he already is one on the coverage units. 
As sick as Shazier is at covering kicks, he's just as adept at blocking them. He raced around the offensive guard lined up deep in punt protection, easily blocking the punt that Curtis Grant pounced on at the Wisky one yard line. Hall ran it in three plays later giving OSU a 17-7 lead early in the 3rd quarter. 
Placekicker Drew Basil has definitely found a groove. He was 2/2 on FG's (39, 22) and has now made 10 in a row after a rough start. His kickoffs are also typically reaching the goal line and he's not afraid to cover them. He actually recorded two tackles last night. 
Finally, after a shaky night catching punts, Hall's 42 yard kickoff return after Wisconsin took a 29-26 lead gave Ohio State hope with 1:18 to play. Driving the length of the field was going to be an extremely tall order and Hall's clutch sprint up the left sideline gave Miller a chance to pull of his heroics. 
The special units were indeed special last night. 
#brutus'd
Before I touch on the outstanding weekend outside of the upset in the 'Shoe, I need to first acknowledge my man crush on Zach Boren. He was absolutely devastating in his lead blocking role last night and threw in a seven yard reception taboot. Dude was punishing as he paved the way for Boom. It's a shame it's so easy to overlook the contributions of an OSU fullback but he's as valuable as almost anyone on that side of the ball. H/T to the kid for playing his role to perfection. 
With that covered, I just wanted to take a second to thank everyone that donated to Eat Too, Brutus and/or made it to the tailgate. It was great to meet as many of you as I did though I still need to track down Is It Saturday Yet so we can talk hoops. I know Jason, as the creator and visionary of this here domain, Ramzy for his crazy work getting sponsors on board and the rest of us for playing logistical roles to make it happen felt very proud of what went down. 
To be able to help make a difference in the fight against breast cancer was beyond rewarding for all of us - staff and those that donated in various ways - and to do it in such a fun way was spectacular. 
Also, special thanks to Finkes and Titus for not only donating items but also stopping by. And to Greg Oden for making a cameo.
I know I speak for everyone when I say we can't wait til next year.