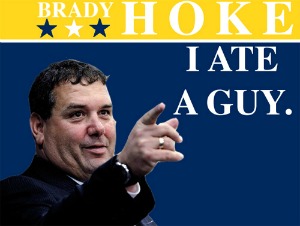 Welcome to the Big Ten, Week 7: Mission to Moscow. Yesterday, as we all know, Ohio State won and Michigan lost, signaling our return to the correct timeline. Dance party!
All it took for the universal restoration was Dr. Pepper appealing to my Marty McFly side and basically daring me into trying their virile Dr. Pepper Ten1. Somehow, through the cocktail of testosterone, high fructose corn syrup, and stealing of a 1950-2000 edition of the Gray's Sports Almanac, everything was put back in its rightful place.
The rest of the B1G ho-hummed their way through the weekend. Not included were the idle Nebraska and Minnesota, who will meet next Saturday for the Cornhuskers' sixth win of the season.
To honor the soft drink company and their truly awful ad campaign, the recipient of the newly created The Dr. Pepper Ten Big Ten Game of Manliness2 is Michigan vs. Michigan State. The reasons are two-fold.
For one, color-blindness affects 1000% more men than women, and only those who suffer from such an affliction would approve of the uniforms worn by the Spartans and the Wolverines.
The other reason is that Brady Hoke was so depressed by his first loss as the UM head coach, he skipped the postgame handshake and immediately began to eat his feelings. Unfortunately, that soon turned into cannibalism. R.I.P., pizza guy.
MICHIGAN STATE 28, MICHIGAN 14
The Paul Bunyan Trophy extended its lease in East Lansing as Michigan State emerged victorious over their hated rivals from Ann Arbor. The Spartan seniors emulated the few most recent Ohio State classes with this feat: a 4-0 record against the Wolverines. On the strength of their defense and the legs of Edwin Baker (24 carries for 167 yards), MSU kept the Mike Hart curse alive and put 11th-ranked Michigan3 in the loss column for the first time this season.
Both teams scored touchdowns on their opening possessions, which for Michigan included converting a fake field goal for a first down. Then, Denard Robinson slip-slided his way to the score. Michigan State countered when Baker, who had gained most of the yards on the drive, rushed up the middle for a 1-yard TD.
The 7-7 tie remained until the third quarter, when Spartan WR Keshawn Martin caught two TD passes from Kirk Cousins.
Despite Michigan's second-half success through their first six games, they couldn't quite capitalize on Sparty's Spartiness. MSU committed 13 penalties for 124 yards, which was four more yards than they gained through the air. Most notably, William Gholston twisted Robinson's facemask in a pile and later threw a punch at Taylor Lewan. Late in the fourth quarter, Marcus Rush was flagged for a late hit on Shoelace, who was replaced with Devin Gardner for the rest of the game.
It was a tough day for Robinson. He only recorded 42 rushing yards and was sacked four times. His subpar passing abilities became sub-subpar in the windy conditions, and he completed just 9/24 for 123 yards. Though he threw a TD to Roy Roundtree, an opponent was finally able to make him pay for his lobbed balls. It wasn't Darqueze Dennard, who dropped a sure interception, thus depriving the announcers of clever Denard-to-Dennard remarks. Instead, down by a TD with seven minutes to go, MSU safety Isaiah Lewis sealed the win with a pick 6.
The play of the day, however, was on the previous Michigan drive, when the Spartans stopped Michigan at the 9-yard line on 4th down. Needing half a yard, UM opted for a trick play and Johnny Adams sacked Robinson. Maize n Brew, characterizing it as "the defining moment", also bemoans the call: "didn't make sense at that time and it certainly doesn't make sense now. Guh."
The Only Colors, getting its Balki Bartokomous on, points out that and "the win also puts us in strong control of the Big Ten West race: we're the only unbeaten (in conference) left in the division, and we have the tiebreaker over Michigan should it come to that." 
Now, the Wolverines lick their wounds into a bye week while Michigan State prepares for an intriguing battle that will pit its defense against the Wisconsin offense next Saturday night.
WISCONSIN 59, INDIANA 7
After last season's 83-20 win, Wisconsin disappointed by merely defeating Indiana 59-7. The prolific Badger offense did not account for all the points, either, as the defense and special teams scored a TD each.
Hitting pay dirt three times, RB Montee Ball totaled 142 yards. James White chipped in with 87 yards and a score of his own.
Wisky QB Russell Wilson did the expected (12/17, 166 yards, 1 TD) and the unexpected when he caught a 25-yard TD pass from Ball. Bucky's Fifth Quarter lays out the benefit of that play: "with Wilson's ability to run, defenses already have to play close attention to ball fakes on every single play, but now they also have to worry about him as a receiver when it's obvious he doesn't have the ball."4
In a change of pace for the Hoosiers, they were able to move the ball on the ground. RB Stephen Houston accounted for their only TD and racked up 135 yards. Indiana was unable to look competent elsewhere, though. Starting QB Edward Wright-Baker managed just 6/15 for 54 yards, along with two interceptions. He also lost a fumble in his own end zone, which was recovered by Wisconsin for the score.
To sum up Indiana: their punter Adam Pines' rugby kick bounced off the back of his own player and into the hands of Wisconsin's Bobby Bradie Ewing. The ball was placed at the 26-yard line, three yards behind where IU had the ball. 
Big Ten Standings
Legends
Michigan State
2-0
5-1
Michigan 
2-1
6-1
Nebraska
1-1
5-1
Iowa
1-1
4-2
Minnesota
0-2
1-5
Northwestern
0-3
2-4
Leaders
Penn State
3-0
6-1
Wisconsin
2-0
6-0
Illinois
2-1
6-1
Purdue
1-1
3-3
Ohio State
1-2
4-3
Indiana
0-3
1-6
Jared Abbrederis was the leading receiver for the Badgers and added to the scoreboard with a 60-yard punt return. His fellow WR Nick Toon was held out of the game with a foot injury, but he should be good to go against Sparty, who dealt the Badgers their last conference loss a year ago.
IOWA 41, NORTHWESTERN 31
Rebounding from last week's loss to Penn State, Iowa beat Northwestern for the first time since 2007. It was the fourth straight losing effort for the Wildcats, who still tallied nearly 500 yards on offense and converted 73% of their third downs. 
Although they surrendered those numbers, the Iowa defense made a few standout plays. In the first quarter, Hawkeye Tanner Miller picked off Dan Persa and ran it back for a 98-yard TD. Later in the game, Persa lost a fumble which Iowa was able to turn into a field goal.
Other than that, Persa was accurate (31/40, 246 yards). His main targets were Jeremy Ebert and back-up QB Kain Colter, who in addition to catching six passes for 71 yards, ran for 76 yards and threw a TD to Drake Dunsmore. Back-up to the back-up Trevor Siemian hit Rashad Lawrence for a score near the end. 
Iowa saw their 17-0 lead disappear by the third quarter, but three of their best offensive players fixed that. RB Marcus Coker rushed for both his TDs in the fourth quarter, ending the night with 122 yards. In between Coker's scores, QB James Vandenberg connected with WR Marvin McNutt for a 35-yard TD. It was the 21st career TD catch for McNutt, which ties him for the most in school history. He has the chance to haul in number 22 on the 22nd against Indiana.
For Lake The Posts, it was a familiar-looking fourth quarter: "Iowa had two gimme TDs on complete collapses in our secondary, yet again, in the broken record theme of our season." NU's bowl hopes are fading, and Penn State comes to town next weekend. 
PENN STATE 23, PURDUE 18
In a game marked by miscues, Penn State pulled out the win over Purdue. The normally stout Nittany Lion D gave up 344 yards, 97 of which Purdue RB Ralph Bolden gained via the run. However, the defense was able intercept both Boilermaker QBs for a total of three interceptions.
Linebacker Nate Stupar grabbed two of the picks. Robert Marve threw the first, with less than 30 seconds remaining in the first half.  That gave PSU's Anthony Fera the opportunity to tack on a field goal for a 10-6 halftime lead. The second, this time late in the fourth quarter with Caleb TerBush under center, allowed the Nittany Lions to run the clock out.
Special teams, though, was the story in State College yesterday. Plagued with the wind epidemic that swept through the Midwest, Purdue's Carson Wiggs missed a field goal and an extra point. That came back to bite them in the ACL when RB Akeem Shavers somersaulted into the end zone with eight minutes left in the game. The Boilermakers were then down 20-18 and had to go for two. The attempt, a TerBush carry, failed. 
Immediately following, return man Chaz Powell ran back the kickoff for 92 yards. Penn State would have gotten the ball at the 3-yard line, except Powell dared to barely toss the ball in the air afterward and was flagged for an unsportsmanlike penalty. Fera hit another field goal for the final score. 
In his third straight 100-yard game, Silas Redd toted the rock for 131 yards and a TD. The Penn State QBs played as expected. Neither Ralph's twin brother Rob5 nor Matt McGloin recorded a TD, and the latter was intercepted when Albert Evans snatched a pass that ricocheted off another player's foot in the end zone. 
Black Shoe Diaries thinks that "after so many misfires, it might be time for Penn State to holster its passing attack" but it would require "decisions with any sort of logic behind them." Luckily for them, there's a meeting with the Northwestern secondary on the horizon. 
Boiled Sports complains, "Purdue was playing a two-QB system that has struggled against everybody to move the ball, yet they refused to blitz PSU's hapless duo." On the plus side, "this was the O-line's best performance of the year, while running the ball, simply because of the competition."
Next up will be another test for the OL when the Boilermakers head home for a showdown against Illinois. 
1 I don't even drink pop very often, so it was partly out of spite and partly because I had a coupon for a free 2-liter.
2 No affiliation, but it sounds like something they would do, doesn't it?
3 LOL!
4 Ugh, Wisconsin.
5 Not true.