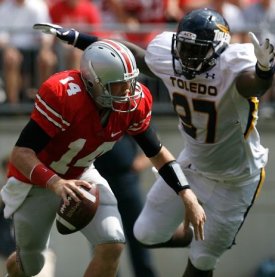 | | | | | | |
| --- | --- | --- | --- | --- | --- |
| | 7 | 14 | 6 | 0 | 27 |
| | 15 | 0 | 7 | 0 | 22 |
Ohio State came very close to hitting rock(et) bottom against the real baus Eric Page and a shifty Toledo squad but continuous help from the enemy and a final defensive stand allowed the depleted Buckeyes to escape with a blinding 27-22 win this afternoon in the 'Shoe.
Nursing a five point lead with 3:08 to play, the Bullets saw backup QB Terrance Owens move the Rockets from their own 28 to the OSU 17 yard line facing 4th and 6 with :52 left in regulation. Having returned from cramps, John Simon made the decisive play as he bullrushed his man to pressure Owens, who then rushed a pass that fell incomplete intended for Kenny Stafford to seal the deal. 
The defensive stand was a metaphor for the day as the defense, despite some major hiccups of its own, did most of the heavy lifting as the Ohio State offense, led by Joe Bauserman, racked up just 301 total yards, averaged a meager 3.3 yards per rush, and went 3/12 on 3rd down. 
Bauserman completed a rickety 53% of his passes (16/30), showing virtually none of the poise on display last week against much lesser competition. To his credit, he didn't turn the ball over but gave up on more than few plays throwing the ball away seemingly way more early than necessary. 
His stewardship was obviously viewed as good enough by Fickell, who refused to insert what is supposedly his co-quarterback Braxton Miller, likely delivering a sizeable shot to the kid's confidence in the process. 
Another interesting development was the return of Jaamal Berry and his subsequent participation relegated to return duties. He didn't carry the ball and recorded just one catch for five yards. Meanwhile, Carlos Hyde ran hard, though with questionable vision, toting it 20 times for 76 yards and 2 TD and showed nice hands again hauling in four passes for 28 yards. 
The Buckeyes gave fans reason to believe it would be another ho-hum today as they jumped out to a quick 7-0 lead taking the opening kick 67 yards in seven plays. Bauserman looked excitingly fluid hitting 3/3 for 50 yards on the drive including a 26 yard TD toss to Jake Stoneburner. 
But then a reality check, aka the Eric Page Show, took center stage. 
The All-American receiver/returner caught three for 30 on the ensuing possession via bubbles and crossing routes foreshadowing the kind of frustrating day it would be for the Buckeyes. Fortunately, Toledo's kicker, Ryan Cassano, has the kind of leg that makes it look like he's kicking a bag of Quikrete, as he killed the drive with a missed 45 yarder. 
Following a dismal three and out in which Baus gave up on a play with an early throwaway on 2nd down and then scrambled short of the sticks on 3rd, the Rockets blocked Buchanan's punt as JT Moore whiffed in protection, eventually setting up shop at the OSU 6 yard line. Page caught a crossing route for the touchdown one play later, then threw a 2 point conversion pass to Hank Keighly giving Toledo an 8-7 lead. 
After Basil got in on the missed FG act, following a cheap drive featuring 30 yards in Toledo penalties and an underthrown post corner from Bauserman intended for Verlon Reed, Page took a short pass on 2nd and 6 and raced 66 yards to paydirt giving the Rockets a 15-7 lead with 2:18 left in the 1st quarter. Page's scamper was aided by bad angles from Sweat, Barnett and Clarke, who had an otherwise solid day in place of Howard again, officially causing Buckeye fans to sweat.  
From there, however the Silver Bullets settled in big time closing the half with three straight 3-and-outs, a Stom Klein interception, and a final 3-and-out before Toledo's last possession was ended by the halftime gun. 
The offense capitalized on the second 3-and-out followed by Fickell's smart decision to have Toledo re-punt after one of their three illegal formation penalties. The move gave OSU the ball at the Toledo 42 instead of the OSU 40. Hyde then slashed his way to a 36 yard TD run, getting great blocks from Norwell and Mewhort to spring, to record his first collegiate TD, trimming the deficit to 15-14 with 8:02 left in the half. 
Finally, after Toledo's final 3-and-out of the half, Fickell again smartly forced the Rockets to re-kick after an illegal formation penalty. This time, Vince Penza booted a low line drive to Chris Fields and he promptly turned on the afterburners, getting a nice block from Ryan Shazier, taking a 69 yard punt return to the house. The score put OSU in front 21-15 with :46 left in the half. 
Passing
|   | Cmp/Att | Pct | Yds | TD | Int | Rat |
| --- | --- | --- | --- | --- | --- | --- |
| Bauserman | 16/30 | 53% | 189 | 1 | 0 | 117.3 |
Rushing
|   | Att | Yds | Avg | Lng | TD | Fum |
| --- | --- | --- | --- | --- | --- | --- |
| Hyde | 20 | 76 | 3.8 | 36 | 2 | 0 |
| R. Smith | 7 | 24 | 3.4 | 9 | 0 | 1 |
| Reed | 2 | 8 | 4.0 | 12 | 0 | 0 |
| Bauserman | 2 | 7 | 3.5 | 5 | 0 | 0 |
| Fields | 1 | 0 | 0.0 | 0 | 0 | 0 |
Receiving
|   | Rec | Yds | Avg | Lng | TD | Fum |
| --- | --- | --- | --- | --- | --- | --- |
| D. Smith | 2 | 67 | 33.5 | 36 | 0 | 0 |
| Stoneburner | 4 | 43 | 10.8 | 26 | 1 | 0 |
| Hyde | 4 | 28 | 7.0 | 8 | 0 | 0 |
| Reed | 2 | 23 | 11.5 | 13 | 0 | 0 |
| Brown | 1 | 11 | 11.0 | 11 | 0 | 0 |
| Fragel | 1 | 6 | 6.0 | 6 | 0 | 0 |
| Fields | 1 | 6 | 6.0 | 6 | 0 | 0 |
| Berry | 1 | 5 | 5.0 | 5 | 0 | 0 |
The swing in momentum headed to intermission didn't last long as Page's 23 yard return of Basil's squib kick off allowed Toledo to set up shop at their own 40. On the first play from scrimmage, Klein overpursued in space, springing Adonis Thomas who turned a screen into a 44 yard gainer setting up 1st and Goal. After Orhian Johnson dropped a sure interception in the end zone on 2nd and 4, Thomas lined up in the wildcat to score on 4th and 1 giving the Rockets a 22-21 lead with 12:56 left in the 3rd quarter. 
After a 3-and-out aided by Hyde missing the hole on 2nd and 2, the Bullets stiffened up forcing a punt and the Rockets, as they did all day, helped the Buckeye cause with a bad snap on 4th and 13 giving OSU the ball at their own 45 yard line at the 6:02 mark. 
After Hyde chewed up 11 yards on back to back carries, Bauserman connected with a wide open Devin Smith for 36 yards on a deep out route giving the Buckeyes 1st and goal at the Rocket seven yard line. The next two plays were duds at Hyde rushed for two yards and Baus misfired on a   shot in the back of the endzone to Smith setting up 3rd and goal from the five. 
Keeping in theme, Toledo shot themselves in the foot yet again as Diauntae Morrow was flagged for PI giving OSU an automatic 1st down. Hyde promptly took a handoff up the gut and made it 27-22 good guys with 3:17 left in the quarter. Ohio State lined up for a two point try but Bauserman failed to locate Hyde wide open in the flat, instead lobbing an incompletion. 
Another pooch kickoff kept Page from breaking loose and the Rockets punted after a five play series in which CJ Barnett almost picked off a 3rd and 10 lob intented for the deadly wideout. 
Neither offense could get much going from there as the Buckeyes stalled with Bauserman failing to spot a wide open Fields on 2nd and 9 before derply checking down to Stoney on 3rd and 7 for three yards and a punt. 
The D then forced another 3-and-out with freshman Michael Bennett wrecking havoc in the trenches. The cheers from his effort quickly turned to boos as Bauserman unleashed a poor 2nd and 11 throw befor trumping it was 3rd and 11 heave resulting in a punt. Thankfully, Buchanan pinned the Rockets at their own 8, the 3rd effort of the day inside the 20. 
Toledo would get no further than their own 35, though they did pick up one of their three 3rd down conversions on the day before John Simon killed the drive with a sack on 3rd and 10 forcing a punt. 
Ohio State took possession up five with 5:45 to play but could not run out the clock. Hyde and Bauserman combined to pick up a 1st down on the ground before Bauserman found Smith on a clutch 30 yard out route moving the ball to the Rocket 33 yard line but it was deja vu all over again as Rod Smith coughed up the rock on a five yard run giving Toledo their one last chance with 3:08 to play, setting up Ohio State's final defensive stand.
Was that Smith's last carry of the year? It just might be although that largely depends on whether or not Jordan Hall ever regains eligibility in addition to whatever the hell is going on with Berry. Dude was healthy enough to return kicks but couldn't earn a handoff. 
Bottom line, this was an ugly game that Ohio State was very fortunate to win. For me, a few key positives include Fields on punt returns, Clarke in the secondary, Hyde's consistency and ability to catch the ball though his vision is lacking and he's far from explosive and the play of guys up front like Bennett, Hankins and Simon. Bryant also looked good in spot duty. 
On the downside, Bauserman is probably proving to be the kind of guy that can shred Akron but will struggle against legit foes, Miller didn't even see the freaking field, the run blocking was subpar, Moeller has been invisible, our linebackers and safeties showed issues with coverage and tackling in space, and special teams had some lows to go with some highs. 
Still, I know we're all happy to be unhappy with 2-0 as opposed to 1-1 with the nation doubled over at our expense. Fickell has a week to get his troops ready for the trip to Coral Gables.