Good morning Buckeye faithful and welcome to your Tuesday Skull Session. Alright yes, the Buckeyes got a win over a lousy team after a horrendous loss, but to say this team didn't show you some potential last Saturday, you would have to be nuts.
The score read 37-17 at the end of the game, but it really didn't do Ohio State justice. Even on the very last drive of the game, the Buckeyes were moving the chains for a score, but in a very sportsman-like gesture, Luke Fickell pulled back a hungry Buckeye team and made them kneel out the final moments of the game.
It was a win that this team desperately needed, but now things are about to get serious. It's time for Big Ten football, where a worthy Michigan State team would love to knock off Ohio State and climb back into the top 25, just like the Buckeyes would like to do.
Whoever wins this game will most likely get another shot at being ranked in the next coaches poll. So goodbye Ralphie the Buffalo, hello Sparty the Spartan, this is going to be quite the matchup.
Let's get started:
DEPTH PERCEPTION. Luke Fickell must've been listening to some Bob Dylan after the game Saturday because changes are on the way in preparation for the first game of the Big Ten regular season.
Ohio State released its official football depth chart for the fifth game of the season. Just in case anyone is still skeptical about a quarterback controversy, Braxton Miller is listed as the lone starter. This is the first time this season only one quarterback has been listed alone at the top of the depth chart.
Unless OSU is blowing teams out, as we saw in the Colorado game, or Miller doesn't show he's able to throw the ball late in a game, don't expect to see much of Joe Bauserman. Bauserman played his heart out for this team and has been nothing but supportive of Fickell's quarterback decisions throughout the year. It's great to see he's willing to be a team player, and it's also great to see Fickell having faith in his young quarterback, Miller.
Marcus Hall is still hanging on by pins and needles over Corey Linsley in the battle at right guard. Hall, at least in my opinion, showed improvement this week, even if it was against Colorado. But still, keep an eye on this match up as OSU begins facing B1G squads.
There were some serious shake ups in the secondary as Orhian Johnson haters finally got their wish. Christian Bryant, the talented sophomore, will get his shot at handling the left safety position. Johnson clearly has struggled this year, and with the schedule only getting tougher moving forward, Fickell probably saw Johnson as too much of a liability. So enter the seldom used Bryant until last week who will hopefully provide a spark for the secondary. However, look for Johnson to still be used on occasion.
Also in the defensive backfield, Fickell has decided to go with Bradley Roby over Dominic Clarke, who will back up Travis Howard. While I would've preferred Clarke in the starting role, Roby is no slouch either and certainly has proved he can play well enough to hold a starting position. This Buckeye secondary certainly looks deeper than critics expected going into week five.
IS OSU'S OFFENSE TOO ONE DIMENSIONAL? Bob Hunter of the Columbus Dispatch wrote an article on Monday about how he's worried about the physical blows Miller might take as the starting quarterback if he doesn't start throwing the ball more often. Hunter points out that Miller has a history of injuries, as he was injured every year of his high school career.
Let's get one thing straight, I thought Miller was fantastic against Colorado. He ran 17 times for 83 yards and he didn't turn the ball over. But he was also only 5-13 with 83 yards passing, so there still is a lot of room to grow for the freshman out of Huber Heights, OH.
I can't say I'm not worried about the potential for injury but Miller can't go out onto the field thinking he's going to get injured. He's got to play to his strengths now and that is running the football. The passing skills will develop, after all, Troy Smith and Terrelle Pryor, OSU's last two great quarterbacks, started primarily as runners with well-documented throwing issues. Miller, just like Smith and Pryor, will have to learn to trust his arm, and with time Miller will be a passing threat.
For now, what's important is that Miller stays on the field and continues to learn. There were plenty of times that Fickell noted that Miller perhaps should've thrown instead of ran against Colorado, but he's a freshman, he's no where close to immaculate. For now, OSU needs to play to Miller's best feature which is making plays with his feet.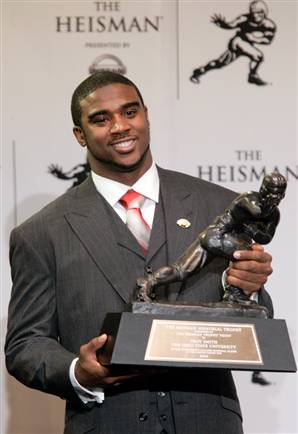 MICHIGAN STATE SMELLS LIKE OHIO. Michigan universities have long been harvesting Ohio's fertile high school football player crops for years. But Michigan State has taken it to another level with a roster featuring 25 players native to the Ohio area this season.
Even their head coach, Mark Dantonio, was a defensive coordinator for the 2002-2003 Buckeye team that won the national championship. Dantonio currently has his Michigan State defense leading the nation in total defense this year.
While Michigan State is loaded with Ohio talent, OSU has only three total players from the state of Michigan: Reid Fragel, Jonathan Hankins, and Dionte Allen. These numbers just further prove that the only way Michigan schools can win games is with some Ohio assistance.
GOOD WITH THE BAD. It's been reported that highly touted OSU small forward recruit, LaQuinton Ross, has been declared academically ineligible for the upcoming basketball season. Ross's academic issues may end up costing him a whole year of eligibility, but it's still far too early to predict how this situation will unfold.
On a brighter note for Thad Matta's team, Alex Rogers, a guard from Cincinnati Oak Hills, who has played two college seasons at Christian Brothers University, has made OSU's roster as a walk-on.
Rogers will probably never be more than a guy filling a roster spot on this star-filled Ohio State team, and he probably won't be a well-publicized walk on like the one and only, Mark Titus, but you can't help but root for the guy.
Walking onto any major college program's basketball team, let alone a perennial top-five team like Ohio State, is no easy feat. All that can be asked of Rogers is that he practices hard and finds his niche in his two remaining years of eligibility on what should be a talented OSU team looking to win it all.
LOS LINKS.  A talented Toledo team isn't catching any breaks... Is number seven Wisconsin and number eight Nebraska the best matchup in the B1G since number one OSU versus number two Michigan back in 2006... What would help OSU's running QB Braxton Miller? How about more running... Nebraska defensive end Jared Crick will be back for this weekend's matchup... What OSU will be missing from LaQuinton Ross this season.