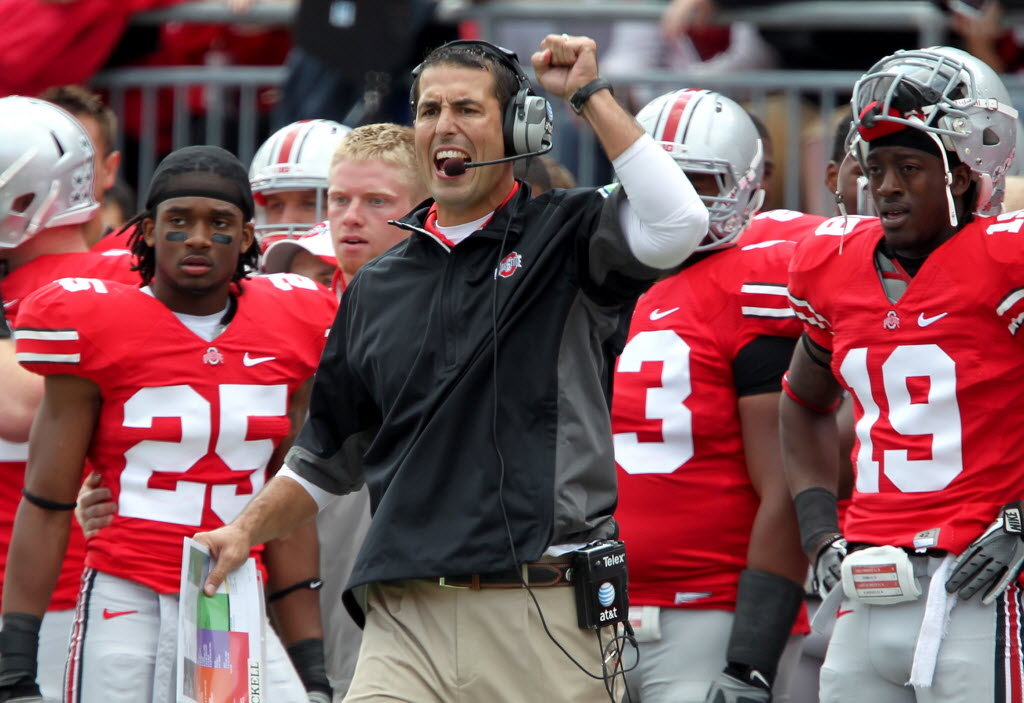 Ten years ago nobody had to wait to figure out what Tresselball was.
We were told when the championship coach was hired from Youngstown State exactly what we would be getting, and it didn't take long for the field demonstration to validate everything we had been told to expect:
1) You'll hate the offense.
2) You'll love the winning.
Jim Tressel's entire philosophy was predicated on the notion that if you play most of the game on the opponent's side of the field while holding the ball longer than they do, you'll probably win.
The particulars of getting actual points would then take care of themselves due to the favorable proximity of having the ball close enough to the goal posts to score.
On some glorious occasions, the ball crossing the goal line would even come into play. But it was quite clear early on that Tresselball was comprised of field goals, field position, defense and championships. It was as conservative as it was principled.
He had 15 years to hone that philosophy as a head coach in what's now known as the Football Championship Subdivision before he took his talents to one of college football's most visible stages.
Tressel knew how to be a head coach when he took his dream job. At that point, he had also been an athletic director for seven years. He didn't need lessons in how to be a figurehead. He already was one.
The cabinet of advisors and coordinators that he had built for himself as the emperor of Ohio State football was uniquely constructed to suit his own needs and philosophy, which is why any coach - Luke Fickell, Urban Meyer or anyone else - sliding onto Tressel's throne would have a very difficult time succeeding with all of the pieces staying the same.
However, there are some elements of this temporary situation that Fickell could be controlling and making his own. Thus far, in a number of cases, he has deliberately decided to be indecisive. It's not the optimal way to strengthen a threatened program culture and it's definitely no way to win in a job interview.
Heading into the season's fourth game, Ohio State's depth chart still had co-starters listed both at quarterback as well as at running back, which defeats the purpose of having the month of August available to sort these kinds of hierarchical details out.
In addition to waffling on the depth chart, Fickell curiously decided to go with temporary captains each week, which is a practice generally reserved for the Kiwanis youth soccer leagues where the roles of captains are granted to the kids whose mothers brought oranges and water to that particular game.
It is a move that alienates the true leaders of a senior class that are vital to shaping the culture of the team and keep what could be a delicate and fragile locker room intact, coming off of nine straight months of turbulence and turmoil.
It also needlessly transforms the designation of captain from a functional role to one that is merely symbolic. If you have 20 designated "leaders" then you have no leaders, and this team has leaders. Michael Brewster was a destined to be a captain of the 2011 team years ago. He required an explanation as to why that didn't happen.
There is no explanation. Whatever he was told, it couldn't have made any sense. The temporary captainship and numerous co-starters on the depth chart are the symptoms of classic over-thinking from leadership incapable of being decisive for fear of getting it wrong.
That fear has even crept into the in-game decision making. One week after ending the Miami game with all three timeouts left, Ohio State punted to Colorado with 24 seconds left in the half. Westerville native Rodney Stewart fumbled the punt, which the Buckeyes recovered on the Buffaloes 11-yard line.
Braxton Miller then rushed for ten yards to get to the Colorado one-yard line. There were six seconds left on the clock and Ohio State had a timeout to spare. The Buckeyes were ahead 17-7, playing at home, dominant in the trenches and had time for one more play from one yard out with the ability to still stop the clock if the attempt was unsuccessful. Ed: Never trusting ESPN's play-by-play log again
Fickell was presented with a classic step-on-their-throats opportunity and chose to kick a field goal, to a chorus of boos. The chorus was correct: One more shot at a touchdown was the right call. The rookie head coach was caught over-thinking yet again, while covering for the position he's trying to earn permanently.
If the snap was botched - and the only time you ever coach for the botched-snap scenario is when the game is about to end and you're kicking for the win - it wouldn't have mattered. Ohio State didn't need those three points. It was evident very early on that Colorado was overmatched.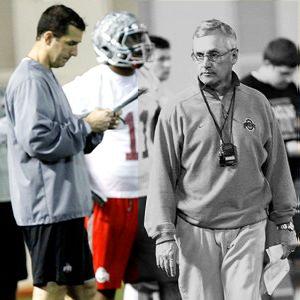 This was a blown opportunity to instill a little malevolence in an offense that desperately needs an edge coming off of that impossibly bad Saturday evening in South Florida. Sometimes the situation is greater than it appears to be. Fickell merely saw an opportunity for three points.
Unfortunately, it was much bigger than that, and the audibly disagreeable portion of the stadium seemed to realize that better than he did. (Personally, I would have run two plays into the end zone - field goals be damned when you're favored to win by 16.5 points and pushing them around).
Fickell has never been in charge before. He may have a vision for the kind of leader he wants to be, but he hasn't had a chance to learn that about himself yet. He's figuring out what kind of head coach he is while at Ohio State, and we're all watching him discover the kind of leader he is right along with him.
It's not the kind of observational exercise we're interested in seeing: The head coach of the Buckeyes is supposed to be an established program steward who already knows who he is and what he stands for. In Fickell's defense, he has not been given what any other full-season coach normally receives: The ability to build his own cabinet.
Fickell finds himself running Tressel's customized crew, which ranges from competent up-and-comers to established, well-respected teachers to cronies who should find themselves exposed without their old boss there to protect them when this season ends.
This crew was selected and hired not only for Tresselball specifically, but for the allowances that Tressel afforded himself, like meticulous involvement in his quarterbacks. This staff does not make any sense at all for Fickell. It was built for Tressel, by Tressel.
Without him there to mentor and coach his quarterbacks, the Buckeyes are left with Nick Siciliano, whose entire resume prior to Ohio State is Bob Stoops' VCR operator, one year at Urbana and coaching at a place called North Carolina A&T, which may or may not really exist. Imagine that resume for the same job at any other BCS title candidate.
With Joe Daniels shadow-coaching while Tressel was more intimately involved, having a patsy like Siciliano as "QB coach" was almost passable. Tressel used to say that the most important person in the state of Ohio is the quarterback of the Buckeyes, which is why he was so hands-on with them.
The most important person in Ohio requires an elite position coach, not a convenient accessory who happens to be from Youngstown. Unlike Tressel, who was a college quarterback himself with extensive experience coaching the position, Fickell is, at kindest, ill-equipped to manage personnel in the same manner. The org chart left behind by Tressel does not play to his strength or his core knowledge base.
Since Tressel's departure happened right in the middle of the offseason, this is the hand that Fickell is forced to play, which makes it very difficult to grade him on his work. Any other head coach gets a honeymoon season or a grace period to reimagine the palette.
That makes this an unfair tryout and a sham of a job interview, especially if Fickell is truly being afforded the chance to win the position permanently. At the same time, Fickell needs to figure out what he's going to do with this opportunity. He couldn't control the hand he was dealt. He can control how he plays it.
This staff shouldn't have precluded him from being decisive with the depth chart, the in-game decision making or the team captaincy. Fickell has inherited the rare coaching seat in college football history that was already hot before he had even coached a single game. Comparatively, took Rich Rodriguez an entire season of gross negligence to jeopardize his job during what had been scheduled to be a honeymoon season.
Fickell could ingratiate himself to public opinion by throwing a proverbial brick through the window and reinventing the position as more than just a Tressel-ish placeholder for the next guy, which it has been thus far. He still has time to give us - and his hiring managers at Ohio State - a glimpse.
Thus far that glimpse has been decidedly inconclusive. We still don't know who he is. Ohio State might be 4-1 next Monday with the Tatgate suspendees returning, and we probably still won't know what Fickellball is. He cannot afford to be indecisive just because the conditions aren't ideal.
We will know before November if Fickell will still be coaching the Buckeyes next year, regardless of whether we're explicitly told or not: The October schedule is daunting and the month should be capped with the NCAA's final verdict on Tatgate. We may not know exactly who will be running things, but we should know plenty about the 2012 Buckeyes before Halloween.
As Ohio's greatest heavyweight wrestler, Fickell was dominant with quick decision making and instincts. That's how championship wrestlers perform. They cannot experiment or afford to make slow decisions. That's how wrestlers end up on their backs.
When he was winning multiple state titles and going undefeated for years, it was Fickell who did all of the pinning. As early as his sophomore year, he knew what kind of a wrestler he was, and he acted on it. Unfortunately, in his current position he may not be afforded the luxury of a sophomore year. He's got to be a senior, right now.
We may never find out what Fickellball really is. One-third of the way through his job interview, it seems likely that Fickell himself still doesn't know either.