Good morning Buckeye Nation! The best part of a short week is when it's finally coming to an end. My Friday gift to you is one less woman in your life unnecessarily blabbering away before getting to the point. You're welcome. Here's your bribe this week (ladies, I didn't forget you), now let's get started.
HOLY BUCKEYE MEETS HOLY TOLEDO. The Toledo Rockets venture over to Ohio Stadium on Saturday in their continuing effort to finally score some points against the Buckeyes. Four OSU players have been reinstated after serving their one game suspensions for accepting impermissible benefits. RB Jordan Hall, LB Jordan Whiting and CBs Travis Howard and Corey "Pittsburgh" Brown will be back in uniform against Toledo. Fickell showed confidence in the team that played against Akron last week, mentioning on Thursday that any returning starters will have to earn their way back to their starting positions, adding, "We'd like to see how guys handle that — how guys react and respond to coming back and not being just shoved back into a spot where they were before."
Making things a bit more difficult for the Rockets tomorrow, it was announced yesterday that Junior Toledo LB Dan Molls will miss the game due to an undisclosed injury. It is still unknown when Molls will be able to return to the Toledo lineup. This is a big blow for the Rockets, as Molls was one of their key defensive players and the last man standing of their top tacklers from 2010 they expected to see play this year. Senior Terrell Anderson will likely start in Molls' place.
For any readers planning on attending the game, the bad news is the weather report for Saturday calls for thunderstorms. The good news is that it won't be hotter than Mark Richt's seat this time.
YOU BETTA RECOGNIZE! Three things...
1. Ohio State will be recognizing the 10th anniversary of 9/11 on Saturday with a pregame moment of silence, marching band tribute and 9/11 helmet decals.
2. Two Little Sisters of the Poor from a Toledo suburb will also be recognized before Saturday's game to make up for Dr. Gee's apparent inability to keep his foot out of his mouth. Gee will be privately presenting a check to the Little Sisters, and has invited twelve people affiliated with the organization to join him at the game.
3. You may notice a slightly familiar face across the field on Saturday, as Toledo Rockets coach Tim Beckman was an assistant under Tressel from 2005-2006. When asked about playing against a former colleague, Fickell said:
"Obviously, any time you're playing somebody you know, there's a familiarity. But it's just like if I was playing my brother. Sometimes I'm not sure that doesn't make you even want to do it even a little bit more. That you know who that is and your competitive nature and you know what kind of competitive nature they are."
ARE YOU READY FOR SOME FOOTBALL?! Congratulations NFL fans, you now officially have plans for just about every Thursday through Monday for quite some time. The Saints and the Packers kicked things off last night at Lambeau Field (which, if you ask me, is a name just one "x" away from belonging in New Orleans) in a 42-34 Green Bay victory. The Saints felt the loss of former Buckeye DE Will Smith as he serves a two game suspension for the use of a banned substance.
Packers AJ Hawk and Ryan Pickett decided to represent the few remaining Buckeyes anywhere that aren't suspended for something and get some attention in the final minute of the game. Hawk, (with what seemed to me a textbook example) breaking up a Drew Brees pass to Darren Sproles as time expired, pulled a questionable PI call that gave the Saints one more shot at the end zone down 8 points. In an effort to prove just how firm thy friendship, Pickett came through and stuffed Mark Ingram at the goal line, bailing out AJ Hawk, making Packers fans cheer and likely giving Reggie Bush a little chuckle as well. Seeing that Ingram gets to keep his Heisman and is welcomed back at his alma mater, I'm sure we all know who gets the last laugh there.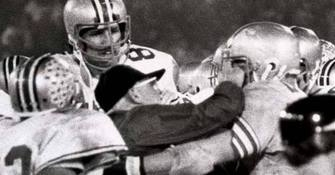 YOU ARE NO WOODY, WOODSON. Charles Woodson decided to showcase his uppercut skills mid 3rd quarter last night by punching Saints Tight End David Thomas. According to NFL rules, striking an opponent with a fist calls for a 15 yard penalty and ejection from the game. How Woodson managed to escape ejection, I do not know, as this looks pretty flagrant to me. Woodson probably would've welcomed getting tossed from the game as it would've given him a chance during the 4th quarter to watch his own highlight tapes without being interrupted by pesky little fires. Hero or narcissist? You decide.
When later asked about the punch, Woodson said, "Yeah, I threw a punch. Just got frustrated, the guy was holding me a little longer than I wanted. Nothing was said about it, referee-wise, quick enough, and I reacted." No word yet on how Roger Goodell feels about Woodson's decision to Terry Tate the ref's workplace, but expect a fine to come sometime this week... or an Ndamukong Suh tweet is in the works.
AS IF THE LOSS OF REPLAY CONSULTANT TRESSEL FOR 6 WEEKS WASN'T BAD ENOUGH... Peyton Manning underwent his 3rd neck procedure (anterior cervical fusion) in 19 months yesterday. In case you haven't turned on a TV this week, recovery time can take 2-3 months according to most sources, but it's also been said that it can take over a year in some cases, prompting speculation on what this means for Manning's career. This will end his 277 consecutive games played streak (second only to Brett Favre) that started after taking over starting QB duty for the Colts when Jim Harbaugh was traded to the Ravens to make room for Peyton before the 1998 season. Kerry Collins, who the Colts signed in August, will take the reigns as the starting QB. For any Colts fans that need a silver lining here, the last QB to replace Manning led his team to a championship.
WHAT'S YOUR DEAL? There are apparently a few rules the Pac-12 must live by. Whining about an east coast bias, despite bowl tie-ins that gift wrap favorable matchups. No stadiums over 100k capacity. Defense optional. And coaches that have A.D.D. written all over them.
Unfortunately for us, it seems that the conference has a cap on number of coaches above a certain age, so they all must move on at some point. In case you were as disappointed as I was upon Carroll's departure for Seattle that there would not be a "What's your deal?" rematch between him and Jim Harbaugh, your chance to witness the hilarity will come this Sunday as Carroll and the Seahawks go to San Francisco for Harbaugh's first regular season game as the 49ers head coach. The two maintain that the exchange was no big deal, and means nothing for Sunday's game, but I'm looking forward to what kind of antics await nonetheless.
FLASHBACK FRIDAY (COACHES EDITION). He may be gone, but we'll always have this GIF... Admit it, you laughed so hard when you saw this live...  In case you didn't know, he's 44 now... Pete Carroll tells Mike Bellotti what he thinks of him... This mean old man made me cry too (in 1998)... Mike Hart talks too much... Our guy is just a badass, THE END.