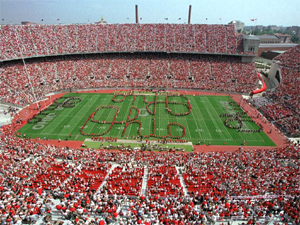 One game is in the books, and the Buckeyes stand at 1-0. They impressed with their shutdown defense, limiting the Zips to under 100 yards and no points. The dominant performance was a part of an exciting opening weekend for the Big Ten, winning 10 of 12 games.
The Big Ten coaches all sounded cautiously optimistic as they spoke to media members on the Big Ten Coaches Football Teleconference. Fickell still can't be extremely confident, after beating up on a Zips team that went 1-11 a year ago.
Luke was showered with questions ranging from his team's performance last week, to preparations for their showdown with Toledo. He was happy that the team played well through the adversity of the extreme heat, and stayed composed throughout the game. He said that he was nervous that the team would be too fired up, and their anxiousness and excitement would tire them out and cause mistakes. Fickell was happy that the issue wasn't a problem during the game.
Fickell liked with the effort and play from his defense, as they executed their game plan and limited the Zips offense. He is now ready to see the defense make more big plays, cause turnovers, and continue to wreck havoc on opponents. Fickell was impressed with his front four, a group that had a lot of depth, which is important to keep the defensive lineman fresh.
Looking ahead to this weeks game against Toledo, Fickell stated that the reinstated players, Jordan Hall, Travis Howard and Corey Brown all have to prove that they deserve to play after being suspended. Coach stressed that they are assets, but the players that filled in last week did a nice job and deserve more opportunities to show their talents. Coach believes that there will be greater competition amongst the team, and that the coaching staff will evaluate the players during practice to figure out the best situation.
When asked about the inexperienced receivers, Fickell spoke highly of their work ethic. He said that he wasn't surprised, as the receiving corps showed throughout camp that they would work hard, and made a lot of good plays that aren't on the stat sheet. The receivers did a nice job run blocking and making other adjustments that Fickell was happy with.
As far as the quarterback situation goes, Fickell was impressed with both Bauserman and Braxton, and said that although he isn't sure exactly what the plan is for the QB's, but he will make sure that the coaching staff will openly communicate with them, and make sure they are comfortable with their roles on the team.
Overall, Luke seemed upbeat and anxious to continue his season as head coach of his alma mater. Fickell looks at the Toledo game as a challenge, and urges that the players and staff must have a good week of preparations in order to be successful.