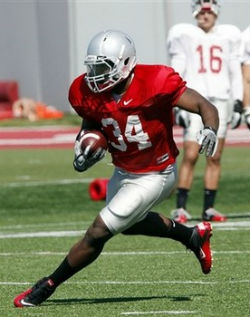 Luke Fickell's second week as head coach of the Buckeyes clearly didn't go as planned. His team struggled against Toledo, edging out a win to start the year 2-0. The first year coach let 26-year-old QB Joe Bauserman play the whole game, opting to sit the talented freshman Braxton Miller. As he looks ahead, Fickell has to prepare his players against a team that just reinstated several starters, including QB Jacory Harris.
When asked how he felt about coaching his first away game, Luke sounded excited for the new challenge that comes when you play away from home. Also, Coach sounded excited to have some of his players that were raised in the Miami area play in front of their hometown.
When Coach Fickell was asked about how he liked playing in big non-conferences games, such as this week, he seemed to be a fan of them. He talked about the importance of testing a team, and letting them get their feet wet before they enter the tricky Big Ten schedule. Also, Fickell stressed how important these big games are for recruiting and said that he hopes the Buckeyes remain in big non-conference games.
Luke believes that this Miami team will be similar to last year, relying on their strong offensive line and tailbacks to be key to the game. Fickell admitted to being a little weary, given that this team is somewhat of a mystery, only playing one game total, and being without several key players for that showdown.
When questioned about changes to his roster, including QB reps, Luke responded with what is becoming a weekly statement that how the players prepare in practice will help determine who plays in the game. After being pestered, Fickell said that he has a plan for both QB's, which includes giving standout recruit Braxton Miller reps in the game. However, Fickell warned that the plan isn't final and could change later in the week or during the game. Coach Fickell also stressed that Joe Bauserman is going to be the starting QB for the game.
Luke made sure to praise running back Carlos Hyde, who has taken control of his position and outperformed expectations this year. Fickell stressed that Hyde has improved in all aspects of his game, including pass protection. Fickell believes that Hyde's hard work in practice is what has led to his success.
Fickell also spoke of how his players have to deal with a lot of distractions as they prepare against this Miami team. He stressed that there will always be distractions and that the team will be defined on how they handle them. Fickell believes that the Buckeyes will handle the distractions well, and looks forward to the big showdown against the Miami Hurricanes.