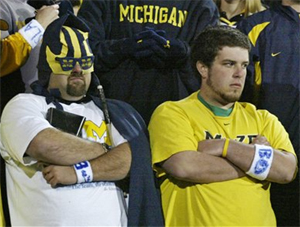 I'm a pretty simple woman, and there are very few luxuries in life that I truly need for survival. Football, either in person or in HD. Red meat at medium-rare perfection (She says, as she gives Chris Webber the stank eye). Quality beer at two blue bars frosty, coldness. Sarcasm. Bacon-wrapped anything. And one November Saturday each year where I get to revel in the possibility that a pasty little kid in maize and blue will go into a Buckeye induced meltdown... complete with the ugly cry face. A bit harsh, I know, but that's what happens when your formative years were spent in the John Cooper era and the name "Biakabutuka" has haunted you for over 15 years. Just knowing that somewhere, some little Wolverine may go through the same "character building" exercise I had to endure just about every November for so many years, makes my world go round.
Some years, I get lucky. That late November giddyness comes early once in awhile when Michigan faces the shock of an upset they really didn't see coming. And for that, my Buckeye brethren, I will always have the Rockets to thank. With the Toledo game coming up, and memories of Michigan tears in October 2008, I was in a particularly good mood and decided to raise the bar for you all this week. I figured that two Toledo writers are better than one, then thought I would do Woody Hayes a solid and go for three, just because I can.
This week I welcome Brian Nowicki of The Rocket Nation, Jason Mack of the Toledo Free Press and Matt Sussman of Hustle Belt to give us a closer look at the Toledo Rockets as we await Saturday's game. Now, let's get to it...  
Toledo had a great showing in their season opener last Thursday, beating New Hampshire 58-22. What were some pleasant surprises you noticed about the Rockets in Week 1?
Brian Nowicki: It's hard to gauge how good Toledo really was in the opener, because New Hampshire is a FCS school and to be honest they made a lot of mistakes that make me think they are not as good as they had been the last few years. That said, one thing that impressed me is that the Toledo QB's (three different QB's played in the game) completed 27 passes to a total of 12 different players. Also, sophomore WR Bernard Reedy showed that if you double team Eric Page, Reedy has the speed to burn you. Reedy caught 5 passes for 113 yards and 2 TD's.
Jason Mack: The biggest surprise was the quality play on special teams. The Rockets have struggled to find a quality kicker since head coach Tim Beckman took over in 2009. After missing most of last season with a torn  ACL, senior Ryan Casano went 3-for-3 on field goals and 7-for-7 on extra points and was named the MAC Special Teams Player of the Week. Before getting hurt last season, Casano was 2-of-7 on field goals and 10-of-11 on extra points. Freshman Jeremiah Detmer averaged 62.5 yards on 10 kickoffs.
Another surprise was how well the offense capitalized on opportunities. The defense forced five turnovers, and those were converted for five touchdowns.
Matt Sussman: No turnovers and no sacks. New Hampshire is one of the better FCS teams with a very capable defense and five wins in the FBS since 2004 (Rutgers, Northwestern, Marshall, Army, Ball State), so to have a perfect day on offense really exceeded expectations. It reminded me of the Pinkel and Amstutz teams with Chester Taylor, Bruce Gradkowski and Lance Moore.
Now that the season is finally here and you've seen the 2011 team in a game, what are some weak points you would say Toledo needs to improve on moving forward?
Brian Nowicki: The defense needs to improve, particularly against the pass. Toledo is a little light in the secondary due to some personnel losses, so the younger guys need to learn quickly. Special teams has improved from last season, but there is still a lot of work to be done. Kick coverage has to improve a lot, especially with Ohio State and Boise State as the next two opponents.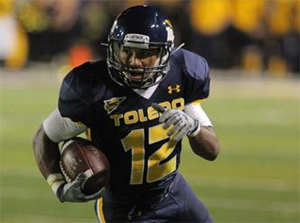 Jason Mack: The defense needs to do a better job of eliminating the big play. The defense allowed just 65 yards rushing on 32 carries before giving up an 87-yard touchdown run to cap New Hampshire's final drive. The defense played solid in the opener, but in a closer game those big plays will be the difference.
While the special teams were improved in the opener, kickoff coverage was still an area of concern. New Hampshire had 222 yards on 10 kickoff returns and had a 98-yard return for  touchdown called back on an unnecessary roughness penalty.
Matt Sussman: Penalties. For all the exciting play last year they were dead last in the MAC with 7.8 penalties and 64.2 penalty yards per game. Can Toledo can learn to stop being punks making unforced mistakes? Defensively they have some missing pieces in their back seven. Isaiah Ballard was one of the best linebackers in the conference but was kicked off the team following an offseason arrest. Starting senior safety Mark Singer is also injured for the season. So the the 22 points they gave up is alarming. Judging by OSU's game last week, the defense might be their undoing.
What's Toledo's biggest strength that should keep OSU fans on the edge of their seats this Saturday?
Brian Nowicki: The biggest weapon Toledo has is on kick and punt returns. Eric Page was a first team All-American at kick returner last season and he is a threat every time he returns a kick. Bernard Reedy is a speedster out of Florida that was back deep with him against New Hampshire, and he has the potential to get a good return as well. They were both back deep on punt returns too, so that New Hampshire could not just kick the ball away from Page. I don't know how much of a threat they will be against a team like Ohio State though, as the key is going to be the blockers ahead giving them a chance to find an opening.
Jason Mack: The team's biggest strength is the big play ability in the passing game, especially when sophomore Terrance Owens is at quarterback. The success of junior Eric Page has been well documented, but Bernard Reedy might be the complement UT has been looking for. He had touchdowns of 29 and 63 yards. Reedy finished with five catches for 113 yards and two touchdowns after catching only five passes in all of his freshman year.
Matt Sussman: They have a better coach. How often do you get to say this in Columbus? No slight to Luke Fickell — he could be great — but Tim Beckman is soon going to be the most coveted next-level coach if the Rockets realize their potential. He already has wins over Colorado and Purdue in the last two seasons so this team understands how to compete and beat the bigger schools. They have size and speed at many positions but Beckman is the one obvious positional advantage.
Who are the offensive and defensive players to watch for on Saturday? Are there any Toledo players you think might be a household name by the end of the season?
Brian Nowicki: Junior WR Eric Page is already considered a household name. He's had some of his best games against BCS schools. Defensively, I would go with senior CB Desmond Marrow. He's probably Toledo's best pro prospect among seniors. He considered going pro after last season, but was granted an extra year of eligibility because of missing most of two seasons with a knee injury and he decided to come back for one more season.
Jason Mack: With Owens and junior quarterback Austin Dantin rotating series in the game, senior running back Adonis Thomas will likely be the focal point of the offense. He made the most of limited touches in the opener, rushing nine times for 115 yards and a touchdown along with four catches for 26 yards. Thomas will split carries with senior Morgan Williams and sophomore David Fluellen again, but he will receive more than 13 touches.
Junior linebacker Danny Molls was 10th in the nation and second on the team last season with 143 tackles. With the graduation of leading tackler Archie Donald, Molls is a lock to lead the team in tackles this season and  could finish even higher nationally.
Page is already close to being a household name, and he will only strengthen his case throughout the season. In his first two seasons, Page caught 181 passes for 2264 yards and 15 touchdowns. He was also an All-American kick returner last year with 28 kickoff returns for 871 yards and three touchdowns. Page also completed 3-of-4 passes for three touchdowns last season on trick plays. He caught five passes for 60 yards and a touchdown in the season opener.
Matt Sussman: Perhaps the most exciting player in the entire MAC might be Eric Page. He's a wide receiver and also an All-American punt returner. In one game last year against CMU he had five touchdowns: two receiving, two returning, and one passing. Contain him. Do the same with defensive end T.J. Fatinikun. Fun to say, kind of hard to block. I'm unsure if he gets to actually use the chain while lining up or if Malcolm Riley, the other DE, is allowed to use the big stick.
What are some of your thoughts and score prediction for Saturday's game?
Brian Nowicki: Toledo is much better than they were in 2009 when Ohio State won 38-0, and right now Ohio State does not appear to be as talented after some of the losses on defense and the loss of Pryor, plus a top receiver and running back being out. This is probably Toledo's best chance against Ohio State, but it is going to be really tough for the Rockets to stick with Ohio State because of the depth the Buckeyes have. Toledo has not historically played well against OSU. I really don't have a score prediction to give, because it is hard to judge Toledo having played a FCS school, and it is hard to judge Ohio State seeing that they played an Akron team that won just one game last season.
Jason Mack: I think the Rockets will do better than the last meeting when they were shutout and didn't have a first down until the second half. The offense will break free for a few big plays, but if I had to predict a score I would say OSU wins 31-17.
Matt Sussman: In a MAC echo-chamber I might prattle on about how this is a game Toledo can win, breaking OSU's in-state win streak and waking the ghosts of the 1921 Oberlin College team. The last time I legitimately thought one of these other Buckeye schools were going to go to the 'Shoe and win was BGSU in 2003. They lost 24-17 on the final drive. I thought Toledo might make it interesting in '09 at Browns Stadium but they were creamed 38-0. Additionally OSU was incredible last weekend, so there's not much logic that tells me Toledo will win. But sports predictions are not fun when playing it safe all the time. And as a Bowling Green grad it's not in my being to want the Rockets to do well on general basis. But this goes to the heart of being a MAC fan. We want our schools to do well in nonconference play, and this would certainly qualify. Were Michigan to make the national championship, would OSU fans want them to beat an SEC team? This is all a roundabout way of saying Toledo 31, Ohio State 27.
What is your prediction for the rest of Toledo's season? What do you think their chances are to win the MAC and where do you think the Rockets end up in the bowl season?
Brian Nowicki: The three remaining non-conference games are pretty tough for Toledo.  They play at Ohio State this weekend, host Boise State next weekend, and then play at Syracuse the following weekend.  After that it is on to the conference schedule.  Toledo has a challenging conference schedule too, but they do get Northern Illinois at home, and they will likely be the toughest conference opponent.  I think Toledo has a shot to win the MAC, but it won't be easy.  I expect Toledo to get bowl eligible and likely play in either the Little Caesar's Pizza Bowl in Detroit or the GoDaddy.com Bowl in Mobile, AL.
Jason Mack: Temple and Northern Illinois are tough, but I think the Rockets will finish 7-1 in conference and win the championship game to play in the Little Caesars Pizza Bowl again.
Matt Sussman: If I'm going consistent with the last pick, then 11-2. They lose at home to Boise State and get tripped up once in conference play, then win the MAC and get stuck with the Little Caesars Bowl again.
What's your favorite Toledo Football moment of all time?
Brian Nowicki: My favorite moment was probably in 2003 when Pittsburgh came into the Glass Bowl ranked #9 in the country.  They had Rod Rutherford at QB and Larry Fitzgerald at wide receiver.  In the final moments of the game, then Toledo QB Bruce Gradkowski connected with WR Lance Moore on a fade pass to the back of the end zone, giving Toledo a shocking 35-31 victory.  It was the highest ranked opponent that Toledo has ever defeated.
Jason Mack: The win at the Big House in 2008 is a classic moment, but my favorite is the 2001 MAC Championship game against Marshall. The Rockets fell behind 23-0 in the first quarter and came back to win 41-36. The win stopped a streak of four straight titles for Marshall. Chester Taylor ran for 188 yards and two touchdowns, but kicker Todd France was the real rushing star. The Rockets took their first lead at 32-29 with 4:28 left in  the third quarter when France rushed for 16 yards on a fake field goal. France kept running for another 10 yards and slammed into the goalpost in celebration of his first career touchdown.
Matt Sussman: Before my time, but I'm incredibly enamored with Chuck Ealey's 35-0 record as a starter from 1969-71. The only reason he's not in the Hall of Fame is because he was never named a first team All-American by an affiliated group; the Football News did so but they weren't added to the qualification list until later. He never played in the NFL because the league didn't think highly of black quarterbacks at the time. He became a CFL star and won the Grey Cup in his rookie season. As I've done this blog and read up on the history of the MAC this has to be the greatest run the conference ever enjoyed. I wish I could have seen him play.
But something a little more modern? I think you folks remember this one quite well. October 11, 2008: perhaps the day from which Rich Rodriguez was never able to save face:
There's no better way to end this than on that note. Special thanks to Brian, Jason and Matt for joining us this week. You can see more from our guests by checking out the links below.
Brian Nowicki:
TheRocketNation.com
Twitter: @briannowicki
Jason Mack:
ToledoFreePress.com
Twitter: @TFP_Sports
Facebook: ToledoFreePress (Photos from Saturday's game will be posted here later that day)
Matt Sussman:
HustleBelt.com
Twitter: @suss2hyphens