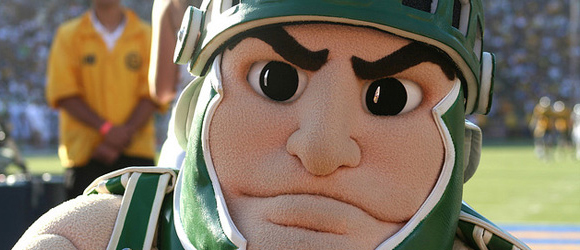 Greetings, Buckeye Nation! I can't tell you how much nicer it is to bring you Across the Field when coming off a win, rather than... well, let's not talk about that anymore.
This week, I'm pleased to bring you an in-depth look at our upcoming opponent, the Michigan State Spartans, with the help of Heck Dorland of The Only Colors. Heck was eager to supply us with a great deal of Sparty insight, so I won't keep you waiting any longer.
The Spartans bounced back from a disappointing loss in South Bend with a confidence booster over Central Michigan last week. What had gone wrong in that Notre Dame game, and how much improvement did you see in those areas the following week?
MSU lost to ND pretty much by:
1. Getting murdered by ND's front seven in the run game (to the tune of about 2.6 YPC), at which point we started throwing the ball almost exclusively in the 4th quarter.
2. Giving up an 89 yard kick-off return for a TD
3. Committing 12 penalties for 86 yards, including a handful of devastating offensive holds and defensive pass interferences in critical situations
4. Cousins throwing a bad pick with MSU in the red zone down 15 late in the game.
Against CMU, they cleaned up these problems, sometimes dramatically:
1. Established the run early and often. 43 carries, 202 yards, and the first run of the season over 30 yards.
2. 8 KR's for an average of 21.6 yards a return.
3. 4 penalties for 20 yards, no holds, no pass interferences.
4. And well, Cousins threw another bad pick, but he didn't have the best of days against CMU in any stage of the game. He played really well in the other three games, and I'd expect him to bounce back against you guys.
MSU ranks first in the FBS in total defense. The quality of opponents hasn't been much to speak of, but still an impressive accomplishment. What are some of the strengths and weaknesses of the defense? Is it a top notch defense, in your opinion, like the numbers suggest?
Strengths? First and foremost, this defense as a unit has been incredibly sound in their tackling and positioning. They don't let receivers get yards after the catch. They don't let running backs get into the secondary. They've only given up a single play over 30 yards. Multiple players swarm to the ball. The front four has been able to generate pressure without needing to blitz linebackers. Coverage breakdowns occur, but are infrequent, and the secondary has shown the ability to make a play on the ball (13 passes broken up, 6 INTs against 107 passing attempts).
They aren't freaks from another planet like LSU or Alabama, but they're plenty fast and strong. Depth is present at most positions. And I think, crucially, it doesn't seem to be a smoke-and-mirrors performance built off of sorta luck-based metrics like a billion fumbles or crazy red zone stats, or constant bad field position for opponents. It seems to be more grounded skill-based metrics like, well, not giving up yards, or points, and not missing tackles, or getting burned deep.
Weaknesses? Not a lot to be honest. Depth at corner is lacking, ND burned back-up corner Mitchell White for a 26 touchdown on a go route (though I think Tony Lippett has passed him on the depth chart). The MSU secondary is pretty short (mostly under 6 foot, though all at least 5'10), so big guys like Devin Smith and Jake Stoneburner are a little worrisome. DE Will Gholston still has trouble keeping contain every once and a while, which might be a problem against a zone read package with a fast QB. The defense as a whole sometimes gets caught out against misdirection, lots of our biggest gains given up have come against draws, or counters. Finally, in the Notre Dame game the back seven were overly physical with receivers at times, and had a couple of costly pass interference penalties.
Is it a top notch defense? They might be, but let's face it, probably not yet. It's certainly not the best defense in the country (That would be Alabama or LSU, easily), but I'm pretty sure they're still very good. Let me put it this way: I'm 90% sure this is a top 25 unit nationally and I'm 60% sure it's a top 15 unit. I'm also very confident this is one of the best 2 or 3 defenses in the Big Ten. They're skilled, and they should show it on Saturday.
Can you please elaborate a bit on the struggles of the offensive line this year? Have you seen any improvement as the year goes on?
At the root of it, it's injuries, injuries, injuries. Our presumptive left tackle of the future (David Barrent) retired over the off-season due to chronic injury problems. A promising tackle prospect (Zach Hueter) retired over the off-season due to more injury problems. A promising center (Nate Klatt) fell down the depth chart because of injuries. Our first string center (Travis Jackson) out of fall camp missed the first three games with injuries. When he came back, our second string center (Blake Treadwell) who started the first three games went down for a few weeks with an MCL strain. Our experienced utility backup lineman (Jared McGaha) went down the same week with another MCL sprain. And maybe most painfully, a very promising right tackle (Skyler Burkland) got his leg broken midway through the Notre Dame game and is out for the year. These injuries have required us to flip THREE, yes three, defensive players to the offensive line, though only one is starting (Dan France). That's some Dickensian shit right there.
So why is the line struggling? Lack of continuity is probably a pretty easy red flag to spot. Past that, it's just simply inexperience. We have a very young OL (1 SR, 2 JR, 1 SO, 1 FR), that probably doesn't have the reps or strength to handle a top 25 defensive front in both facets of the line game (which Notre Dame has, I'd say, and OSU might have).
They've been okay in pass protection, but very uninspiring at opening up holes for the run game. Moreover, they've been quite penalty prone, lots of false starts, too many holds. Improvements, as you'd maybe expect, have been one step forward, one step back for the most part.
Frankly, it's nothing more than an average offensive line, though Spartan fans hope the youth and athleticism of the group as a whole can lead to a jump in production as the season goes along. If OSU wins this game, it's almost certainly going to be due to your talented defensive line (Simon, Hankins et al) beating up on us upfront.
Le'Veon Bell had a great game against CMU on Saturday with 3 TD runs. Who else stepped up their game since the loss at Notre Dame? Who are some of the key players on both sides of the ball OSU fans should watch for on Saturday?
The answer to your first question is basically everyone, so I'll answer your second question in depth instead. I assume you guys already know about Cousins, Baker, Worthy, etc.
1. Marcus Rush, DE- He's shown himself to be MSU's best pass rusher (6 QB hurries, 2.5 tackles for loss) and should find some time lined up against both tackles, possibly more against your LT who has looked shaky so far, from what I've seen (or at the very least isn't Mike Adams). Just a RS freshman, but has solidly outplayed the higher rated Gholston so far.
2. B.J. Cunningham, WR- One of the best, if not the best, wide outs, in the conference. Arguably outplayed Michael Floyd, catches nearly every ball thrown his way, runs very good routes, and has good size and speed. He is MSU's all-time leader in catches and in or near the top five in TDs and Yards as well. Cunningham is Cousins' security blanket and unquestioned #1 option.
3. Max Bullough, MLB- The heir to Greg Jones, he's the guy tasked with controlling the middle of the field against the run and pass. Very big (6'3, 245), pretty good in pass coverage (has one INT so far this year and had another in spot duty last year), and a very intense and smart football player. He won't make a lot of spectacular solo plays but is always, always, always around the ball.
4. Dion Sims, TE- Huge (6'5, 275), fast, soft hands, good jumping ability, a prototype receiving tight end, defensive mismatch, and a massive red zone threat (9 catches, 3 TDs already this year). Unfortunately, he seems to like false starting, and he hasn't fully proven himself in the blocking game yet, so is a bit one dimensional. He and Cousins have also had a little trouble with timing on deep routes, costing us a few big gains.
5.Mike Sadler, P- The punter? Yes, the punter. I think field position will be crucial in this game, and Sadler has looked OK, but not great, so far. He came in as a very highly rated recruit, and is only a freshman, but hasn't had a breakout game yet. If he can get his kicks up from an average of 40 yards to 45 or so, and prevent your excellent PRs from getting clean returns, that might make all the difference.
Three 'sleepers'
1. Kurtis Drummond, S
Two really nice picks and a forced fumble as the third safety in our 3-3-5 third down formation. At 6'1 is considerably taller than our other DBs. He is also only a RS freshman so he may be prone to errors in coverage.
2. Larry Caper, RB
MSU's third string RB who has the bad luck to be stuck behind Baker and Bell on the depth chart. He's never been terribly impressive as a straight up runner (only about 4 YPC for his career), but has found a role as a nice third down back, picking up blitzers and sneaking out of the backfield on screens and wheel routes.
3.Kevin Pickleman, DT
Two TFL and a forced fumble (against ND no less) in limited time is pretty good production out of your back up nose tackle. Expect to see him on third downs.
Obviously Ohio State has been having some struggles of its own this year. What are some of MSU's strengths that matchup well against OSU's weaknesses... and that you'd hope to see exploited this weekend?
I look at two things as match-ups I hope to see exploited:
First, the MSU defense v. inexperienced, run first quarterback. I respect Braxton Miller, he's a very talented player, but I don't fear him. MSU, under our defensive coordinator Pat Narduzzi, has traditionally looked very strong against quarterbacks of Miller's mold (Robinson, Scheelhaase, Juice Williams, Mike Kafka, Kellen Lewis, to a lesser extent Persa). Honestly, I think our scheme matches up well against these sorts of run first spreads (perhaps especially so against OSU's spread/I-form hybrid), and I'm extra confident versus a freshman who is making his second start, and might not have complete control of the offense yet. He seemed to hold onto the ball far too long against Colorado, which should give our pass rush time to get home, and our two talented safeties (Trenton Robinson and Isaiah Lewis) will look to cheat up on the run on standard downs, and play center field on any careless decisions on passing downs. While there's obviously the possibility that he could choose our game to go absolutely bonkers (please, no), I can't tell you how happy I am that we're going up against Braxton Miller, and not Terrelle Pryor.
Second, I look for the MSU offense to pick on your line backing corps, particularly in pass coverage where they simply don't look up to snuff. Lot's of slants, screen passes, short posts, and throws into the flat. A good number of draws, and counters in the run game. In particular, that area in your cover 2 scheme between your safeties and your MLB looks ripe for Cousins to take advantage of. I doubt that our O-Line will give him the time he needs, but if they do, I think this is a pretty big mismatch.
Ohio State isn't playing up to the level it's used to, but Michigan State also hasn't faced a great opponent yet this year. What are your thoughts and predictions for the game on Saturday?
Here's the deal. If ever MSU was going to walk into the Shoe and get a win it's this year. I think our teams are fairly similar in talent level when you consider your suspended players, and I simply think Dantonio and his staff have thus far proven themselves superior coaches to Fickell and his staff.
With that said, I was saying the same sort of thing before the ND game, and we laid a gigantic egg. So, in light of so much uncertainty with our O-Line, my respect for your defense, particularly some of the players on your D-line, my fear of your stable of running backs (especially Jordan Hall in the special team's game), and the fact that Dantonio has won quite a few 'big games' (ND, UM, NU, and PSU in 2010, Iowa and Wisconsin in 2008, PSU in 2007) but very few B1G games (like Wisconsin or Iowa in 2010, Iowa or PSU in 2009, OSU 2008, Michigan 2007, any of the bowl games), I gotta reign in my optimism. I'm really close to predicting that we go in there and knock you guys off, but with everything considered, I just can't. I think we lose a close, low scoring game, let's say, 20-17 OSU.
Michigan State started off the season strong, then handed Notre Dame their first win of the season and seemed to rebound against an unimpressive MAC team. 4 weeks in, what are your expectations and predictions for the Spartans the rest of the year?
After 4 games in, I'm thinking 8-4, with losses at OSU, Nebraska and Iowa. I could be persuaded that half of the remaining games go the other way, simply because I think the Big Ten isn't very good this year, and also that MSU is a fairly unknown quantity thus far. But anyway you slice it, I think kick ass defense + average offense = 8-4 give or take a game.
Just know, that if MSU comes out like gangbusters against you guys, I'm getting stupid drunk off green Kool-Aid and revising this prediction multiple wins upwards. I think Spartan fans see your team as a big measuring stick, and that is all the more true considering we still have Robinson, Wilson, Martinez, Gray, and Persa on the schedule after you, QBs and offenses that look more like OSU's than anything we've played thus far.
SIGNING OFF
HECK: Obviously, I have lots of respect for your squad, and we owe a good deal of what our boss man is to your program. We also hold a strong mutual bond as fan bases in recognizing college football's One True Enemy.
But, uh, we haven't forgotten that you cheated us out of a BCS bowl last year, and I cringe to think of the internet's reaction for two straight weeks leading up to the Michigan game, if we lose to you guys (Hint: "Dantonio can't win the big one!" "Sparty put back in their place!" So on, and so forth). So I hope all the bad things in life happen to you, and no else but you (and Michigan), on Saturday. Here's to a great game!
ELIKA: Oh, Heck... it was going so well until now! I agree, you do owe a great deal to the OSU program for the coach you have today. Payment will be accepted in the form of a passing attack, thanks. I promise we'll take good care of them. Plus, a very enthusiastic high five on the mutual Michigan hate. But, I must admit the love stops there.
I'll start by throwing you a bone here... there are very few things in life I've held on to since I was 13. My Joe Germaine autographed football. My undying hope that one day I'll fill out up top. And my recurring nightmares of 1998, staring Plaxico Burress and Nick Saban. If you truly want me to be in pain, believe me, I am... and Buckeye Nation weeps with me.
But, we certainly did not cheat you out of a BCS bowl last year! Simply think of it as saving you from yourselves. The B1G reputation simply could not handle the further scrutiny it would've suffered if it took another hit at the BCS level. When the Spartans prove they can win a bowl game we'd be happy to finally share conference carrying duties with someone else, but your dry spell here rivals that of Tim Tebow's. Frankly, we're getting tired of doing it on our own... and would love for your Spartans to prove they're worthy, after Saturday, of course. Please, join us!
Finally, if you happen to lose Saturday, and find yourself truly troubled by the onslaught of e-criticism, please take comfort in the fact that it was completely earned on your own. Rome was not built in a day, and neither was your long standing tradition of mediocrity and meltdowns.
In all seriousness, here's to a great game! And wishing you luck on the rest of the season.
FOR REAL, SIGNING OFF
Special thanks to Heck Dorland for joining me this week on Across the Field. You can read more from Heck, and his fellow The Only Colors writers by checking out the links below.
The Only Colors: www.theonlycolors.com
Twitter: @HeckAtTOC