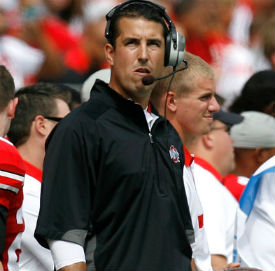 It's that time again for another edition of the 11W notebook, and this week we're back with more information, rumors, , stats, and stories surrounding Ohio State recruiting.
Things are starting to get interesting, especially on the football front, as each week the Buckeyes perform is supposed to give us a better idea of how things will look next year. You could argue, though, that the exact opposite is happening, as some feel Luke Fickell is already out the door and a new coach is on the way, while others feel that given the circumstances, the first year Buckeye coach is doing a great job an will stick around for at least a few more seasons.
I'm certainly not sure what will happen, but what I do know is that an answer soon would be nice, as recruiting is in a bit of a standstill mode until things are sorted out. I think the upcoming game against Michigan State will go a far way in telling fans how ready Fickell is for the big time, as well as how good this Ohio State team is at this point in the season. In my eyes, Fickell doesn't necessarily need to win the game, but his team does need to be prepared and give Sparty all they have on Saturday, to prove he is doing what needs to be done each week to have his team prepared as possible for whoever their opponent may be. 
Time will tell the fate of Luke Fickell, but the Ohio State program will endure any change that comes it's way. It's time to take a look at the latest stats, rumors, and information regarding Buckeye football and basketball recruiting, so please join us after the jump for your 11W Recruiting notebook.
Future Buckeyes In Action
As special thanks goes out to some of my contacts out in Ohio who were able to report back to me after attending some high school games last weekend, as well as to Matt Hager over at BSB who does an excellent job in his Friday Night Lights segment reporting on the performances of the OSU commits.
We kick things off with Olentangy and Josh Perry, who lost to Marysville 14-13 in three overtimes. Perry did everything he could to bring his team the win, rushing for 143 yards on 32 carries, but came up a bit short when it mattered the most, getting stuffed on a two-point conversion attempt in the final overtime period. Perry continues to have a stellar season for Ed Terwilliger's team on both sides of the ball, and seems to be really enjoying his last season of toting the rock.
Bri'onte Dunn left Glen Oak's game early in the second quarter and missed the remainder of the game with an undisclosed injury. Before he left, Dunn ran for 45 yards and a score, in a game that his team went on to win 21-10 over 2013 prospect Billy Price and Austintown Fitch. Glen Oak is now 5-0 and expects Dunn to return to action this week.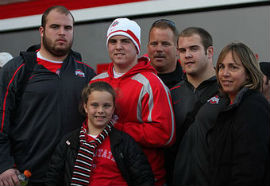 It was a Pickerington showdown as Patrick Elflein and North took on Jacoby Boren, Roger Lewis, and Central. The latter prevailed with a 24-21 win in what turned out to be one of the better games in Ohio last week. Boren had a huge showing on both sides of the ball, but shined on defense, notching 4 tackles and recovering a fumble. Lewis, recording a few catches, and Elflein also played well in this crosstown battle.
Najee Murray was in lockdown mode for Steubenville, helping the Big Red defense limit Youngstown Ursuline in a 22-17 win. Murray continues to prove his worth as a future Buckeye cornerback each week, including making 7 tackles this week against Ursuline. The super athlete even chipped in on offense, recording 25 yards on 5 carries and bringing in a reception for 5 yards.
Orchard Lake (MI) St. Mary's, the alma mater of Dionte Allen, Taurian Washington, and Aaron Gant, came to Columbus to take on DeSales and came away with a 42-21 win. St. Mary's was able to stop the Stallions' top player and Buckeye commit, Warren Ball, holding the running back to just 21 yards on 9 carries. DeSales' 5 turnovers didn't help Ball and his teammates stay on the field too much, and helped the team from up north outscore the hometown team by a score of 21-7 in the second half.
Tyvis Powell is likely to play safety at the next level, but he's doing a really fine job at cornerback for Bedford this season. Powell's team took down Warren Harding 12-7, a game in which the future OSU start contributed big time. Powell had 5 tackles and an interception on defense, while also helping out on offense with 3 catches for 95 yards.
Finally, De'Van Bogard and Glenville shut out Cleveland Collinwood 69-0 in a game in which the two teams didn't even belong in the same city, let alone the same field. Bogard continues to have a great season at linebacker for the Tarblooders. He will move to safety next year for the Buckeyes and his instincts and tackling skills gained from playing linebacker for Glenville should certainly help when he goes to the OSU secondary.
Can you Diggs It?
We've talked about many players with OSU interest for the class of 2012 that have a good shot of becoming Buckeyes. Stefon Diggs has been mentioned, but was not on the short list of realistic prospects during past features. That is until now.
While it's still a long shot, Steve Wiltfong of 247 Sports did a feature on the Maryland native who plays at Olney Good Counsel, one of the better football programs in the region. Diggs is a 6-1/190 wide receiver, who also has the potential to play in the secondary at the collegiate level. He is extremely fast (4.4 speed), has great hands, and has excelled as a route runner early this season, after working extremely hard on that final point this past summer.
It was assumed the Buckeyes were an afterthought in Diggs' recruitment, but it appears it is just the opposite. The senior lists Auburn, California, Florida, Maryland, Miami, Ohio State, South Carolina, and Virginia as programs that stand out on his long list of scholarships and it is Luke Fickell that is keeping the Buckeyes afloat in his recruitment.
Diggs had only good things to say about the current head coach at OSU:
"Luke Fickell, I try to give him a text message every once in a while," Diggs said. "I know he can't reply (per NCAA rules), but I send him a text and let him know how I'm doing. I like him. I like what they're doing. They have good young quarterbacks and I haven't seen any top receivers go there recently. I'm looking at them."
Diggs also had some high praise for the Buckeye football program in general, focusing on some of the hardships they endured this past year, as well as what he's looking for in the school of his choice:
"That's why I like certain schools like Ohio State and Miami and those schools because they stick together like that. The Jim Tressel situation, he stuck up for his players and I liked that a lot. He showed integrity the way he stuck up for his guys. I look for a family, playing time, not so much location. My sister goes to school in Georgia at Mercer. I'm not scared to go far. Academic situation, and if my mom and little brother can come down to the games, That's an important thing too."
It's safe to say that fans should not expect to see Diggs in Scarlet and Gray next year, but with an official visit to Columbus looking like it could happen, anything is possible. Stay tuned for more on Diggs in the near future, and for now enjoy some junior season highlights of this superb receiver from Maryland:
The Next Great Okafor
Thad Matta doesn't have any verbals for his 2012 class and has just one for his 2013 class. That hasn't stopped the Buckeye basketball coach from taking a look ahead at one special 2014 prospect, Chicago Whitney Young's Jahlil Okafor.
Okafor, a distant cousin of NBA player Emeka Okafor, is just a sophomore, but already has offers from some top schools such as Ohio State, Duke, Arizona, Georgetown, Tennessee, UConn, Michigan State, Arkansas, Illinois, and DePaul. It's not hard to see why the 6-9/260 center is getting so much attention, as he has the size, athleticism, and most importantly, great work ethic to take his natural ability and turn it into superstar play on the court.
The good news for Buckeye fans is that Okafor really likes OSU, as he is very familiar with Buckeye freshman Sam Thompson, who was his teammate at Whitney Young last season. He also has built a good rapport with Jared Sullinger, stating he tries to model his game after the All-American and talks to the Buckeye star every once in a while. When talking about his liking for Sullinger, Okafor said:
"He's a true post player and we play a lot alike, so I would say I model my game after him. I think my strengths are easily my size, strength, and footwork. Most guys my age don't have that."
Even better news if you like the Scarlet and Gray is that Okafor will be making the trip to Columbus this weekend to check out the campus and take in the OSU-MSU football game. Getting a player like this on campus so early in his recruitment is a big win for Thad Matta and the staff, and I have full faith they will do their best in rolling out the red carpet. Look for the Bucks to be in it until the end for Okafor, as he could be one of the next in line to continue a lineage of great big men to call Columbus home for college.
Check out some highlights from Okafor in a high level AAU game from this past summer: