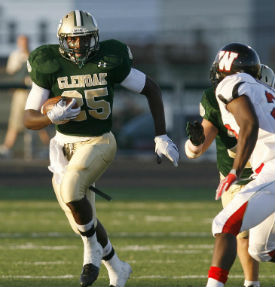 We're back with another week of the 11W recruiting notebook and things are certainly starting to heat up for both the class of 2012 and class of 2013 prospects on the Buckeye radar.
Not only are the top prospects in the state of Ohio and the nation going at it every week in their own seasons, but these elite players are taking trips around the country to see their list of favorite schools compete at the collegiate level. On top of the pressure big time college head coaches face every week in trying to prepare their team for a victory, they have to worry about recruiting on top of that which certainly is not an easy task.
In this week's edition of the recruiting notebook, we give you an update on the 2012 Buckeye commits and how they're performing on the field, catch up with a certain 2013 prospect who Buckeye fans should know well, update you on a couple of Buckeye receiving targets, and much more.
Join us after the jump to get your latest recruiting fix and let us bring you into the world of future Buckeye stars.
Buckeye Commits In Action
Week three of the Ohio high school football season came and went last week and we have updates for you on how the future Buckeyes performed..
Warren Ball and the DeSales Stallions gave a valiant effort, but fell to 1-2 on the season after a 27-24 loss to New Albany. Ball lead all ball carriers in the game with 91 yards on 22 carries to go with 2 TDs, but it wasn't enough as the special teams of New Albany prevailed when the kicker hit a 45-yarder with just seconds remaining in the game.
Bri'onte Dunn continued his tear through the 2011 season, rushing for 238 yards and 3 touchdowns on 34 carries as Glen Oak notched a 27-20 win over Euclid. Dunn has been an absolute beast this season and has made himself the early front runner for Ohio's Mr. Football award at season's end. While he did visit Penn State this past weekend and his cousin Dymonte Thomas committed to Michigan, Dunn is still a Buckeye at this point in time and I don't see that changing as of now.
Najee Murray and Steubenville hosted Hamilton Bishop Ryan of Canada and sent them back north of the border after a 53-0 win. Murray helped shut down the opponent on defense and added a touchdown on offense as the Big Red cruised to an easy victory.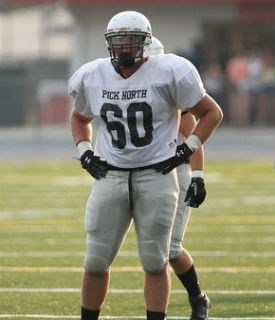 While Jacoby Boren, Roger Lewis, and Pickerington Central were idle, Pickerington North and Buckeye commit, Patrick Elflein were in action against Columbus Northland. North won 33-0 to move to 3-0 on the season and Elflein sure helped with solid play on both sides of the line. I have a feeling Elflein is going to be one of those under-the-radar players you don't expect too much out of and is a pleasant surprise when he arrives on campus. This kid is just a tough, hard nosed, hard worker who gets the job done in the trenches each and every week.
Tyvis Powell talked about playing cornerback at 6-4 when he gets to OSU, but it's looking more and more like a move to safety is inevitable. Powell and Bedford fell to Cleveland Benedictine 27-19 on Friday, falling to 1-2 on the season. While Powell is definitely a good cover corner at the high school level, it is apparent if you watch his film that his read and react skills and ball hawking ability are much more college ready and make him a better fit for safety. Powell will be enrolling early which will give him a good opportunity to learn the defense and get up to speed at whatever position the Buckeyes want him to play.
There may not be a prospect with more upside in the 2012 class than Josh Perry, but Perry wasn't enough to help his Olentangy squad from getting rocked by Big Walnut this past weekend. Perry is playing linebacker in high school, but many feel that he will continue to fill out his frame and move down to defensive end in college. He is tremendously athletic so I can see him at the LEO position that Nathan Williams currently occupies, but when I look at Perry right now, I see a kid I want making plays at linebacker.
Luke Roberts and Lancaster hosted Twinsburg and had a second half collapse, falling 35-27 to the visitors. Roberts had two touchdown runs on offense, but didn't do much to help a struggling defense get off the field. I'm personally a little skeptical of the Roberts offer, although I do trust the staff, so it's a little troubling to see him struggle against a mediocre football team. Sometimes being surrounded by good defenders helps though, which certainly shouldn't be a problem in Columbus.
Finally, Blake Thomas and Cleveland St. Ignatius couldn't get it done against Tom Strobel and the Mentor Cardinals, falling 38-24. Strobel is definitely not a fan favorite for those that root for OSU, so it was disappointing to see Thomas's team not get it done. One thing that hasn't been disappointing is Thomas's play this year, as the senior tight end looks like the real deal and should be a great addition to Stoneburner, Fragel, Heuerman, and Vannett next season.
Buckeyes In On One, Out On Another
The Buckeyes already have Frank Epitropoulos and Roger Lewis in the fold at receiver for the class of 2012, but are still after a number of other receivers to try and add depth to a group that loses DeVier Posey after this season.
Three of those players on the recruiting board are Dwayne Stanford of Cincinnati Taft, Andre McDonald of Minnesota, and Mike Thomas of Fork Union Military Academy, although all three have gone in opposite directions of the spectrum after this weekend.
Stanford has released his final four schools and they include Ohio State, LSU, Alabama, and Michigan. He also says he still has Cincinnati in the mix, but the hometown school is definitely at the back of the line for his services. While he claims no leader, I still think Stanford favors the Buckeyes and if/when teammate Adolphus Washington pulls the plug on an OSU verbal, I think Stanford follows shortly after with a call to Luke Fickell.
McDonald was committed to hometown Minnesota just a few months ago, but opened things up and named his childhood favorite the Buckeyes his leader along with the Gophers. While he claimed an OSU offer, I never got the sense from any of my sources that the Bucks were too interested and that was confirmed after Iowa was named the favorite after a visit to Iowa City. Finally, this weekend provided the last twist in this recruiting tale, as McDonald verballed to Vanderbilt after a weekend visit to Nashville, ending his recruitment....for now.
Finally, Mike Thomas still seems to be all Buckeye, even at his new home at Fork Union Military Academy. Many former Buckeyes have gone the FUMA route in the past and 2011 commit Cardale Jones is currently Thomas's roommate at the Virginia-based institution. The buzz is that both Jones and Thomas will join the Buckeyes for winter quarter 2012 and both would be welcomed with open arms at the Woody Hayes Athletic Center. Thomas has the chance to be an instant impact player in Columbus next year and I'm really excited to see what he can bring to the table next spring.
The Grass Is Greener
Many of you know about 2013 Hermitage (VA) RB Derrick Green. If you don't, you better get familiar with the name.
Green, who famously got Curtis Grant to check out Ohio State, has had the Buckeyes as his leader for a while, but seems to want to enjoy the recruiting process as long as he can. The 5-11/220 junior currently six offers from OSU, Penn State, Tennessee, Virginia, Virginia Tech, and West Virginia. He's also interested in Oregon, Alabama, Michigan State, Clemson, Purdue, Arkansas, and Wisconsin.
In his opening game, Green showed why so many schools want him, as he rushed for around 150 yards and 3 scores. Green reportedly ran a 4.4 second 40-yard dash this summer at various camps and adds that speed to go with tremendous strength and vision, along with great feet. He is certainly a special player and right now the Bucks are in great position to land this super prospect from Virginia.
See Warren Run
To finish things off, we leave you with highlights of future Buckeye running back Warren ball. Enjoy: