Luke Fickell has only been the head coach of Ohio State for a few months, but his story is now well known. Born and raised in Columbus. Champion wrestler at DeSales. Played nose guard at Ohio State. Set the school record with 50 consecutive starts. Returned to his alma mater as a grad assistant in 1999. Became an assistant at Akron for two years.  Hired back to OSU by Jim Tressel in 2002. Went from special teams coach to linebackers coach to co-defensive coordinator. Elevated to head coach after Tressel "retired" amid scandal. Would rather let his ears bleed at a Taylor Swift concert than take a call from Terrelle Pryor.
All of these are facts that have been regurgitated plenty of times to this point. What you may not know is that he was the basis for the A.C. Slater character on Saved by the Bell.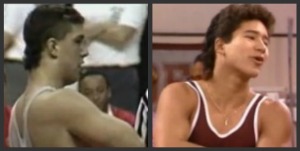 It was the winter of 1989. Good Morning, Miss Bliss was in the middle of its first and only season. Luke Fickell was a freshman in high school. A Hollywood producer traveled to the Midwest to watch his nephew in a wrestling tournament and was immediately mesmerized when he set eyes upon a young Luke. "Who is this teenager with the wrestling prowess of Olympic gold medalist Kenny Monday?" he asked himself, "and the dimples of Kirk Cameron? And the hair of an adolescent Harry Hamlin?"1
That producer was named Peter Engel. Watching Luke pin opponent after opponent with a confidence that was at once quiet and bombastic compelled him to pull out his 10-pound cell phone, call up Hayley Mills and fire her, and her identical twin, on the spot. Engel was going to revamp Good Morning, Miss Bliss and his next step was creating the role of a mulleted wrestler with the moves of a graceful tiger2. 
Of course, Engel had to make a few tweaks so he could include the requisite disclaimer that "any resemblance to actual events or locales or persons, living or dead, is entirely coincidental." Thus, he relocated the show's setting from Ohio-adjacent Indiana to the Pacific Palisades of California. Unlike the townie Fickell, Slater was an Army brat who moved around frequently, and he hired a Latino actor for the part, though the dimples and mullet remained. The rest is TNBC history.
In the season two episode "Save the Max", one that belongs in the pantheon of classic TV episodes along with "Who Shot J.R.?", "To Serve Man" and "The Contest", the gang's beloved hangout, the Max, was in danger of closing. And who should come to the rescue but Albert Clifford Slater with an impassioned speech about how the Max was like a second home to him. Twenty-one years later, his iconic words could easily be expressed by the inspiration for his character:
"Now I know it's late and everyone's tired and the easy thing to do is to quit, right? But hey, quitting never works. Look guys we can't give up. No, we've got to save this place." 
Despite the knee-jerk reactions not long ago, well before Miami reminded the sports world what pearl-clutching violations actually look like, the Ohio State football program is not at risk of shutting down. It does not need saving in the literal sense. However, it could use a little reputation boost. Enter a 38-year-old man who resembles the love child of Andrew Shue and Adam Sandler with a dash of Matthew Fox, someone who probably would call the Horseshoe his second home. Counting this upcoming season, he will have spent 16 of the last 20 years as part of the OSU football team. That's the kind of instant credibility that you can't try to manufacture by refusing to utter the second half of your archrival's name.
Luke Fickell is not some gallant figure riding in on a white horse. Even if he were possessed by the spirit of Woody Hayes and Ghost Woody delivered a rousing, slow clap-inducing speech, it would not make everyone forget about the circumstances surrounding Tressel's departure. He's been commissioned with the arduous task of taking over for the most successful Ohio State coach many of us will ever see. Still, no one wants to tune into this season of Buckeye football and watch the equivalent of a Tori episode. Therefore, what he can do, and what he's tried to do so far in his tenure, is focus on football and the performance of the team on the field.
After the first practice of fall camp, Fickell noted:
"Every first day of camp, you're so excited about getting back to football...

Obviously, a little bit more this year with some changes and some different things. I think it's therapeutic for a lot of us, as much the coaches as the players."
Just being able to play a little pigskin rather than talk about violations and sanctions was the first real step in "saving" the program because it allowed us all—players, coaches, fans—to begin to move on. More than ever we want our football discussions to contain actual football matters. Fickell, along with the leaders on the squad, have kept the team united, with the rallying cry, "shock the world". He's had to find that perfect balance of maintaining stability while leading the players through a transition. That's all well and good in August. By November, if we can say the same thing, if everyone is still looking forward and not back, then Fickell has a chance of staying at the helm after the season.
There are really only three scenarios for his future:
Fickell will be the head coach next year, but he doesn't know it.
Fickell will not be the head coach next year, but he doesn't know it.
Fickell will not be the head coach next year, and he knows it.
Whichever one is accurate, Fickell gets one season to prove himself worthy of either remaining in charge of the Ohio State football team, or of being an attractive candidate for the position elsewhere and possibly one day returning to OSU whenever the next guy is forced out. He sought advice from other coaches who all told him, "be yourself". Luke Fickell is not Jim Tressel. He's more expressive, taller, sweatier, and not as sartorially blessed. That means he has to make his own mark.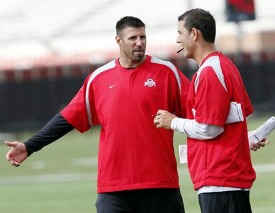 So, he probably said to himself, "I've got one year at my dream job. Might as well hire my best bro. Then we can watch rag on Bollman and watch Shark Week together". It may sound like an 8-year-old's plan for his future, yet it's Luke Fickell's life. Mike Vrabel, his Zack Morris counterpart, is now on the sidelines as the new linebackers coach. Unlike their college years, when they almost certainly coerced Brutus into taking pictures of the women's swim team for their cardboard cutout collection, their Buckeye reunion will have to take on a more responsible approach. Rather than John Cooper hollering, "HEY HEY HEY, WHAT IS GOING ON HERE?" in a lectured tone that fails to mask just how much he truly cares, they will be the ones doling out lessons. 
Adding a Super Bowl winner to the staff is one way to gain players' confidence, but luckily for Fickell, they already hold him in high regard. Known as an excellent recruiter, players from freshman Curtis Grant to senior Nathan Williams have cited their new coach as a reason they're at Ohio State. He understands that young guys have attention spans that last the same amount of time it takes Bryce Haynes to snap a football3. As such, one of the changes he's implementing is shorter, quicker meetings. His rapport with the players, one that I can only assume includes frequent quoting of Family Guy, is a sign that whatever recruiting issues Ohio State has had recently is not because of who the current coach is but because of the uncertainty of who it will be next year.      
Of all his new duties, Fickell does not have to reinvent the team. His area of expertise is defense, and even with replacing seven starters, no one should expect any major alterations. The defense will be good. It will be the strength of the team. The performances of the offense and special teams are where the first-year coach will be judged. Last season, special teams managed a few bright moments, like Jordan Hall's kickoff return for a TD against Michigan, in a sea of appalling coverage and, at times, inept kicking. Fickell has appointed Dick Tressel to oversee ST this season, and if there's a signficant improvement, it could speak well of the former's delegating skills.   
Jim Tressel took much of the blame for all the conservative play-calling Ohio State fans have witnessed the past decade, but according to his replacement, he wasn't as involved as people assumed. With Jim Bollman remaining as offensive coordinator, and with a deep bench of running backs, inexperienced receivers, and an unproven QB, those hoping Dave has been eradicated will be sorely disappointed. Fickell needs to win if he wants to keep his job, and that will probably require taking some risks. As the man in charge, he will obviously participate in game-planning. Some anticipate that like his predecessor Darrell Hazell, new WR coach, and Florida refugee, Stan Drayton will contribute to calling plays, perhaps adding a few wrinkles.
However, the main offensive question is, "who will be the starting QB?" The way Fickell answers that will determine how some people evaluate his coaching abilities. Most fans expect a two-QB system with Joe Bauserman and Braxton Miller, at least at the beginning of the season. In that case, he'll have to know who to play and in what situations. As someone who witnessed the first year of the Stanley Jackson/Joe Germaine rotation up close, Fickell most likely doesn't want to endure a whole season of that. If, for example, Bauserman impersonates the statue of Todd Boeckman too often, or if Miller struggles to grasp the playbook, it's the head coach's job to recognize what's best for the team.
Perhaps more than anything, what will decide Fickell's fate4 is how the team responds to adversity on the field. He's been leading them through trying times off the field, and unless they really do shock the world and go undefeated, will they rebound after a loss as well as they did under Tressel? How will they react if they get behind early? Or if they blow a lead? Or if they keep making mistakes and aren't playing to their capabilities5? Without any head coaching experience, it's not easy to predict how Fickell will guide them through those circumstances. The results, though, will be crucial to the team's success as well as his own.  
If he disappoints, well then maybe California University will have an opening. But I wouldn't bet against him.  
1 Remember, it was 1989.
2 Hence, the Bayside Tigers. 
3 Can you imagine saying this to people who aren't total nerds about OSU football? I bet you'd get the same looks I got in high school for making Buffy the Vampire Slayer references.
4 Unless Urban has paint swatches and a tape measure ready to go for a new office. 
5 Probably the Illinois game