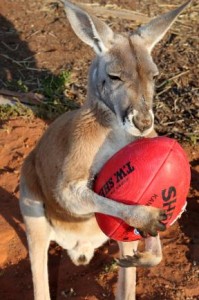 Football is back! After what was probably most arduous offseason in recent history compounded by recently revealed stupidity, the citizens of Ohio and surrounding states and commonwealths can finally get back to doing what we love to do most; funneling our vast reserves of built up anger toward young men moving an ovoid ball around a grid. Rather than young men accepting impermissible benefits.
I just wanna have fun, you know? It's a new season, newer than most that I can remember. There are endless possibilities ahead of us, and for the next 12 games or so we'll get to see the 2011 Buckeyes take on a shape and identity that will undoubtedly be different from the previous 10 seasons. A national championship is probably not in the cards this year, but that's okay. Because instead we'll get to watch a team evolve, game by game, and that should be really exciting. Fall in Ohio, football, pumpkins, Nate Williams sacking fools, Halloween, Luke Fickell arm wrestling Brady Hoke, Thanksgiving, Carlos Hyde trucking a dude. It's gonna be great.
With that said, I am genuinely concerned for the well being of Rob Ianello's Akron Zips. I mean it. Usually when someone writes a preview of a good team going against a bad team, they'll throw in something like "well, I hope no one ends up in traction oh ho ho" to illustrate the disparity between the two squads. Well, this week I actually hope that no one literally ends up in traction.
Let me put it this way: imagine a Civil War doctor looking at the gangrenous leg of a soldier, who looks up at him with puppy dog eyes and asks "Well, doc? Can you save it? Momma needs me on the farm." And the doctor lets out this really sad and noncommittal "Eeehhhhhhh..." while frowning and looking away. That doctor is me, writing this preview.
Opponent
Last year Akron was... well, let's be generous and say "horrible in almost every conceivable way." Starting QB Pat Nicely actually regressed from his first year as a starter, and when your first season included such stats as a 54.1% completion rate and 6 interceptions versus only 6 touchdowns, that's even worse of a knock than usual. Not that the rest of the offense helped pick up the slack; the Zips only managed 268 yards and 15.6 points a game. Offensive coordinator John Latina awaits his trial at the Hague. The defense was terrible too (35 points a game terrible), but not war crimes terrible. It was mostly due to offensive incompetence that Akron giddily skipped to a 1-11 record, winning only their final game against Buffalo.
But hey! It's a new year! Formerly of Ole Miss, Mississippi Gulf Coast, and tv's Lone Ranger, QB Clayton Moore rides in on a pale horse to invigorate the Akron offense! Dynamo linebacker Brian Wagner returns to build on consecutive 130 tackle seasons! Is the Ohio State game the first game of the rest of their lives? Could this be the year that Akron finally takes that giant step from "horrifying trainwreck with no survivors" to "horrifying trainwreck with one survivor, and that survivor is Bruce Willis in Unbreakable?"
Hell no. If anything, they've gotten worse. Let's start with the offense.
Clayton Moore is behind center, and if you click on that fancy link you will see the sum total of Mr. Moore's starting FBS experience, ie, zero. Which wouldn't be too bad if he had some experienced WRs to throw to. And also if he were Aaron Rogers. But he doesn't and he isn't; Akron lost their starting two WRs to graduation, and now they've got a ragtag bunch of tight ends and amazingly green WRs to attempt to catch bullets fired from Moore's six shooter. The running back situation is similarly bad, with not terrible RB Alex Allen AND his backup both gone, leaving the task of at-least-holding-on-to-the-damn-ball-when-you-fall-forward-for-two-yards to a sophomore and a freshman. At least all those new guys can thank goodness for that offensive line that gave up 33 sacks last year!
Akron's defense is a standard MAC team defense filled with undersized utility players, only moreso. Even by those standards they stink, with a porous secondary that gave up 264.1 yards a game last year and a defensive line that lost Shawn Lemon, who accounted for 7 of the team's 17 total sacks. The lone not so dim spot on the entire team is the LB corps, who are led by aforementioned human dynamo Brian Wagner. The other two LBs, Matt Little and Troy Gilmer, are pretty decent as well and as a unit they should do a pretty serviceable job tackling OSU running backs  7-8 yards downfield on every play.
To put it simply: this easily is one of the worst teams in the country. The defense probably won't give up a touchdown on every drive, but if the Zips manage to put up double digits on Saturday I'm going to take that as a sign of the Apocalypse.
Buckeye Breakdown
It's probably a good thing that I didn't start writing this until Thursday night or this would all sound really stupid.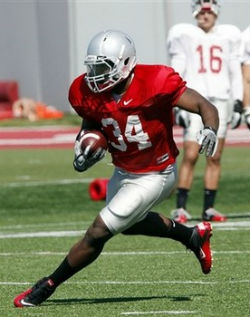 Since Jordan Hall is out for the opener, it's going to be extremely interesting to see who ends up being the focus of the offense on Saturday. My personal inclination is that the team is going to lean heavily on guys like Carlos Hyde and Rod Smith, but a lot of that is predicated on what Jim Tressel would do, not necessarily what Luke Fickell will do. Though Joe Bauserman and Braxton Miller are officially listed as co-starters, recent comments by QB coach Nick Siciliano make it clear that this week is simply a continuation of the battle that took place throughout August. I've got a feeling that in lieu of Jordan Hall, Jake Stoneburner is going to be their best friend on Saturday.
The real test for the offense will be to see whether or not the offensive line can get consistent push for the running game. The sophomores on the line, Norwell, Mewhort, and Hall, should have no real trouble in pass protection, but it is key that they are able to turn on their own personal Beast Modes and help establish the kind of running game that's going to need to become a staple this year. Also if they could play in some kind of protective bubble that would be cool too.
Travis Howard being suspended is both massively disappointing and also represents probably the biggest challenge for Ohio State in terms of depth. Dominic Clarke will step into his spot, which against Toledo certainly won't be a disaster, but I think there's a reason why redshirt freshman Bradley Roby was able to establish himself over sophomore Clarke for the second cornerback spot. The rest of the secondary should be their normal axe-wielding maniac selves; OSU coaches seem to be favoring size over speed with CJ Barnett and Orhian Johnson starting over Christian Bryant, but since Pittsburgh Brown is suspended and Bryant was backing up both Moeller and Johnson anyway, he should see decent time.
The defensive line and linebackers will be really fun to watch. Andrew Sweat being at Will gives him a huge amount of freedom to run and blitz, and I wouldn't be surprised if he got a sack or two. One interesting thing that the depth chart confirmed is that John Hankins is lining up on the outside of Garrett Goebel (who is at nose tackle), so I'm pretty sure that the utter glee I feel as I watch Hankins come around the edge for a sack will at least partially make up for the last 8 months or so. Seriously, let me remind you again that the Akron O-Line gave up 33 sacks last year. I kind of hope whoever is lined up against Nate Williams has a gun.
Finally, keep an eye on the special teams. No Jordan Hall means Philly Brown will probably be returning punts now, and someone between Chris Fields, Evan Spencer, or Devin Smith will get a shot at kickoffs. Kick coverage will of course be something that we earnestly hope improved from last year, and Drew Basil will get his chance to kick a couple of footballs out of the stadium.
Prediction
With 9 players (!) now suspended for the first game and the O-Line one banana peel away from disaster, I am now jealously guarding the defensive line and the safeties like the One Ring, and if anything bad happens to those guys I swear I will bite off one of Paul Haynes' fingers. See, that's really what this game is about; getting through safely. I don't expect either Joe Bauserman or Braxton Miller to show us anything astounding and the QB position will remain unsettled for another week. I do think that Carlos Hyde will show us something fun, hopefully reminiscent of this, and that a TE or WR might come out and surprise us by looking really, really good. And I'm pretty sure one of our defensive linemen will be charged with assault.
If you're new to Eleven Warriors, the way we come up with our prediction is through a site wide polling of our writers, and I think it's pretty evident that the 11W hivemind doesn't expect this to be much of a game past the first quarter. Which is good news for Luke Fickell, as he'll likely avoid being lumped in with noted bad person Alexander Lilley, who was the last new OSU head coach to lose his home opener, in 1890.
Will it be pretty? No. But it will be different, it will be interesting, and above all, it will be football.
Ohio State 39, Akron 7