Happy Friday, to the lovers, the dreamers, and me. We are headed into the last football-deficient weekend of the year, so if any of your friends or family are total lame-os who couldn't care less about The Footballs, you better spend some time with them while you can. If you're ready to start a family, get your baby-making in now, since the end of May is an acceptable time, sports-wise, to give birth. If you're already a parent, but your 8-year-old would rather play soccer on a Saturday, then read him or her an extra bedtime story this week and find some over-involved parents who live vicariously through their children to cart your kid around to and from games. 
I am hosting guests this weekend, which means I'll be compulsively cleaning my bathroom and cursing my poor timing. You see, it's guaranteed that the second I wake up, with a bladder ready to burst, someone will hop in the shower. I will then try to meditate through the pain of uromysitisis, and in doing so, I will miss the 10-second window of one person leaving the bathroom and another person entering.  When I'm questioned about my ambivalence on the whole marriage thing, I can give plenty of reasons, such as "why should I be allowed to get married when it isn't legal for gay people in most states?" or "I'm pretty sure it would end in a murder-suicide", but a lot of it boils down to the fact that I don't want to share a bathroom with anyone.
Anyway, enough about my neuroses, as crazy adorably amusing as they may be. You've got just over a week to bone up on football info. And speaking of bones1, why not enjoy some this weekend courtesy of City BBQ? After all, you've got to train for Eat Too, Brutus, which is only two months away. 
 THANK YOU, CAPTAIN OBVIOUS. After yesterday's practice, Coach Fickell acknowledged the worst-kept secret: Joe Bauserman and Braxton Miller are the top two quarterbacks. Considering they've taken the most reps in practice lately, this is hardly news, but it is the first time he's gone as far as to officially single those two out. Although he declined to name a starter for the opener next week(!), it's safe to assume, as it has been for months, that both will play. 
Fickell also voiced his opinion on a two-QB system. He's not opposed to one because it fosters competition. Whether he believes that, or simply wanted to use his favorite word in a sentence, I think we're all prepared for a QB rotation, at least at the start of the season. Fickell, who was on hand for the first year of the Stanley Jackson/Joe Germaine situation, declared it to be a success. If you look at the big picture—Rose Bowl Champs, #2 in the final rankings—I suppose it could be considered as such. Admittedly, my football knowledge was quite limited at the time, but what I remember most is, like much of the 90s, a winnable game against Michigan lost in soul-crushing fashion. I also recall a lot of "why isn't Germaine starting?" head-scratching going on. We'll just have to trust that Fickell will keep his promise and do what's best for the team. Obviously.    
I AM THE ONE WHO KNOCKS! In case anyone has forgotten during The Longest Offseason of All Time, central Nebraska's comprehensive news authority would like to remind those people that Ohio State is still dangerous. As we all know, the talent is there, though the circumstances are new. For once, this team is an underdog of sorts. Wisconsin is the favorite to win the Leaders? Legends? Leaders Division, and no one on this team knows what it feels like to not win the conference2. Mike Brewster says everyone is embracing this foreign status:
"But I think when we start winning, we're not going to be the underdog anymore and people will jump back on. That will be the fun part."
Gotta love that attitude. I'm getting a kick out of imagining the players acting out this Breaking Bad scene, telling opponents, "You clearly don't know who you're talking to, so let me clue you in: I am not in danger...I am the danger." And that's as far as I want to take an analogy between Ohio State and Walter White.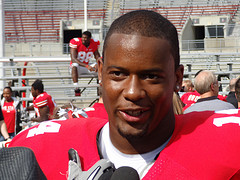 GRANT'S HILL TO CLIMB. As many who have observed practice noted, linebackers coach Mike Vrabel has taken special interest in freshman Curtis Grant. Unfortunately for Grant, that means Vrabel is constantly riding him and screaming Deadwood quotes in his face. On the plus side, that seems to be code for, "the coach likes you and sees potential".
The five-star recruit conceded that college ball is a lot harder than he expected, but he seems to be taking it as a challenge to get better. It's not impossible, though it is unlikely, that he'll redshirt because there isn't a lot of depth at the LB position, and he's talented enough that he could find his way in the two-deep at some point this season. Like many Ohio State linebackers before him, his early contributions could be on special teams. 
The article also takes a look at possible redshirts for the freshmen class. It's clear that certain freshmen, like Miller, Michael Bennett, Doran Grant, Jeff Heuerman, Ryan Shazier, and Devin Smith, will get playing time this season. It's less certain who will redshirt, other than the injured Conner Crowell and someone like Nick Vannett, who as a tight end, plays a position that is fairly loaded.
I EXPECTED THE ROCKY MOUNTAINS TO BE ROCKIER THAN THIS. The broadcast duo of Urban Meyer and Chris Spielman3 recently sounded off on Brady Hoke and Michigan. Meyer, who claimed to have watched Michigan's spring practice, remarked:

"I was expecting something much worse than what I saw. I saw a bunch of good players out there running around and being well-coached."
Is he sure he didn't witness a Delaware practice instead? Or maybe Urbs was just being nice because Greg Mattison was once a defensive coach under him at Florida? No, wait. Urban Meyer being nice? Cue the Pixies.
Meanwhile, Spielman chimed in with his take on the stutter Hoke is trying to hide by declining to pronounce the word "State":

"I think it's great, because I always say Michigan football would be nowhere without players from Ohio. That famous coach from Michigan was from Ohio, Bo Schembechler, so they have to come to Ohio to get what they need to fulfill their football program, so I feel we're a major contributor." 
He then maintains that he's joking, but I don't think he is. It's funny 'cause it's true.  
 THAT'S GOING TO BE A BUSY WEEK IN NOVEMBER. The non-conference part of the basketball schedule is now complete with Valparaiso visiting Columbus on November 25th. The BB Bucks also have games scheduled for the 21st (North Florida) and 23rd (VMI), making that three games in five days. And oh yeah, the 24th is Thanksgiving and the 26th is The Game. Not to mention they play Duke the following Tuesday. I think I'll start my preparations for the weeklong food/couch coma now.
As Bob Baptist points out, though, that extra game in November will give them two byes during conference season, which I'm sure the coaches and players will appreciate.
 FIRST IS THE WORST, SECOND IS THE BEST. Yesterday, the Ohio State Department of Athletics was presented with the second-place trophy for the Directors' Cup. On hand to accept the award was a member of the women's soccer team, which finished third in the nation last season, and an assistant coach of the men's volleyball, which won the national championship. Including football4, 13 different teams concluded their seasons in the top 10. 
 I HEAR KANDAHAR IS LOVELY THIS TIME OF YEAR. Former Buckeye Nick Swisher is finally going to take his honeymoon. And what piece of paradise have he and his blushing bride chosen? Why Afghanistan, of course. I know when I was watching last night's episode of Louie, in which he goes to Afghanistan on a USO tour, I thought, "Maybe I will get married, just so I can honeymoon there".
In all seriousness, it's very respectable of the Swishers to visit the troops, especially on their first trip as a husband and wife.
 TIME TO HIT THE LINKS. Terrelle Pryor agreed to a 4-year deal with the Raiders worth $2.7 million. Taking a pay cut, that'll buy a lot of tats, he won't have to borrow any cars—do I have all the lulz covered?... Athlon Sports calls Jim Delany the most powerful man in college football. Take that, Mike Slive... Happy Jack Mewhort is ready to be a starter... The Wire version of motivational posters... Coach Taylor getting his Ron Swanson on... Ever wonder how Marty McFly and Doc Brown became bros?... The best fake fast food chains... Lucky SOBs.    
1 Perv!
2 I think? Sometimes, I forget how long Bauserman and Moeller have been on the team, and it's possible they were around when Ohio State didn't win a share of the B1G. Whatever dinosaur age that was.
3 Their first announcing assignment will be Ohio State-Akron because ESPN is hilaaaaarious.
4 They may take our wins, but they'll never take our memories!