Columbus, OH and greater surrounding areas are beginning to smell an awful lot like Fall. This is a smell not unlike a combination of reduced perspiration (hurray), hot dogs (eh?), and pigs' bladders (this is not how footballs are still made).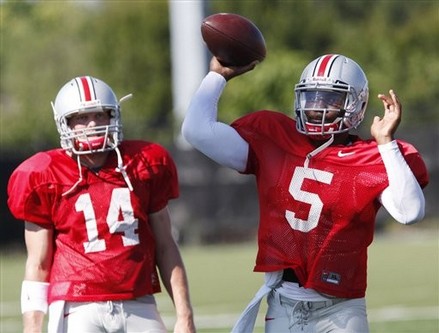 As such, your Eleven Dubcast is here to get your mind percolating on the things that really matter: Ohio State's unanswered questions on both sides of the ball, how the 2011 football season will shake out amidst one of the most eventful off-seasons in recent times, and of course, how will Luke Fickell adjust to Mike Vrabel's spending the last 6 weekends improving his technique with Xtreme Couture (joking; or am I?).
This extra content rich, jam packed, meatier than usual Dubcast surveys both the offensive and defensive sides of the ball going position to position talking about who we see as potential impact havers and who we wish would be fed to wolves at the first Skull Session this Saturday (pssst... his name rhymes with Moe Wowzerwynn).
We also bring in Buckeye Sports Bulletin's shiny new foot soldier, the one, the only Ari Wasserman. Ari becomes the first repeat media type to grace us with his presence but with good reason. We talk what he's seen at the quarterback position from the sidelines at practice, whom he perceives as having the leg up at tailback, who he sees becoming a household name at wide receiver, his general perception the Fickell era, and his gut feelings on how 2011 unfolds.
Finally, your dynamic duo of handsome hosts win hearts and minds (or not that) by prognosticating how we see each and every game on the Buckeyes' 2011 slates working their ways out. Our picks may surprise (or hint: enrage! But please be gentle; we're brittle), so you'll definitely want to listen all the way through to let them all soak, simmer, and percolate.
Click play underneath and let our sultry tones turn your Thursday into a Friday prequel of sorts. You can also right click->save as here, if you dare, or alternatively visit us at iTunes for all your admittedly somewhat played out "the Titanic is syncing" message when you plug in your iPhone needs.