In 2008, a nation was swept up in a euphoric wave of hope and change. Weary and disgruntled with the current state of affairs, its people were primed for a new phase and the promise of a better tomorrow. That nation was, of course, Buckeye Nation.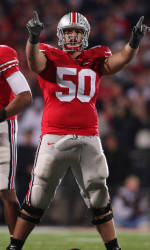 Coming off consecutive national championship losses, neither of which did anything to disprove the notion that the Big Ten bathed in molasses and turtle blood, the Ohio State football program assembled its own redemption in the form of the 2008 recruiting class. Headlining it was the #1 rated recruit in the country, a quarterback with an athletic ability that would render circus performers to chant "one of us". Fans salivated over three five-star offensive linemen who would make days of defensive linemen snacking on the entrails of Todd Boeckman as archaic as Todd Boeckman. There was the playmaking wide receiver poised to follow in the footsteps of Santonio Holmes and Ted Ginn, Jr., as well as highly-ranked linebackers who would continue the Ohio State tradition of reminding Penn State what Butkus winners really look like1. 
Twenty players committed to that class, which was rated the fourth best in the country. Everyone remembers the last player to sign his letter of intent. Rather infamously, Terrelle Pryor waited a month and a half after Signing Day to make his announcement to "the University of Ohio State". Almost no one remembers that the first commit was punter Ben Buchanan. Some may or may not know that the first big-time recruit to enlist with the Buckeyes that year was OL Mike Adams. But this group was not nicknamed the "Pryor Choir", meaning we dodged a bullet on reading "they aren't exactly choirboys" bon mots post-TatGate. They were not called "Ben's Men" or "The Adams Family"2 either. Instead, the 2008 freshman class was dubbed the "Brew Crew".
Mike Brewster, one of the aforementioned five-star offensive linemen, was the fifth player to commit. As a high-school All-American out of the state of Florida, he was such a coup that OL coach Jim Bollman cried when he pledged to Ohio State. An outgoing young man, and a leader by nature, Brewster contacted other highly sought-after recruits to join him. Soon after, his friends J.B. Shugarts and Andrew Sweat were Buckeyes. He constantly texted other players, and his courting ways must not have been too unnerving because no one filed a restraining order. His close relationship with Pryor may have helped aid the latter's decision to don the Scarlet and Gray.
 Before he began his college career in January 2008, Brewster laid out his goals:
"I want to win at least two national championships before I leave Ohio State," Brewster stated. "I want to play a BCS bowl game every year, and I never want to lose to Michigan during my career at Ohio State. I hate to talk about individual goals, but I'd like to be an All-American before I graduate. I'd like to win the awards for the top offensive lineman in the country. Another goal is to see every member of my recruiting class be extremely successful at Ohio State."
He will not win two national championships, but so far, he has played in three straight BCS bowls and has three wins against Michigan. Last season, he was named an All-American and this season, he is considered the frontrunner for the Rimington Trophy and is also on the Outland Trophy watch list. Even though he's not batting 1.000 with his plans, Brewster has acquitted himself nicely. Now let's check in on his classmates:
                                           2008 Recruiting Class

| Player | Position | Status |
| --- | --- | --- |
| Mike Adams | OL | Five-game suspension; returning starter |
| Mike Brewster | OL | Four-year starter |
| Ben Buchanan | P/K | Redshirt junior; returning starter |
| Nic DiLillo | TE | No longer with the team3 |
| Zach Domicone | DB | Redshirt junior; back-up/special teams player |
| Garrett Goebel | DT | Redshirt junior; first-year starter |
| Travis Howard | DB | Redshirt junior; first-year starter |
| Orhian Johnson | DB | Redshirt junior; returning starter |
| Jermil Martin | RB | Transferred to Northwestern Oklahoma State |
| Willie Mobley | DE | Transferred to Arizona |
| DeVier Posey | WR | Five-game suspension; returning starter |
| Terrelle Pryor | QB | In the NFL with the Oakland Raiders |
| Shawntel Rowell | DT | Never enrolled; went to JUCO, then West Virginia |
| Etienne Sabino | LB | Redshirt junior; first-year starter |
| J.B. Shugarts | OL | Returning starter |
| Jake Stoneburner | TE | Redshirt junior; returning starter |
| Andrew Sweat | LB | Returning starter |
| Lamaar Thomas | WR | Transferred to New Mexico |
| Keith Wells | DE | No longer with the team; last seen at a Kentucky practice |
| Nathan Williams | DE | Returning starter |
Of the 20 players who signed LOIs, 13 are still on the team, 12 of whom are projected starters. Six players have departed the program, and one never enrolled due to grades.
THE BREW CREW ON OFFENSE
Like Pryor, Brewster made his first career start in the fourth game of his freshman year and never looked back. He has steadily improved each season, and despite the whipping boy role it sometimes has played, so has the offensive line. Before the week is over, Brewster will be named a captain. After this year ends, he almost certainly will emulate Nick Mangold and become a first-round draft pick and a starting center in the NFL. He will be looking to repeat as a first-team All-Big Ten selection and as an All-American. This season, he will face perhaps his toughest challenge yet: breaking in a new quarterback. Opponents know that Ohio State will lean heavily on their running game. Other teams will try to stack the box and dare Joe Bauserman or Braxton Miller to beat them. The entire offensive line has to protect the QB, but as the leader of the group, Brewster has extra responsibility. 
Shugarts has been the starting right tackle since his sophomore year. He's had a solid, if unspectacular, career thus far. Last season, he endured foot problems that he maintains have been corrected with the right orthotics. If so, he should have a strong senior year. It's to be determined if he still has that pesky false start problem. 
Adams has not been the second-coming of Orlando Pace like some envisioned. He battled injuries early in his career and found himself in Tressel's doghouse more than once. However, the left tackle stepped up his game in the second half of last season and earned first-team All-Big Ten honors. Although he is suspended for the first five games this season, if he can pick up where he left off, Adams will be a dominant force.
The other Brew Crew member to be suspended for five games, Posey is the veteran of the receiving corps. While he did not have quite the monster season last year that most were expecting, suffering from bouts of the dropsies that plagued many of the WRs, he is by far the best at his position on the team. According to practice reports, he has been a leader on the field and a teacher to the younger players. He has made at least one catch in 27 straight games, a streak that is the longest in the conference right now. 
Though he only has two career touchdown catches, Stoneburner is supposed to be an essential part of the passing game this season. A WR in high school, the tight end is a skilled receiver and a large target for the new QB(s). He played a nice game in the Sugar Bowl, catching three passes for 39 yards4, and will be looking to build off of that. 
THE BREW CREW ON DEFENSE
Moving from strongside to weakside linebacker, Sweat is the only returner starter among LBs. Many predict he'll have a great year after a quietly respectable one last season. Not a flashy player, his leadership should be important to a relatively young, but talented, defense.
Taking a redshirt last season after losing the starting spot to Sweat, Sabino is projected as the strongside linebacker in the base defense and should remain on the field in nickel packages. He's a strong and athletic player that, even with a broken hand, is planning to take the field on Saturday. Most of his playing experience so far has come on special teams, but the hope is that this year is his coming-out party at LB. 
Even though he was four-star recruit, it was a bit of a surprise when Williams earned consistent playing time as a freshman. His efforts led the coaches to name him the most outstanding first-year player on defense. His specialty is as a pass rusher. Last season, he led the team in sacks. Along with junior John Simon, he will anchor a defensive line that will be the strength of the entire D.
Goebel has not lived up to his four-star ranking yet, but he is penciled in as a starter for the first time in his OSU career. With the graduation of Dexter Larimore, he will take over at nose tackle. He was also a champion wrestler in high school, so look for him to be the head coach of Ohio State in 16 years.
Recruited as an athlete, and a QB in high school, Johnson will return as a starting safety. He struggled at the beginning of last season, and then came on to record 50 tackles, two forced fumbles, and an interception. He's expected to be even better this year.
With the loss of Devon Torrence and Chimdi Chekwa, one cornerback spot will be filled by Howard. He saw time on the field last season and intercepted two passes. Most notably, he took over for an injured Chekwa in the Sugar Bowl and played well in his place. His emergence as the top corner has people anticipating a huge year from him.
THE BREW CREW ON SPECIAL TEAMS
Buchanan will enter his second year as the team's starting punter. Last season, his punts averaged 41 yards. His most memorable moment came when his punt was blocked near the end of the Sugar Bowl, inducing thousands of heart attacks among the Buckeye faithful. He should progress this season, or at least fans are wishing for that, because heart medication is expensive.
Having to deal with hamstring injuries and false SI allegations, Domicone is technically a back-up safety, but he will probably contribute mainly to special teams. Last season, his biggest play came against Minnesota when he recovered a blocked punt for a touchdown.  
---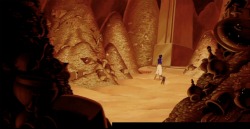 To some, Terrelle Pryor represents the 2008 recruiting class. With a record of 31-4 as a starter, his talent was evident. However, his flashes of brilliance, including two MVP awards in BCS games, never quite erased his baffling decisions, like throwing interceptions right before halftime. He did not best Archie and win three Heismans. Pryor and his class never made it rain national titles, and the Woody Hayes Athletic Center does not resemble the Cave of Wonders in Aladdin with all the additional trophies it was supposed to house. Some see their time at Ohio State as a disappointment, never reaching their full potential and tainted by scandal, vacated wins, and the departure of a beloved coach.
To others, Mike Brewster is the epitome of the 2008 recruiting class. A hard-working, dedicated, and gifted player who improved as he gained more experience could describe many members of the Brew Crew. But hype can be a funny thing. When it's too much, it can be impossible to live up to. Then, it can be easy to overlook when you've got something special.
Maybe the Brew Crew will never deliver Ohio State a national championship. Maybe the actions of three of its recruits will forever stain its legacy. Or maybe the remaining players will remind everyone that above all else, they are winners.
1 Paul Posluzny over A.J. Hawk? NEVER FORGET.
2 Sparing J.B. Shugarts the Cousin Itt comparisons. 
3 I have no idea where he is now. I kind of think he was wished to the cornfield. 
4 The outcome may be wiped from the record books, but the stats live on.