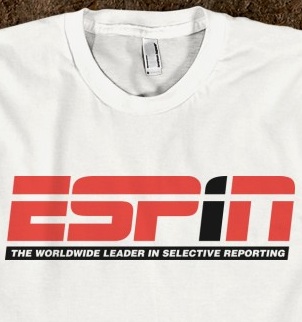 For the first time in at least seven months, the college football world is united in anger about something other than Ohio State.
Was it because Georgia Tech received a Notice of Infractions 10 months ago, the follow-up Notice of Allegations in December and went before the NCAA on April 15th without anyone in the media knowing about it until they were punished to the tune of a vacated football championship (not a real championship, just the ACC conference title) and a $100,000 fine today? Nope.
Was it because former Tar Heel Marvin Austin threatened to "spill the beans" after a Superior Court judge denied the reinstatement petition of defensive end Michael McAdoo? Nope.
While those are worthy candidates, the college football universe is apoplectic over something even bigger: the role of ESPN as a news organization. To which Buckeye fans can only say, "Hell, yes!"
The network generated outrage Thursday evening when news leaked of their decision to suspend respected college football writer Bruce Feldman for -- get this -- something he had prior approval to do. Apparently, the suspension is a result of his role working with Mike Leach on his recently released book Swing Your Sword.
The book, as you can imagine, has some not so nice things to say about ESPN, specifically Craig James, whose son Adam played a role in Leach's departure from Texas Tech in 2009. This angered the brass at ESPN, who continue to support James, one of the most despised guys in college football for both his handy work in wrecking the SMU program in the 80s and the walking conflict of interest he became while ESPN covered the Adam James/Mike Leach saga.
Support for Feldman is universal on Twitter, with scribes from other major organizations both rallying to defend Feldman and simultaneously lobbying for him to come work alongside them. SI's Andy Staples led the charge, cancelling his ESPN Insider account, and he was soon followed by other prominent writers from Stewart Mandel, who openly called for a boycott of ESPN, Yahoo's Dan Wetzel and Matt Hinton, the Sporting News' Matt Hayes and CBS' Gary Parrish. 
This is your wet dream, Buckeye fans. Just three days after ESPN had angered so many of you after they filed a lawsuit seeking Tressel/Sarniak records, the WWL has lurched right into a public relations catastrophe. I've never seen so many other journalists just go open season on ESPN until this. #FreeBruce is trending -- will the power of Twitter be enough to shame a media conglomerate into reversing course?
But getting back to Georgia Tech... If you read about the punishment the NCAA handed the Yellow Jackets, there's a good chance a smile made its way onto a face that had been in permanent frown mode for the better part of 2011:
Good Lord, I think Ohio State might just skate after all.

Look what happened to Georgia Tech, for a similar scandal only with a much more nefarious undertone. While OSU coach Jim Tressel himself was the culprit in the ultimately unsuccessful Ohio State cover-up of violations, and that's awful, the Big Ten school as a whole acted in an upright manner afterward:

Tressel was forced out, albeit more slowly than I would have liked. The school vacated every victory from the 2010 season. The best player involved, Terrelle Pryor, is gone even though he has eligibility remaining.

Compare that to Georgia Tech, which -- like Ohio State -- was guilty of using star players even after learning those players could be ineligible. And then, apparently, the Jackets made it worse by failing to cooperate completely with the NCAA's investigation
That's Gregg Doyel. And he's right.
Meet Michael Thomas. He's a former Under Armour All-American wide receiver from California that plans to visit in August. He reached out to us via Twitter and after promising to "live in the endzone", sent this highlight reel our way:
As Coop used to say, "He passes the look test."
25% of 40 Things About Keyboard James. Is there any more doubt as to who might be 11W's favorite Buckeye? Here's #3:
3.I love me some damn haitian food
Which just barely topped #5:
5.I love to tslk in my sleep I think dats really cool
Stuff: You know it... The Black Keys + Danger Mouse = Win... The problem with getting into shape... Bruce Willis is a bad man.