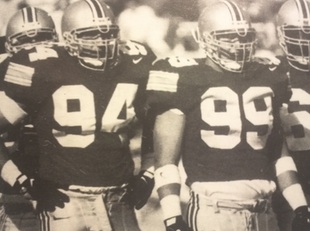 Good morning, and welcome to your Friday Skully, folks.
We are a little over eight weeks away from the opener against Akron, but Luke Fickell could be a matter of days away from filling the open position on his staff.
Mike Vrabel returning to Columbus has been on of the worst-kept secrets in OSU coaching search history (at least since word of Stan Drayton leaving Florida leaked weeks before his hire), and now, multiple outlets seem to be confirming he will be starting work on Monday.
We've had a few weeks to stew on the possibility of the locked-out Kansas City Chief linebacker returning to his alma mater and there are those that love the idea and those that hate it. Me? I'm with the former.
As a three-year starter at defensive end alongside noseguard Luke Fickell (himeself a four-year starter), Vrabel set the school's single season and career marks for both TFLs and sacks, earning All-American honors on the way to capturing the Big Ten's Defensive Lineman of the Year award in 1995 and 1996.
A third round selection of the Pittsburgh Steelers in 1997, he would play for three NFL teams, including an eight year stint in New England where he captured three Super Bowl rings playing for Bill Belichick. Perhaps even more impressive, Vrabel has to be the only player in NFL history to score a touchdown on every career reception with a minimum of... oh, let's say five. He's doubled that, scoring an amazing 10 touchdowns on 10 career receptions.
Vrabel is technically still an active player in the NFL, serving as a spokesman and one of nine players to file suit against the league from the NFLPA, but he's always had the itch to coach and would jump at the chance to walk away from a successful pro career to take a gig in Columbus. Ohio State's 1996 media guide mentioned the senior "wants to go into teaching and coaching someday" and his former defensive coordinator in New England, Eric Mangini, thinks he's cut out for the job:
"He could remember defenses that we ran two and three years prior and site them and give the specific play and how it worked," Mangini told Cleveland reporters today. "I imagine he'll eventually go into coaching and he'll be outstanding.  I'm sure his leadership has been a good thing for them defensively."

"He knew the defense, not just his assignment, knew the defense, could draw up the defense, could coach the defense.  I'm telling you, I wouldn't be surprised if he's not coaching major college football or pro football at some point and be really successful."
Vrabel is also still really close to Fickell. The two started a charity, "Mike's Second and Seven Foundation" with linebacker Ryan Miller and have a rapport that can only be forged by doing hard time in the trenches together.
His presence will be felt immediately on the recruiting front as his confidence and energy are what great recruiters are made out of (see Ed Orgeron). That youthful energy will also play a role in meetings as a staff with Fickell and Vrabel may be more willing to attack on both sides of the ball, put Nintendo points on the board and do other things that delight fans.
Detractors are quick to point out two things: his temperment and the fact that he's never coached at any level before.
While it's a valid concern, others have made the jump from playing to coaching at a high level -- Mike Ditka and Ken Norton come to mind -- and it shouldn't come as a surprise that a guy that's spent the last 20 years of his life playing organized football may have picked up a thing or two along the way. Louis C.K. has never taught comedy, but if he wanted to stop by and give me some joke pointers, I'm going to listen.
The "no experience" thing is a non-issue because if you're competent and willing to put in the work to learn, you can become proficient in a lot of things in life. Besides, he'll be in charge of the linebackers, not the entire defense.
The personality thing is worth discussing if only because we've heard too many stories about Vrabel rubbing people the wrong way. To that, I'd only like to point out that we have an offensive line coach that, by all accounts, appears to be a really swell guy. And he could not be more despised by the fans.
So, yeah, I'm ready for the return of Mike Vrabel, assuming it does happen on Monday. My only complaint would be the timing. Isn't that the day Ohio State is supposed to release its response to the NCAA's Notice of Allegations?
Speaking of the NCAA... Ohio State will be submitting their response to the NCAA today and Gene Smith gave the AP an interview, sounding both optimistic and pessimistic at the same time:
"I feel good about how we collaborated with the NCAA and about what you'll see in our response. But I am disappointed where we are" in terms of violations and possible sanctions."
He also gave high marks to his compliance department, though there could be some changes in how that unit keeps track of things:
Get better documentation of car purchases
Set a time limit for loaner cars
Audit vehicles more frequently (including parking lot checks)
Review player athlete game passes
Monitor athlete's finances under the guise of financial education
On Monday, we'll find out what kind of punishment the school imposes on itself ahead of the NCAA hearing in August. Expect vacated wins, a scholarship reduction and a postseason ban.
Poor Bruce Pearl. The former Tennessee coach, frank as always, admits to thinking the Tressel mess was going to treat him kindly before going on to complain about how it played out:
"Originally I thought it was going to be a good thing for me, and you know what? That's a sorry thing to say," Pearl told the radio station. "I read coach Tressel's book, I've heard a lot about him as a coach and a person, and most of it's really outstanding. I think that it wound up hurting me because, times as they are right now, we all kind of get lumped into one, big 'These are the guys that violate the rules. These are the cheaters.' I actually think that trend has kind of hurt me a little bit."
Sorry, Bruce. You did cheat.
Redemption Song (Extended Cut). Maurice Clarett is back for another season with the Omaha Nighthawks of the UFL, and if the support he's getting on Twitter from Buckeyes is any indication, we're still a forgiving group as long as you confess your sins and work hard to turn things around. Go Mo, go.
GRUMBLINGS (BOOM! HUNTER'D) Duckshank Redemption... The 20 Best Sports Photobombs... A domesticated silverback gorilla... This may come in handy... Pray for Mr. Nissan... Happy Easter, Hitler!