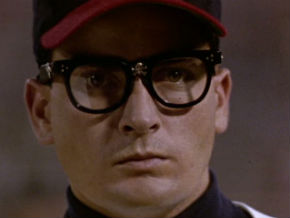 Good morning Buckeye fans and welcome to another Thursday Skull Session. The 4th of July weekend is almost here, and besides celebrating our country's independence from Great Britain, most of us get to celebrate a 3 day weekend. For those of you fortunate enough to have tomorrow off as well, I have one thing to say to you: FFFFFFFUUUUUUUUUUUU.
On another note, I'd like to give a tip of the cap to someone who stepped up to the plate yesterday and manned up to taking steroids while playing major league baseball. It takes some courage and class to admit when you've done wrong and come clean in order to set things right. Who am I talking about you ask? No, I'm not talking about Jose Canseco, but rather Rick "Wild Thing" Vaughn from the Cleveland Indians circa late 1980's-early 1990's.
Yes, Charlie Sheen is continuing his streak of #winning and told SI.com that he used steroids while filming the Major League movies. If you want an epic quote from Sheen himself, well, here it is after they asked him about the Wild Thing lightning bolt hair cut:
I didn't like the haircut because it generated so many comments in bars. I've got enough of that already. Add that to the mix, and it's a recipe for a fistfight. I was already bitchy because -- let's just say that I was enhancing my performance a little bit. It was the only time I ever did steroids. I did it for like six or eight weeks. You can print this, I don't give a f---. My fastball went from 79 to like 85.
Ah, classic Charlie, #winning as always. It's good to know he was always the nut job that he is today, and Reds fans, you should be proud to call him one of your own as apparently he is a supporter of the Big Red Machine thanks to father Martin coming from the Dayton area. Oh yeah, and if you want more of Sheen, they'll be announcing his new show later on today.
Anyway, enough of Charlie, and on to today's Skull Session.
11 inducted into OSU Hall of Fame. The Ohio State Athletic Hall of Fame announced it's Class of 2011 yesterday afternoon and it included some notable Buckeyes. Mike Doss and Orlando Pace headlined the class that also included Didi Albrecht (rowing), Raj Bhavsar (men's gymnastics), Mitch Clark (wrestling), Katy Craig (women's track and field), Jessica Marshall (pistol), Leo Raskowski (football), Stacy Roth (softball), Bobby Watkins (football) and Kristen White (women's golf).
It's nice to see former Buckeyes who represented the school so proudly get recognized for their achievements and it will be even nicer to hear the ovation Pace and Doss get when they are likely honored for making the hall at one of the football games this season.
If you'd like to attend the OSU Athletic Hall of Fame Dinner and Ceremonies, you can for a price of $50 for the women's event and $75 for the men's event. Both dinners will be held September 9 in the Archie Griffin Ballroom at the Ohio Union. The women's event will start at 5:30 PM and the men's event will begin at 6:30 PM. For more information contact VarsityO@osu.edu. 
Oden still rich. Despite playing in just 82 games across three seasons in the NBA, former Buckeye Greg Oden was offered an $8.8 million qualifying offer by the Portland Trailblazers yesterday. Averaging 9.4 points and 7.3 rebounds in his career, G.O. apparently has either given the Blazers enough hope that he will be healthy and ready to go next season or the team is just completely out of it for offering the 23 year old that much money when his NBA future is unknown.
Don't get me wrong, I'm really happy Oden got a contract and that the team has faith him. I think he can be an outstanding NBA player if he's ever healthy, but that sure is a big "if". Sometimes we rag on guys who leave school early for the NBA, but just think, if Greg Oden never left OSU after one season, he may never have been able to make the money he has thus far as injuries would have derailed his professional career. The chance of this string of injuries is uncommon, but if the money is there, especially football first round/basketball lottery money, I don't think you can knock a player for taking it while he can.
Former Buckeye recruit stands behind OSU. At one point Bradley McDougald was all set to be a Buckeye. Then off the field issues got in the way and the Dublin native was forced to find a home elsewhere. McDougald took the opportunity given to him with the Kansas Jayhawks and now is the starting safety in Lawrence.
It would be easy for McDougald to sit back and blast the Buckeyes out of bitterness for what happened during his recruitment, but the junior took the high road and, as an insider both from a recruiting stand point and Columbus native, seems to completely understand the current situation the OSU football program is faced with. Here is what McDougald had to say when asked about the turmoil at Ohio State:
"In Columbus, (Ohio), I feel like Ohio State football and basketball might be looked at as a professional team. When you have a team like Ohio State and you have the fan support they have, so much attention is given to those players. When you give college athletes the attention they were given, I could see how things like that could happen."
McDougald was then asked about how he thinks the players will handle it (he still keeps in touch with some of them):
"They're just using it as fuel to work hard in the offseason. Now that everybody thinks they're down and everybody thinks they're the bad guys, they're just looking at it as adversity, just another step for them to overcome, another little speed bump. They're using that as motivation."
Finally, his opinion of Jim Tressel:
"One thing I can say, he'll shoot you straight. He cares about the people around him, he's a nice guy, and he definitely loved Ohio State, there's no doubt about that. I always thought he was a good guy, and he's definitely a good coach who knows how to win."
After reading that it seems like we have a mature, well-balanced, understanding young man. I sure wish things worked out differently a few years back, as this appears to be a kid you'd definitely want in Scarlet and Gray today.
We Must Protect This House. Well, we must protect the state borders of Ohio from other programs who are trying to take advantage of the turmoil going down in Columbus to snare some of the state's top prospects in one of its best recruiting years in recent memories. One of the schools people are talking about that's really attacking the Buckeye state is Michigan, but a school doing good as well that's a bit under the radar is Nebraska.
The B1G's newest member not only has a coach that hails from the Youngstown area, but is making its presence known within Ohio and is doing very well on the recruiting front now that they have the Midwest exposure. This is Pelini's 4th season as head coach of Nebraska and now that he's built the program back up to national relevance, he's on the prowl to land some of the nation's top players and is going back home to find some championship level talent.
One example of this is the recent commitment of Greg McMullen. McMullen was at one time a Buckeye lock, but with Jim Tressel resigning and the pending sanctions the program is facing, he decided to take a look around. The Big Red seized the opportunity, showed the Akron Hoban star some love, and was able to get a verbal pledge last week.
Now McMullen is helping the NU staff recruit some other players from Ohio, including teammate LaTroy Lewis, Kyle Kalis, Monty Madaris, Mason Monheim, Jermaine Edmondson, and others. The OSU staff better get their recruiting in order soon, or else programs like Nebraska are going to take "should-be Buckeyes" outside state lines.