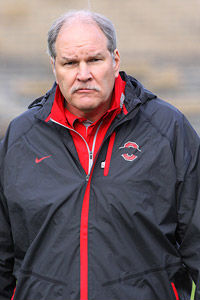 Defense has always been a staple of Ohio State football and with Luke Fickell at the helm, that likely isn't going to change anytime soon. In fact, many feel the renewed aggressiveness the defense has shown since the "Massacre in The Coliseum" in 2008 is a direct result of Fickell getting more say in the defensive play calling and schematic planning heading into game week.
While it makes sense that the Silver Bullets are going to be on point under the former defensive coordinator's rule, the question far too few are bringing up about the post-Tressel era is what happens to the offense? Jim Bollman may own the title of offensive coordinator, but if you know anything about Ohio State football, you know that Jim Tressel was the brains behind the offensive play calling in Columbus. Even when JT decided to shell out a little offensive love elsewhere, he turned to Darrell Hazell first before bringing Bollman into the fold for anything more than game week preparations.
The answer to the question of who will take over the offense is unknown right now, but what is unlikely to change dramatically in the upcoming year is the style of play the Bucks will employ when they have the ball. There will be many doses of Tresselball with some of Fickell's aggressiveness sprinkled in, but once again, if OSU football history repeats itself, the foundation of the offensive philosophy will be based off running the football. It won't take some sort of innovative genius like a Gus Malzahn to win ball games for the Scarlet and Gray this year, but there does have to be a mind behind what you see executed on offense for the Buckeyes this season, and it sure won't be Luke Fickell stepping into JT's role as commander in chief of the unit.
It doesn't look like there will be any shocking news of a new offensive coach hired, so the choice at hand will likely come from the inside. The coaches currently placed on that side of the ball are Bollman, John Peterson, Stan Drayton, Nick Siciliano, and Doc Tressel, and there could be a case made for all of those coaches sans Doc, as well as Fickell to be the man for the job. Let's take a closer look at some of those candidates to take over the offensive play calling duties after the jump.
Jim Bollman
I know, the sound I just heard was all of you groaning about the thought of having to stomach Bolls calling the plays for the entire year. I don't want Jimmy calling the plays either, but we have to look realistically at the fact that he is indeed the offensive coordinator by name at the least and has had input in the past in terms of preparing the week's game plan.
What you will get with Bollman is very vanilla play calls. The team will rely on the stable of running backs to carry the team on its shoulders while running enough play action and pro-set passing formations to keep opposing defenses just off-balance enough to come back to the run again. This certainly isn't the sexiest of choices, but you have to think that with his experience, seniority, experience with the offensive personnel, and the official title that the odds have to be in favor of Bollman getting the nod to call the shots. At least by title again anyway.
John Peterson
Peterson is also a veteran of the Tressel regime and currently holds the title of tight ends coach and recruiting coordinator. I would say his chances to get the offensive play calling gig are slim to none and quite frankly I don't think he'd even want the opportunity if it came his way.
Peterson's strengths come in the ability to get the most out of his tight ends (especially from the blocking standpoint), as well as the tackles, whom he took on more responsibility with over the last year or so. In fact, many think Mike Adams' growth at the position can be attributed to his work with Peterson, especially on his footwork, quickness, and agility.
Like Bollman, Peterson would likely call a "plain and simple" offense that revolved around the run and would not take the opponent by surprise very often at all. His temperament is definitely a bit more aggressive than Bolls, but his lack of a desire to be more involved with the offensive strategy in the past leads me to believe that Fickell will be looking elsewhere to find his play caller.
Stan Drayton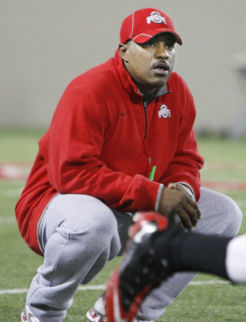 Maybe the opposite of Bollman and Peterson, Drayton brings some youth and energy to the coaching staff, coming from Florida where he spent two stints as the running backs coach. Drayton will coach the wide receivers at OSU this year, a new gig for him, and the knock on him to get the job will be his lack of experience with the Buckeyes, as well as the adjustment he will need to make in coaching a new position.
While I don't think Drayton will get such a great responsibility handed to him in year one, I do think if retained in the future, that he could make a good offensive coordinator. He has been exposed to a multitude of offenses including Urban Meyer's spread at Florida, a more traditional pro-style style with the Green Bay Packers, the pro-spread at Tennessee, as well as other styles at Syracuse, Mississippi State, and others. Those experiences will allow him to take what he liked from each of those styles and combine them with his own philosophies to create a pretty exciting brand of football.
Once again, I don't think Drayton is quite ready for these responsibilities, but I do think Fickell needs to find a way to begin to get him involved in the offense more than they originally thought he would be. Drayton is a coaching star in the making and if he can one day call an offense as well as he recruits, he's going to make a very good play caller.
Nick Siciliano
Coach "Sis" is the dark horse in this race, despite past criticism that Tressel hired a video coordinator to coach the quarterbacks. Not many people have been around practice to see him go to work, but we have been fortunate enough to get a chance to see Siciliano in action, and to be honest with you I was quite impressed with what I have seen.
Siciliano is well liked by the players, not just because they can more closely relate to him in age, but also because he's very knowledgeable of the game. As a former video coordinator he has the chance to study plenty of film of teams on both sides of the ball and has gotten a good grasp and understanding for how the game works. More importantly he has been able to find the right ways to turn the things he takes away from film study into a message delivered to his players on the practice field, something many young coaches in the business struggle to succeed in.
Coach Sis is another coach who may not be quite ready to fully take over play calling duties, but his experience working with the quarterbacks over the last few years, coupled with his past experience as a video coordinator could possibly lead to him taking some sort of ownership with the offense this season.
Luke Fickell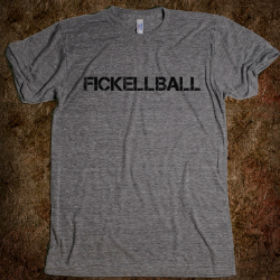 Fickellball. Yep, I said it, Fickellball. It will be a craze that has Buckeye Nation on their feet, waiting to see what the OSU offense will bring next. Well, maybe it won't exactly go like that, but now that Luke Fickell has full reigns of the team without Jim Tressel breathing down his neck, expect things to be a little different. And by different, I mean finally unleashing the offensive arsenal of weapons that has been held back constantly throughout the days of Tresselball.
Don't get me wrong, The Vest won a lot of games during his time at Ohio State doing things his way, and because of that, a lot of things won't change in Columbus in order to keep winning practices intact. What will change is the mindset of the team, something that fans have been waiting to see for all of these years. As former co-defensive coordinator and linebackers coach, Fickell has always been known for his desire for the team to be more aggressive, and now he'll have that chance to go for the kill over and over again in a way Tressel would never display. The Buckeyes' new head coach has the chance to truly put his mark on this team, especially on the offensive side of the ball, and for a man coaching this season as an audition for his future job, what better opportunity can you ask for?
I personally think Fickell will run the show just like Tressel did. While his experience has been on the defensive side of the ball, this is a guy who clearly knows all the ins and outs of the game and is a smart enough football mind to be able to take on such hefty responsibility. I firmly believe Fickell will use all of his offensive staff to prepare the week's game plan and may even have Bollman remain as the guy "calling the plays" from the coach's box, but I think when push comes to shove that the final say on each and every play will be owned by Luke. This is his opportunity to shine and there's no way I can see him giving way to someone else who has the chance to throw everything away for a rising star in the coaching profession that has one of the most desired jobs in college football on the tip of his fingers.