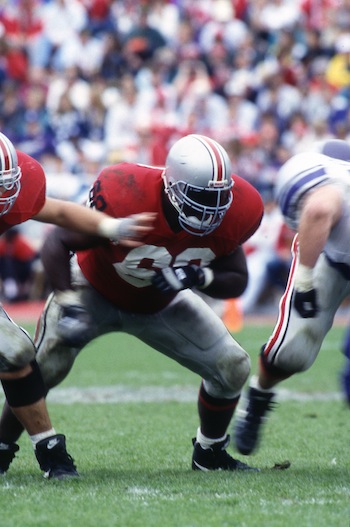 You probably think you know how to fix college football's flawed system.  Jason Winrow knows he knows.
The former Buckeye offensive lineman has a gift for articulating just how college football lost its way and what should be done to get it back.  He's also a gifted storyteller with a penchant for bringing some of the lost stories of the John Cooper era back to life.
He knows what the NCAA is up against.  He also knows what programs are faced with on a day to day basis.  He does not like the direction for either of them.
It's been said that offensive linemen are the smartest guys on the field.  Considering their Wonderlic scores are routinely 20% higher than the overall average at the NFL combine, they're probably the smartest guys off the field as well.
Spend some time with Winrow.  Go and read his blog, The State of College Football.  He's one of those smart guys that everyone should get to hear more often.
Winrow is a modern-day, alpha-Patrick Henry hell-bent on freeing his beloved sport from the NCAA's iron-grip on its colonial institutions.  Consider Winrow's call for College Football's Declaration of Independence from its own King George, the NCAA:
It's morally wrong (for the dictators of college football) to exploit the multitude of talent on the playing field, only to be thanked by offering them a mere portion of what they deserve.


There was a time and place for such treatment, and that time was before I was born…the time was before coaches started making millions of dollars per season…college football needs a Declaration of Independence and it is needed now.
Winrow, just like you, just like me, is convinced that the system that college football operates under today is in dire need of repair.  From how players are compensated to how they're safeguarded by their universities, he makes the case for radical changes to the status quo.  And he would. know.  He was there.
Winrow believes that compliance departments today - not just Ohio State's - have jobs that are far more challenging than their predecessors, even as recently as the ones of his era. 
"In this era of social media, everything that used to happen in the dark now comes out into the light," said Winrow.  "There are certain things that occur organically in the lives of big-time athletes and celebrities, interactions with the general population, and it's inescapable."
"Social media makes those interactions almost too easy.  People want to be aligned with those athletes and celebrities.  A lot of young people will have a really hard time saying no to that."
"So now what was once kept quiet or within the family can be blurted out to millions by simply clicking send."
It's not a phenomenon exclusive to college football.  Fame has had its irremovable tractor beam unwillingly aimed at groupies and shady characters since long before the Internet.  Congressman Anthony Weiner clicked send a few weeks ago and it has derailed his political ambitions and threatened his job.  Jim Tressel clicked send last April and it ultimately led to his whole career unraveling. 
Regarding the latter, Winrow does not subscribe to the lone gunman theory being sold by Ohio State.
"I'm not naive enough to believe that no one else but Tressel knew of the April 2010 email exchanges with Christopher Cicero," said Winrow.  "I do understand that some coaches prefer to operate at the intersection of blissful ignorance and plausible deniability.  The layers of this story will continue to reveal themselves.  I made my position on this whole controversy absolutely clear on my blog."
"Our players made mistakes and broke rules.  Archaic rules are still rules.  Transgressions like these underscore my motivation for writing about the elimination of the NCAA and the BCS while allowing college football to be what it should be, a business that generates billions in profits for more than a select few administrators and their coffers."
Winrow certainly does not his mince words.  Defensive linemen and linebackers during the early 1990s?  That's a different story.  They got minced.
---
You probably think you know how the John Cooper era in Columbus really went down.  Winrow knows he knows - he was there for five years of it. 
As depressing as this offseason has been for Ohio State fans, the news of the day does not dampen the enthusiasm that Winrow still has for his time as a big man on campus. But before he made it to Columbus, he was a standout high school football player in South Jersey.
"I grew up one town over in New Jersey where Calvin Murray grew up, and that was all I knew about Ohio State," said Winrow.  That was it."
"My recruitment is a very short story.  It begins and ends with Coach Cooper coming over and meeting my father.  That's  the whole story.  Just like that, I was a Buckeye."
A giant amongst giants
Winrow arrived in Columbus during the hotter months of 1989 at the start of Cooper's second season in Columbus.  He found out immediately that Columbus was nothing like the cozy little enclave of Bridgeton, New Jersey.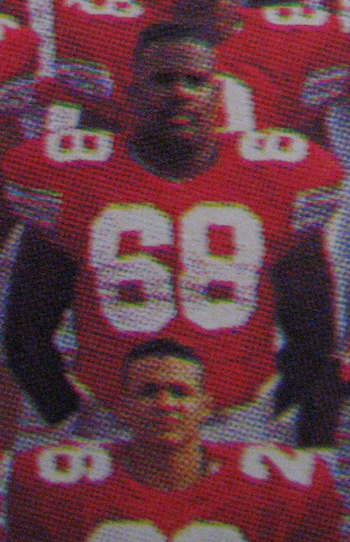 "Being from a small town, I was intimidated by the sheer size of the campus and I had no choice but to adjust very quickly," said Winrow.  "The academic support staff, my teammates, the student population, everybody – they made the transition easy.  I just couldn't believe how nice Midwesterners were."
The coaching staff allowed Winrow to fully adjust to life at Ohio State, and he took a redshirt during that 1989 season. After that he was on the field for most of the rest of his four years.  In 1990 he was thrust right into the fire.
"To this day, the worst feeling I ever had in any football game was that year at Wisconsin," said Winrow.  "I lost my footing and Don Davey (DT) got past me at the line of scrimmage.  He got to Kent (Graham) and sacked him, causing a fumble."
"Then LaMark Shakerford picked it up and ran in for a touchdown.  My stomach turned.  It was terrible."
Fortunately for Winrow and the Buckeyes, this happened 21 seasons ago.  The rules for the advancement of a fumble were different back then, i.e. it wasn't allowed.  That terrible feeling, while still bad, lost some of its sting seconds later.
"Shakerford picked it up off the ground.  In 1990 that made it a dead ball, first down Wisconsin instead of a touchdown.  I was relieved but still nauseous."
That Badger freshman class, which included Shakerford, would go on to be known as the class that turned Wisconsin into a formidable program after decades in the Big Ten's basement.  But in 1990, they were still mediocre.  Davey's sack and forced fumble would not be enough, and the Buckeyes rolled in Madison 35-10.
By his junior year, Winrow had gotten so comfortable with his blocking assignments that he developed the flexibility to play multiple positions along the line at a moment's notice.
"When we played at Iowa in '92 I had to move from right to left tackle because Alan Kline sprained his ankle and couldn't go," Winrow said.  "I knew all week that I was going to have to face Mike Wells.  He was the strongest mammal on the planet."
"On our first drive we ran a naked bootleg, and when Wells saw Herbie roll out in the opposite direction, he quickly reversed his field to chase him down."
"He was so focused on getting to Herbie that he didn't see me coming at all.  I got my pads down, accelerated and just absolutely crushed him.  A full-on, blindside de-cleater.  On our first drive.  That changed him for the whole game.  He wasn't Mike Wells anymore.  His whole attitude changed. That was probably my finest play as a Buckeye."
Winrow, who had been starting at right tackle prior to the Iowa switch had several players behind him on the depth chart whom he was keeping off the field.  One of those players was his backup at right tackle, the future top overall pick of the 1994 NFL draft, Dan Wilkinson.
"When Dan moved to the other side of the ball he made my job a lot easier on game days," said Winrow.  "He was the complete blend of size, strength and speed."
"I faced D'Marco Farr (Washington Husky and future Pro Bowler) and Lou Benfatti (Penn State Nittany Lion and Lombardi finalist) and I had absolutely no problem blocking either one of them.  It was only easy because I had to practice against the best every day."
Practicing against the likes of Wilkinson every day created an environment of no entitlement and no guarantees.  That climate was reinforced enthusiastically by the boss himself.
"Coop was a straight shooter.  At the beginning of camp my senior year, players who didn't stick around for the summer had to take our conditioning test in front of all of the players who had stayed and already passed it," said Winrow. 
"We had our starting middle linebacker penciled in since the spring, but he had gone home for the summer and come back for camp out of shape.  After he failed his test in front of everybody, Coop yelled, 'Get the hell outta here! Lorenzo Styles is our new starting middle linebacker!' And he was. Straight shooter."
---
Winrow spent considerable time lined up next to one of the greatest to ever play the position at Ohio State, the late Korey Stringer.
"Korey was one of the most fun-loving men I've ever met.  We'd be in our stance and he would tell whatever unlucky lineman was covering him, "my boy 68 is gonna pull and whip your ass!" right in the middle of Bobby's (Hoying) cadence."  Winrow smiled, "and I did my best to keep him from being a liar."
Often lost in the narrative of Cooper's futility with Michigan was his difficulty with – of all teams – the Illinois Fighting Illini.  Granted, the Illini of that era were not the Illini of today; Illinois didn't have a losing record in any of Cooper's first five years in Columbus.  They were also 5-0 against the Buckeyes.  In 1993, they finally broke through.
"As fun as Korey was, he was also – truly – the meanest – player on the field that I ever played with or against.  When we finally beat Illinois, at one point he just literally sat on Simeon Rice." (two-time All America, future NFL Defensive Rookie of the Year and three-time Pro Bowler)
"Rice desperately tried to get Korey off of him and struggled to slide out from underneath him but he couldn't do it.  This went on for several seconds, right in the front of everybody.  And Korey just sat there with a giant smile, right on top of him, laughing his ass off while Simeon Rice tried and tried to get up."
Stringer passed away ten years ago this August after complications from heat stroke that he suffered during training camp with the Minnesota Vikings.  He was 27 years old.
"I miss him terribly," said Winrow.  "He'll never be old.  It's hard to believe he's been gone for so long now.  I still miss him."
---
Stringer wasn't the only Buckeye legend that Winrow crossed paths with while he was in Columbus.
"I met Orlando Pace when he came down to visit during his senior year in high school," said Winrow.  "His official visit was the Penn State game, which was their first trip to Columbus as a member of the Big Ten.  It was a huge game."
The Buckeye defense bent without breaking the entire afternoon while the offense maintained total command throughout the game.  While Westerville native Ki-Jana Carter still had a strong game – he averaged almost seven yards a carry that season – Ohio State kept him from damaging the scoreboard as the Buckeyes won the game 24-6.  The high school senior Pace was right with the victorious players immediately after the game.
"I saw this giant kid (Pace) in the locker room after we had won and I started shouting, 'Coach, you gotta sign him up!  Sign this kid up right now!  We may need him against Wisconsin next week!'" 
Pace wouldn't start for Ohio State until the following season, as a true freshman.
---
One team Winrow that never got the best of Winrow's Buckeyes lost was Michigan State, but that blemish-free mark didn't come easy.
"We were in a dogfight against those guys," said Winrow.  "We were forced to play field position; we had to play ball control and that was on us so we substituted in our "Heavy" lineup which put me at left tackle, Juan Porter at left guard, Jack Thrush at center, Rod Smith at right guard and Korey at right tackle.  Jeff Cothran and William Houston rotated in at fullback."
"We ran just one play, the same play, over and over again, the ISO.  We pounded that ball and just beat the hell out of that middle linebacker." (Rob Fredrickson, first round draft pick in 1994)
Ohio State held on to beat the Spartans 28-21, and the style by which the Buckeyes defeated Michigan State on that afternoon was not lost on Winrow. 
"That afternoon, Woody was in heaven smiling from ear to ear."
---
Speaking of Cothran, Winrow held his blocking skills in the highest regard, which says a lot considering the plethora of elite linemen who lined up for Ohio State during the early nineties.
"Jeff was basically our third guard, but he had hands and speed," said Winrow.  "God help whatever middle linebacker we were isolating because Jeff was going to kill him.  In '93 Washington had two preseason All-America linebackers (Steve Springstead and Donovan Schmidt) and Jeff absolutely kicked both of their asses."
And if Cothran and the rest of the line got their blocking assignments nailed, good things would happen.
"If Butler (By'no'te) was even, he was leavin'," said Winrow.  "We just had to get him in position to do that.  It was up to us, because nobody was going to catch him.  Nobody.  We knew that if we could get our downfield blocks Butler would be gone."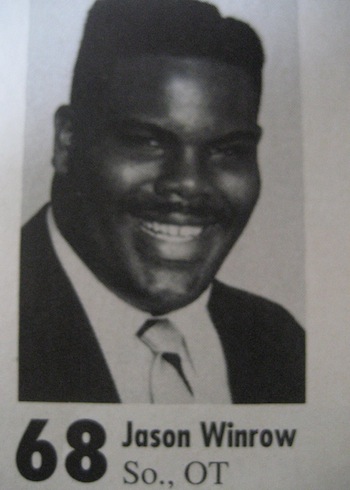 "Raymont Harris and I came in as freshmen together.  I could tell there was something special about his calm fury. Editor's note: Harris owns two of the best nicknames in Ohio State history – the Quiet Storm and the Ultraback. 
"As linemen, we trusted Raymont and he trusted us right back.  He was the consummate warrior.  At the same time that Raymont was hitting his stride, I could see flashes of brilliance from Eddie George early on." 
During that 1992 season, the eventual 1995 Heisman winner had one of the most forgettable games in Ohio State history, at home against the Illini. George fumbled early at the Illinois' four-yard line, which the defense returned 96 yards for a touchdown.
Later on in the fourth quarter with the Buckeyes clinging to a two-point lead, George fumbled again - this time near the Illinois goal line.  The Illini recovered again and then drove down the field to score the winning touchdown. 
"Those flashes only stayed permanent because of those fumbles," said Winrow.  "He thrived on righting those wrongs.  His greatness was built on what happened that afternoon and he never let what happened keep him down.  He rose above and everyone saw what ended up happening."
---
Terrelle Pryor, though dominating the headlines for all the wrong reasons as of late, is not the most famous Buckeye quarterback of the present day.  That distinction belongs to Winrow's former teammate, long-time ESPN analyst Kirk Herbstreit.
"Herbie was just a terrific leader and a great presence on the field," said Winrow.  "I loved it when he would come into games as a backup – he'd get in the huddle before his first snap and excitedly say to all of us, "you guys, isn't this great?'"
"It was nice to have a mobile quarterback like Herbie on the field because all of us knew if we could just hold a block for one extra second, he could make something happen.  I really wish he would have gotten more opportunities during his first few seasons."
There was a reason that Herbstreit didn't see the field much before his final year of eligibility.  That reason's son is currently in the mix to be Ohio State's next quarterback.
"It would have been nice to see Herbie on the field more before his senior year."  Winrow said, and then smiled.  "And that's not a knock on my Ohio State and New York Giant teammate (Kent Graham)."
The biggest roster controversy of the Cooper era was Joe Germaine vs. Stanley Jackson, which produced two full seasons of platooning and debate over which quarterback should be the starter.   It's often been said in football that if you have two quarterbacks, you have no quarterbacks.
Back in 1993 Ohio State had two quarterbacks: Bret Powers and Bobby Hoying.  Unlike Germaine and Jackson, whose skill sets barely overlapped, Powers and Hoying were quite similar.
"Bret and Bobby were truly interchangeable," said Winrow.  "Bret had a rocket for an arm.  Bobby had a rocket for an arm.  Bret was a great leader on the field.  Bobby, as young as he was (a sophomore) was also a great leader.  They had a lot of talent around them and they did not fail to exploit the hell out of it."
Among that surrounding talent was Joey Galloway, who tied Cris Carter's record for touchdowns in 1992 with 11 in earning first-team All-Big Ten honors.
"I loved when the call would come in for a play-action pass and Galloway was running a post or the post-corner," said Winrow.  "We knew what that meant before we even left the huddle: A huge cheer from Ohio Stadium and a long jog down the field for the linemen.  That was the kind of running we liked to do."
"Most two-quarterback systems aren't successful.  We pulled it off.  Bret and Bobby made it work.  You could say that Jackson and Germaine made it work too."
---
Both of Cooper's two-quarterback systems were quite successful.  In fact, they only lost one game in the three seasons that they were used - 1993, 1996-97 - combined.  That is, if you don't count one particular opponent: The last one on the schedule.
In 1993, Ohio State was 10-0-1 heading into its final game of the season at Ann Arbor.  It would be Winrow's final shot to beat the Wolverines.  The Buckeyes lost 28-0.  Winrow won't ever be at peace with what happened that afternoon.
"That was complete bullshit," he said. "Just a total disappointment; no one player or coach's fault but everyone's fault.  No one performed that day, and it was the only time in my life that I've been on a team that got shut out."
Pryor and a few other Buckeyes recently made headlines for hawking their Gold Pants charms.  Winrow wasn't pleased to learn of their actions, but not necessarily because they were NCAA violations.
"That is also bullshit. I don't have any gold pants," he said.  "Man, how I wish there was overtime back then.  We had all of the momentum.  We just couldn't get it done in 60 minutes."
Winrow refers to the 1992 game that ended in a 13-13 tie in what Ohio State President Gordon Gee famously called "greatest win in Ohio State history."  The Buckeyes had rolled off five impressive wins, rebounding impressively from the shocking Eddie George-fumbles loss to Illinois but could not put Michigan away late and had to settle for a no-decision.
Ohio State finally broke through and beat Michigan in 1994, but Winrow wasn't there.  He was earning paychecks in New York.
"I watched the game with my teammate, Jumbo Elliot," (former Michigan tackle) said Winrow. 
"I enjoyed every single buffalo wing that I ate that afternoon.  I enjoyed watching the crowd spill out onto the field as the Buckeyes beat Michigan, and I enjoyed the 50 bucks Jumbo gave me on the spot as the game ended and he had lost our bet."
fata provocate
Winrow had been drafted by the Giants with the 25th pick of the sixth round.  His draft stock had dropped significantly; the original projections had him as a borderline first-rounder.
Fortunately for Winrow, then 10-year NFL veteran and former Buckeye William "Hickey Mo" Roberts was on the team and took care of him like a little brother.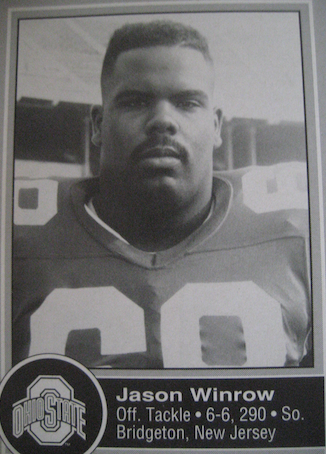 "Camp was tough," said Winrow.  "The speed of the game is just incredible, even coming from a conference like the Big Ten that fills the league with pros.  I learned how to play at that level quickly.  I had no choice."
Winrow's head coach was the legendary Dan Reeves, who played in two Super Bowls and coached in seven others.  Like his college coach, Reeves had a few good one-liners of his own.
"We were 3-0 going into our bye week," said Winrow.  "Then we came out of it and promptly lost seven in a row.  As you might imagine, that doesn't go over very well anywhere, let alone with New York fans."
"On a Monday night game at Houston we finally won again, with time running out, on a field goal by Brad Daluiso.  Then we won the following five games in a row to make it six straight wins."

"So we finished 9-7.  After the game, Coach Reeves went to the press conference at said, 'We would be undefeated if not for that seven-game losing streak.'"
Like so many professional football players, Winrow's NFL career did not end on his terms.  His back and knees ultimately betrayed him, leaving him beset by injuries that forced him to cut short his dream of playing professional football for a living. 
These days, he's getting back into college football via social media.  Winrow is now a budding analyst for the sport he loves. 
"I realize I'm getting into sports media about ten years later than I should have, but I'm going forward nonetheless," said Winrow.  "I've been doing that my entire life.  I have no intention of stopping anytime soon.  Fata Provocate." (defy the odds)
Winrow has defied the odds for 17 years on fall Saturdays: Somehow, he has only missed three Ohio State games since his last one as a player in 1993.  As a former player-turned-fan, his loyalty rating is among the most passionate.
"I missed the 1996 Bowling Green game because it wasn't televised," said Winrow.  "I also missed the '99 Wisconsin game because I was attending my ten year high school reunion. Editor's note: We're jealous Winrow got to miss that game.
"The only other one I missed was the 2006 Indiana game because it was aired on some crazy ESPN channel that I didn't get.  That's it."
Just because he didn't see the 1999 loss to Wisconsin - a 42-17 humiliation in one of the worst seasons in school history - doesn't mean it still doesn't stick in his craw.
"You know, Wisconsin still needs an ass-kicking for stomping on the O at midfield after the game," said Winrow, with a tinge of lingering anger. Editor's note: The Buckeyes returned the favor the following year in Camp Randall by stomping on the Rising W at midfield after their victory, but Winrow's point about Wisconsin needing an ass-kicking still stands, in perpetuity.
These days, however, Winrow reserves his ire not for the Badgers but for what's ailing college football.
"There are two things wrong with this sport: The NCAA and the BCS," said Winrow.  "I love college football.  Stay tuned.  I'll be composing some pieces on how to improve operations and how all of these fixes point to a pay-for-play system that employs a playoff to determine a champion."
Winrow exhibits a similar relationship that many of us who never played at his level seem to have with college football: It's our unrequited love.  It's on our minds every day of the year, and we're exasperated by how poorly it's run and how much better it could be. 
In his case, however, college football did love him back, for those five magnificent years in Columbus.
"Coop was a great closer," said Winrow.  "He convinced my father that OSU was the right place for me.  I ended up making lifelong friendships there and I hope my kids want to be Buckeyes too."
"My coach was a real stand-up guy and I'm glad he took a chance on me back in '89."  Winrow smiled graciously.  "I hope he's glad he did too."