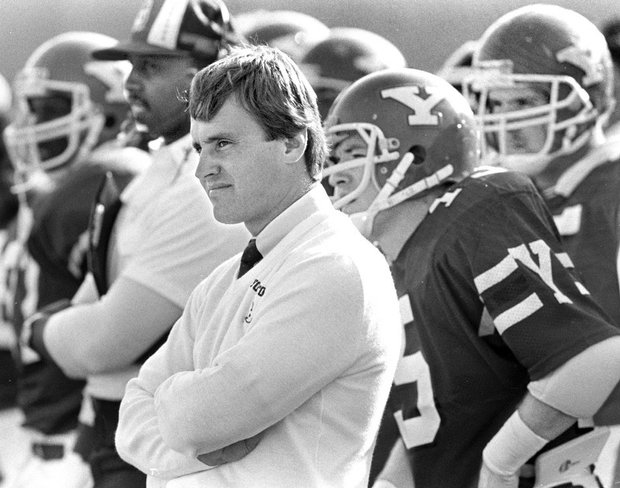 Twenty-five years ago this summer, Jim Tressel took over for Bill Narduzzi as Youngstown State's head football coach. 
He was just the Penguins' fourth boss in school history and until the first sentence you just read in this story, probably the only other YSU head coach you could name if questioned.
Though the program wasn't exactly in great shape at the time of his departure, Narduzzi himself was eventually inducted into the Youngstown State Hall of Fame in 1996, ten years after Tressel took over for him (going 2-9 in his first season before developing the program into the I-AA powerhouse that it became). 
Narduzzi's son Pat, a freshman in 1985, had led the Penguins - and the entire conference - in tackles that season in playing for his father.  However, once Tressel took over for pops in 1986, Pat promptly left Youngstown State and transferred to Rhode Island. 
Pat is now one of Mark Dantonio's assistants at Michigan State, just one of the schools that are currently in Feast Mode with Ohio's top prep prospects in the wake of Tressel's resignation.
It's an interesting little anecdote, isn't it.  Not only for you, Buckeye fan, but apparently to anyone with even a casual interest in college sports. 
Reading new or old stories about Ohio State football, beyond the festering scandal activated by players busted for affronting their amateur statuses in a tattoo parlor, and about things that Tressel might have done decades ago is suddenly a burgeoning summer enterprise in the world of journalism.
Word is that Sports Illustrated is returning to Columbus for even more investigative fun, and that ESPN - an entertainment bureau that spent three full years deliberately ignoring and refusing to report the hard evidence of the 2005 Heisman Winner receiving hundreds of thousands of dollars in improper benefits - now wants a piece of the action as well. 
But why are they coming back to rehash Ohio State again?
There are no more documents to access.  The university has already received and processed enough Freedom of Information Act public records requests that we can now surmise what Tressel, Gene Smith and Gordon Gee were eating while they were reading their emails over the past several years.
The NCAA is already giving the athletic department a full colonoscopy.  The Columbus Dispatch is still clumsily fumbling around with its little car investigation like a kitten batting a ball of yarn around, blowing detail after detail in trying to look like a credible, investigative reporting outfit. 
Thad Gibson's free car?  Terrelle Pryor's new Nissan?  Our entire "Buckeyes getting sweetheart deals on cars investigative report that went viral is total bullshit?  Our bad!
At this point, the scandal news has run its course.  Bloggers like Brooks Melchoir can continue to reconstruct old information to look like breaking news to gain pageviews and new Twitter followers on the cheap, but doing so is redundant, repetitive and relatively easy for anyone with an attention span to tear apart.
Unfortunately for you, bad news - old or new - about your team still sells like crazy.  [Full disclosure: 11W traffic blazes right into plaid in times of Buckeye strife. It happens organically though, not because we just make shit up with the hope of it going viral.]
August 12 is the day of Ohio State's meeting with the NCAA's Committee on Infractions.  Then, we all wait.  Weeks later there will be a ruling.  In the meantime you will continue to hear noise about the peril that the Buckeye football program and athletic department at large are facing. Recruiting is going to get harder for Ohio State because of all of the stories being written about Ohio State.  It's.  A.  Perfect.  Circle.
Cargate is now over and the vast majority of the accusations that came from the pen of George Dohrmann are being vehemently denied by the accused, who claim to have to Dohrmann didn't: Proof.  Alas, it doesn't matter anymore.
Tressel is gone, Joe Bauserman is potentially warming up for Akron, Ejuan Price never checked in and Ohio's prep stars are all understandably jittery.  The damage being done months ahead of the NCAA's ruling is already well beyond significant.
In this endless offseason, it's all Ohio State, all the time, and stop feeling like a victim because it's not a witch hunt.  It's a feeding frenzy.  There's a difference.
it's because no one cares about tarheel football
The intrepid Dr. Saturday recently pointed out just how grossly underreported the scandal at North Carolina has been.  Don't get worked up over it.  You don't care about UNC football.  Nobody does.  UNC fans barely do.  Football is how they pass the time until basketball season begins.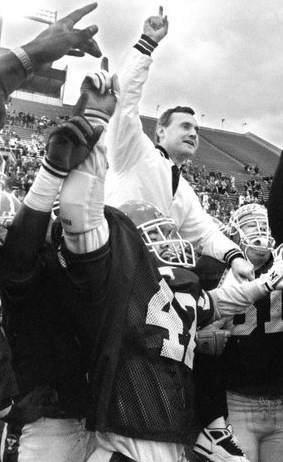 If a deadbeat, sketchy former roommate of North Carolina's "star" quarterback (you have no idea what his name is and neither does anyone else) announced that his ex-roommate made $20-40K selling memorabilia, you might raise your eyebrows, but you'd definitely move on quickly because it's UNC football.
If that QB drove several loaner cars for three years before abruptly leaving school, you'd wonder which UNC booster was wasting time with a football player instead of working a star point guard to keep him happy and on campus. 
North Carolina has played in three January Bowl games over the past 60 years.  It's a program that wins games that are of little consequence outside of campus.
Football sanctions hitting a program like North Carolina have the same effect that gloomy, overcast skies have on Purdue's campus: UNC football has no national impact on the news cycle whether it's good or bad, and every day in humanity's abortion of West Lafayette is a shitty day regardless the weather.  It doesn't register.  It doesn't matter at all.
So the it's-not-fair-why-doesn't-UNC-get-this-kind-of-attention whine is a non-starter.  ESPN probably ignored the Reggie Bush case to avoid having to promote Yahoo! Sports - who broke the story - every time the investigation was mentioned. 
Why ESPN didn't decide to send Tom Friend or one of its many other moon-faced charlatans in to start their own investigation in Los Angeles is a mystery.  Perhaps they learned something from sitting that one out.
The only thing potentially interesting about UNC right now is its coach, who gives that story the potential to actually be interesting, if a journalist or a network is daring enough to do some work:  UNC boss Butch Davis is a guy who comes with the narrative of having cured the Miami Hurricanes of their probation monkey ways while bringing them back to national prominence on the clean before bolting for the Browns.
Davis flames out in Cleveland, takes over UNC's corpse from John Bunting (you had no idea who the previous coach was) and all of a sudden he starts getting players.  The probe at UNC goes back to 2007 when Davis arrived, spans numerous violations, a lot more money than what Tatgate uncovered, prima facie evidence of it happening and...barely a sound from the media.
Doing a deeper dive into UNC football and venturing back to 2007 means looking back at a crappy football team.  The deeper dive at Ohio State meant revisiting a BCS title winner and excuse to say "Maurice Clarett" again.  Ah, perhaps that's why ESPN is so interested all of a sudden: An old flame beckoning with its siren song is difficult to resist.
It's not like Davis covered up that UNC players made petty cash selling autographs and trinkets that belonged to them, because that would be a big deal.  This was merely thousands and thousands of dollars in benefits, unpaid fines and special treatment documented by an actual, boring paper trail.  Sure, it's not an anonymous source riffing on a 30-year old football camp raffle, but that just makes it so much more mysterious and sexy.
Every scandal has a fall guy, and Davis is working hard to make sure his former defensive line coach John Blake plays that part by publicly regretting he ever hired him and figuratively throwing him under the emblematic bus. 
And that's where a journalist or network would have to be daring enough to do some real work: Start looking into Blake the way they look into Tressel's camp raffles in the early eighties.
A dozen years ago, Bob Stoops inherited Blake's roster at Oklahoma and then won a national championship with it in his second year.  When Blake was fired from Oklahoma on account of lousiness, he destroyed all of his recruiting records prior to leaving.  He spent three years at Nebraska and a year at Mississippi State. 
Blake was a decidedly lousy head coach and a generally bitter guy, but he's always been a great recruiter.  Surely he only got his hands this dirty in Chapel Hill.  This episode must have been an isolated incident. 
As boring as UNC football is, Blake got his start in coaching (and playing) with one of the great masters and admitted cheaters in college football history, Barry Switzer.
But a second trip to Columbus is easier.  It doesn't even matter if nothing new is uncovered; this is a topic, a school and a story that is proven to sell and sell well.  Ohio State ends up on the cover of SI in good times, in bad times and for absolutely no reason at all simply because it sells.
The hard work has already been done.  Starting fresh with a story about a program nobody is interested in, despite the fact that it probably has tentacles across three BCS conferences and the NFL, isn't likely to be pursued.
You really don't care about seeing the media spotlight on UNC football.  You only wish this would happen because the media spotlight is finite and this would require Ohio State to cede some of it to someone else.  You don't care who it is.  SPOILER: It's not going to be UNC.
kingmakers & ambulance chasers
How do journalists decide what they're going to cover?  It's the same in every news room, at every desk and in every parents' basement (BOOM /blogger'd): List all potential topics; pursue the most interesting and/or relevant ones. 
Michigan, Texas, Notre Dame, Nebraska, Ohio State, Alabama, Penn State, Oklahoma, Tennessee, USC: Those are the winningest programs in college football.  That's where you can make your name as an investigative journalist.  Blue bloods are a good starting point in any industry.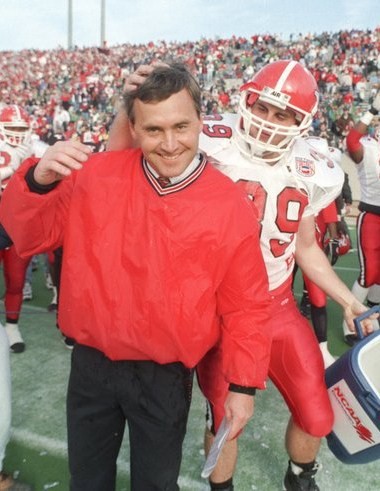 Michigan, despite what their currently giddy fans are projecting, is coming off of its worst three-year stretch in its history.  The football program is currently on probation for committing major violations.  The local media was a willing saboteur throughout the Rich Rodriguez era and the old guard wasn't overly defensive about it either.
That era has passed.  Just because Michigan fans have short memories about what's transpired recently both on the field and in the AD and wish to invalidate their magical 1-9 run against Ohio State on account of Tressel's dark arts (he cheated every year OMG vacate everything!1!) doesn't mean the Wolverines got a pass.  They didn't. 
The media was all over them.  If the team wasn't losing at home to FCS teams and Toledo in the meantime the aftershocks would have been worse.  It's Michigan's singular benefit of the Rodriguez era: The dimming spotlight, which with all blue bloods, is just a temporary, painful thing.
Texas and Alabama are largely sheltered by their local media, and the story of a legacy SWAC program or an SEC West school being involved in anything mischievous doesn't strike a chord with too many people.  Maybe with you in your struggle to just experience a normal, boring offseason, but you're in the minority.
You're probably wondering why Brian Kelly escaped the 24-hour news cycle that Tressel faced daily until his resignation when a kid died on his watch.  As negligent as Notre Dame was in Declan Sullivan's death, it was a tragedy borne of poor decision-making and high winds. 
This story would play better on an unwatchable cable news program like Nancy Grace than in sports media, and if Sullivan had been a missing blonde girl from the South, you can bet the story of his passing would be more mainstream.
Oklahoma cheating?  That story has already been done several times.  It's tired.
Auburn's not one of the winningest programs, but it has the glass testicle in its house and it came with an asterisk even before the title game with Oregon.  The legacy of systemic cheating there goes back far beyond Cam Newton. 
It's practically an accepted part of Alabama football culture at this point.  Brooks will find out very quickly that sensationalizing that culture isn't going to get him the pageviews that cutting and pasting Ohio State articles together does. 
Auburn has the potential to steal the spotlight, but they're unlikely to leave incriminating paper trails like Tressel did.  They'd rather have you continue to believe that Cecil Newton's decrepit church which was on the verge of being condemned before it magically fixed itself without a single receipt to show for the construction work, right around the same time his talented son decided to shun his preferred destination - Mississippi State - for Auburn.  They are experts down there.
Tennessee's football and basketball programs are both solidly in the NCAA's shithouse already.  Perhaps you've heard about this already.
You're holding out hope for a bomb from Eugene, OR on what looks like a lot of smoke to go with the fire that is already burning. The only concern the media has about Oregon football is how stupid its next uniform iteration is going to look.  You know, LeMichael James drives a Land Ro-OOOOH LOOK SHINY OBJECTS.
A conference that plays too many of its games after two-thirds of the country is already sleeping generally doesn't grab the headlines necessary of a viral, salacious sports story.  If you're hoping that Oregon grabs what is currently Ohio State's with the same degree of media heat, you're going to be disappointed.
It's the Big Ten that has long painted itself with a brush of superiority in lauding itself on achievements ranging from academics to grant endowments to oversigning legislation.  And it was Tressel who played the part of a man in position to tell others how to live virtuously. 
The attempts to bring him down go back to his time in Youngstown.  The most recent attempt in l'affaire Clarett was largely unsuccessful.  It took the underground memorabilia trade to bring finally bring about his demise in coaching.
His sloppy willingness to allow Tatgate to happen, complete with a paper trail, was akin to riding in the back of a convertible through an easily triangulated driving space in downtown Dallas. 
That begat the rehashing of Clarett, Ray Isaac and the birth of that 30-year old raffle story that is impossible to confirm or deny along with the whole brass ring that comes with having your name on a story about one of college football's blue bloods.
And that is why Ohio State is the center of media attention.  It isn't borne out of hate or jealousy, it comes from the love that writers and reporters have for seeing themselves on the marquee. 
It's a large part of the reason kids decide they want to be journalists - to break the big story.  In order for that to happen, you have to hunt elephants.  Unfortunately for Ohio State, even the wild misses with scandal reporting are inflicting damage.  It's up to the NCAA to decide how badly the actual hits will hurt.