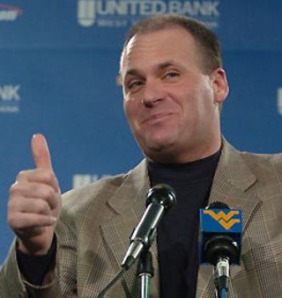 The ink is barely dry on Jim Tressel's resignation letter and Luke Fickell is already warming the big chair in the head office for at least one season, but there's little doubt that Ohio State is already putting together a list of candidates for the Head Coaching position in 2012. Every coaching search is a gamble at best. Some teams bag the sure-bet, others pluck a nobody who turns the program around, still more slowly fade into obscurity, while the worst spectacularly implode. Before you start renovating the house, you make sure you're not blowing it up instead. 
Ohio State hasn't had a bad coach since they stopped wearing leather helmets, an unbroken string of competence that no other school can truly claim. When you've had four coaches in 50 years, you're doing something right. Like a comet passing through Earth's orbit, an Ohio State head coaching search is both momentous and rare. It's inevitable that the topic of the next coach be among the most discussed questions, both nationally and around the watercooler. With that in mind, here are some of the possibilities facing Gene Smith (or his successor).
The headliners
Some coaches immediately jump to mind when a coaching position opens up. Ties to the school, a very successful history, and availibility all combine to make them the focus of most speculation. These are your "Les Miles to Michigan" or "Brian Kelly to Notre Dame" candidates. 
Urban Meyer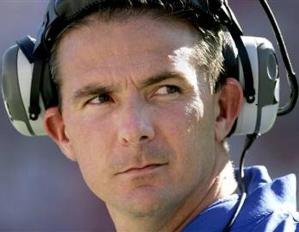 Top Job Held
Florida Gators Head Coach
 
Conference
National
Record
36-13
65-15
Win%
73.47%
81.25%
Championships
2 (3 Division)
2
First on just about everyone's list, Urban Meyer offers a compelling list of traits: an Ohio-Born lifelong Buckeye fan, under 50 years of age, dramatic success at the highest levels, and an impeccable record as a recruiter. While it's true that Meyer won his 1st championship with a team largely made up of Zook recruits, the 2nd was all Meyer, and largely on the back of a sterling defense. 
Still, Meyer did resign due to health concerns, something unlikely to subside any time soon, and he's currently holding down a cushy position with ESPN. Ohio State fans may have trouble accepting the coach on the opposite end of The Horror, and Meyer's teams liked to hang out in jail as often as the local Children's Hospital. 
Jon Gruden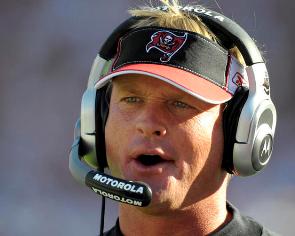 Top Job Held
Tampa Bay Buccaneers Head Coach
 
Regular Season
Post-Season
Record
95-81
5-4
Win%
54%
55.6%
Championships
N/A
1
Gruden is talked about in conjunction with just about every major coaching position that opens up, and it's no surprise. With a superbowl win an impressive post-season record in the NFL, and still under 50 years old, it's hard to imagine Gruden staying out of coaching forever. Having tamed Al Davis and brought victory to Tampa, Gruden would bring quite a change of pace with his west-coast offense and NFL-style management. Plus, Ohio State probably offers the single most likely destination for the native-Ohioan to return to the game. 
Despite all the positives, Gruden has shown that he's more than capable of resisting the siren song of the headseat. Like Meyer, Gruden seems content with the role of commentator, and he's shown a commitment to that role that Meyer hasn't yet. From a coaching perspective, NFL coaches have usually had trouble at the collegiate level, dealing with their team as a CEO more than a mentor, throwing out overly-complex playbooks, and generally treating 18-22 year old kids like they're professionals. Gruden has no experience at the collegiate level, and it's no stretch to imagine he'd flame out just as others before him did. 
Bo Pelini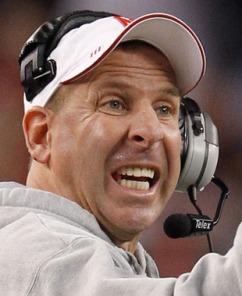 Top Job Held
Nebraska Cornhuskers Head Coach
 
Conference
National
Record
17-7
30-12
Win%
70.83%
71.43%
Championships
0 (3 Division)
0
Born in Youngstown, Bo Pelini was an Ohio State team captain at Free Safety, playing for Earle Bruce in the 80s. It's safe to assume that if Ohio State asked him to come, barring significant sanctions, he'd probably say yes. While he's not reached the heights of the legendary Tom Osborne, Pelini has brought Nebraska back to the upper-echelon of the Big XII, where it belongs, two heartbreaking losses to Texas from claiming a pair of Conference Championships. While not boasting the stellar portfolio of Urban Meyer or the Super Bowl cred of Jon Gruden, Pelini can currently boast being the only active coach of the three. Finally, Pelini brings an acute defensive mind to a football program that prides itself on defense. There's little doubt he'd fit right in.
He is still the least proven of the three big names, however. Plus, not only would he be leaving a bon-a-fide blue blood in Nebraska, but jumping ship in conference as well, a not particularly common occurance. Temper is an issue as well, with a highly publicized meltdown during a game against Texas A&M the most visible example. While tOSU is no stranger to tempermental coaches, a dramatic flameout is the last thing the Buckeyes need from their head coach. 
The safety-valves
While the first three coaches offer the coaches likely topping the list of the Ohio State wishlist, there are also those candidates who offer plenty of upside, but little of the downside facing the top 3 choices. These are the candidates for stability; those who may not be the right choice, but definitely won't be the wrong choice. 
Luke Fickell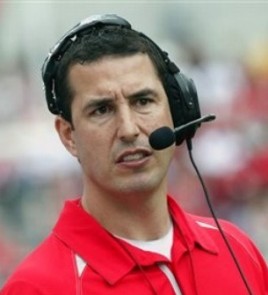 Top Job Held
Ohio State Buckeyes Co-Defensive Coordinator/Asst. Coach
 
Conference
National
Record
N/A
N/A
Win%
N/A
N/A
Championships
N/A
N/A
Fickell doesn't yet have any record as a head coach, but his is a name that's been spoken highly of for years by both staff and other other coaches. A powerhouse recruiter and groomer of some kickass linebacking corps over the years, Fickell would provide the most seamless transition from the Tressel-Era. He would be a coach in the mold of Pat Fitzgerald: a very young, defensive minded coach steeped in his school's traditions. Most importantly, Fickell gets a season-long test drive to prove that he has what it takes to lead the Buckeyes.
His closesness to Tressel is both a blessing and a curse. It may be that the athletic department will decide that no matter how well Fickell does this season, it's too risky to keep a coach so connected to Tressel at the helm. And even if they don't tie him to Tressel's anchor, it's unlikely this season will provide the sort of ringing endorsement necessary to beat out established names and eliminate the "interim" tag from his title. Nevertheless, Fickell, despite his inexperience, has to be considered a serious possibility for the head-coaching gig in 2012. 
Mark Dantonio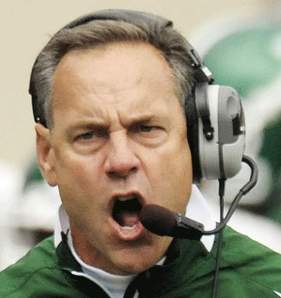 Top Job Held
Michigan State Spartans Head Coach
 
Conference
National
Record
20-12
33-19
Win%
63.5%
63.5%
Championships
1
0
Say what you will about Mark Dantonio, but the man knows how to beat Michigan. Then again, so does everyone these days. But Dantonio has shown he can coach with the best of them, turning the sad-sack Spartans of John L. Smith into legitimate B1G contenders, winning their first conference championship in 20 years. Perhaps even more impressive, he's done so despite leading the #2 school in a state not known for it's local talent. There's little doubt Dantonio would jump at the chance to lead the Buckeyes, boasting both the connections and history to tie him to the university. There's also little doubt he would quite easily adjust to the move, as he and Tressel have often been called clones of one another. 
On the downside, Dantonio has been eviscerated in bowl games, a result most Buckeye fans have little desire to see repeated. While button-downed conservatism can be a refreshing change of pace in an ego-driven climate like College Football, it also leads to plenty of groans after yet another 50-yard fieldgoal. Plus, as we've seen, low-profile does not mean no scandals.
The pipe-dreams
Next are those coaches who would undoubtedly be home-runs. Succesful, high-profile, young, and currently leading top programs in their conferences, these candidates would likely never leave their cushy positions no matter who came knocking, but their names will pop up nevertheless.
Bob Stoops
Big Game Bob gets tied to just about every major coaching search, despite never having sniffed another program. An Ohio native, tOSU is probably the most likely candidate for a defection, much in the same way as Bo Pelini. Unlike Pelini, however, Bob Stoops is already coaching a national power, not building one up. While Nebraska may have been on the same level as Oklahoma in the 90s, there's little doubt that Stoops currently helms one of the top programs in the country, primed to compete for the MNC every year. Having never played football for Ohio State, nor been an assistant there, he lacks the deep-rooted ties to the university itself that Pelini has. Bob Stoops is a more proven, less controversial Bo Pelini that we have very little chance of coaxing from Norman. 
Gary Patterson
The coach of a small-conference team with a track record of upseting the big dogs, Patterson provides a read candidate for writers looking for a dark horse. Patterson's Horned Frogs upset a very, very good Wisconsin team in the 2011 Rose Bowl, stonewalling an offense that looked to be the best in the country through most of the season. While his 4-2-5 defense is unconventional, it's results are undeniable, and he would bring an element of change to a school known for it's conservatism. 
Unfortunately, Patterson looks to be quite comfortable where he is. A native of Kansas, he's spent his entire life far from the fertile recruiting grounds of Ohio and deeply rooted in the Big XII/Mountain West region. Perhaps an even larger impending obstacle is TCU's move to the Big East. Patterson would face a much more difficult path to the BCS at Ohio State, while facing much more pressure for success. 
Chris Petersen
Not since Urban Meyer has a non-BCS coach had such a record of success. Chris Petersen boasts multiple BCS victories, a record-long winning streak, and plenty of media-love from across the country. Boasting an innovative offensive mind, he's helped reintroduce the trick play into American Football. If ever there was a perfect "get", it's Chris Petersen. 
But getting Chris Petersen is about as likely as getting Bill Bellichek. He's turned down offers to the biggest schools, for contracts worth far more than he currently earns. With absolutely no Ohio State connection, the spectre of possible sanctions, and a distinct lack of blue turf in Columbus, the chances of a Petersen regime are essentially nil. But a man can dream, can't he?